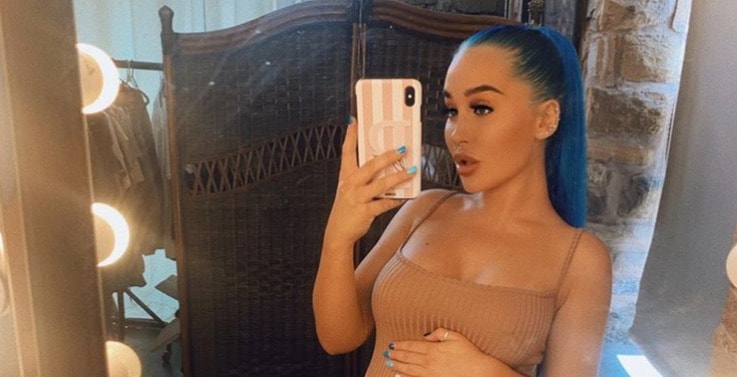 "Ex on the Beach" has not had many couples ending up in happy reunions, but in the case of Helen Briggs and Chet Johnson, it was different. They are among the most successful reunions of the series who have proven that love will always find a way to bring two people together. Although right now, the internet is ablaze with the news of her daughter, there are a few more facts to Helen besides her being a mother. Here are some of them.
1. She kept her pregnancy private
Celebrities will immediately let fans know they are expecting even if the pregnancy is only a few weeks old. Others like Ryan Gosling and Eva Mendes are great at keeping secrets surrounding their children's birth. Helen also decided to keep her pregnancy private, and even after she gave birth, she did not immediately take to Instagram to share the news. Helen took a few weeks to enjoy motherhood privately before finally revealing to her fans that she had given birth to Ocean Johnson on November 11, 2019.
2. She met Chet on Instagram
Gone are the days when we would wait for weeks or months for our loved ones to reply to our letters. The internet has been a major boost in all phases of our lives, especially in communication, since we can talk to each other in real-time using whichever method we prefer. Strangers have become friends thanks to social media, and love has even grown from regular interactions. Helen and Chet are among the famous couples who met on Instagram, and their relationship has grown steadily over the years.
3. Her relationship with Chet failed initially due to distance
They say distance is but a test to see how far your love can travel, and some celebrities have passed this test with flying colors. John Krasinski and Emily Blunt have kept the fire burning because no matter where the actor is, he always goes back home during the weekend. Helen and Chet may have met on Instagram, but their relationship's strength was tested when she had to move to Ibiza for work. The distance did not make the heart grow fonder, but they must be destined to be together since they met each other again on the show and hit it off.
4. She is an animal lover
Even before Helen had a child, she considered her pets her children and did not shy away from showering them with love as displayed on Instagram. Her two dogs could not have been happier when a friend gave them a cute bed. Her cat, Penelope, on the other hand, was two when Helen expressed birthday wishes on Instagram, saying how much she loves her. She also posted a photo in which she is touching an elephant in Thailand's elephant sanctuary.
5. Her boyfriend has tattooed her portrait on his hip
People will do anything to prove how much they love each other; Shan Jahan commissioned the building of the Taj Mahal in 1631 as a dedication to his wife, who had died giving birth to their child. Chet may not have gone to such an extreme, but he still did something that most would not dare. He tattooed an almost life-size portrait of his girlfriend.
6. She was allegedly disrespected by TUI flight
Helen Briggs and Marnie Thompson expressed their disappointment in how the TUI staff treated them. According to a tweet that both the women made using the same wording, a female staff of TUI UK belittled them without any reason. As published by DigitalSpy, the airline responded that they do not usually comment on each case, but they promised to investigate the claims made by Helen and Marnie. As if to brush off the tweet, the airline further added that they would still ensure that the crew is treated with respect hence do not tolerate disruptive behavior by their customers.
7. She supports breastfeeding of babies
Health care providers advocate for the exclusive breastfeeding of babies in the first six months to ensure the baby gets all the nutritional needs from the mother's milk. However, not everyone is ready to bond over breastfeeding; some prefer to bottle-feed. Others do not have a choice due to various reasons such as low milk production, having undergone a mastectomy, HIV infection, or other illnesses whose medication can contaminate the milk. Helen has posted pictures of her breastfeeding Ocean, proving how much she values her baby's health.
8. Chet described her as "the one who got away."
Breaking up for whichever reason is not easy, but when things are not working out, then it makes no sense to stay together. Helen and Chet were having the best times of their lives, but when distance came between them, then they had no choice but to go their separate ways. Chet, however, never got over his breakup with Helen; therefore, when the chance to be with her came calling, he was so happy since to him, she is the one who got away. Now, she is the mother of his child.
9. She is not afraid to show off her curves
Heidi Klum once said that she considered curvy women to be sexy and was glad that the fashion industry had been opening up to accept models with bigger breasts and hips. That said, Helen would not have a problem with pursuing a modeling career; her curves are what most girls wish for, and they do not hide it. When she posted a picture in which she was braless, fans expressed their admiration with some wondering why they could not pull off such beautiful looks. Her Instagram also has loads of pictures in lingerie, proving how comfortable she is with her body.
10. Her background is a mystery
Except for the fact that the reality TV star was born and raised in England, there is not much more to Helen's background. Her education remains a mystery, while the only information about her family is that of Chet and Ocean, nothing about siblings and parents. Even her net worth is not definite with sources estimating it between $100,000 and $1,000,000.
Tell us what's wrong with this post? How could we improve it? :)
Let us improve this post!