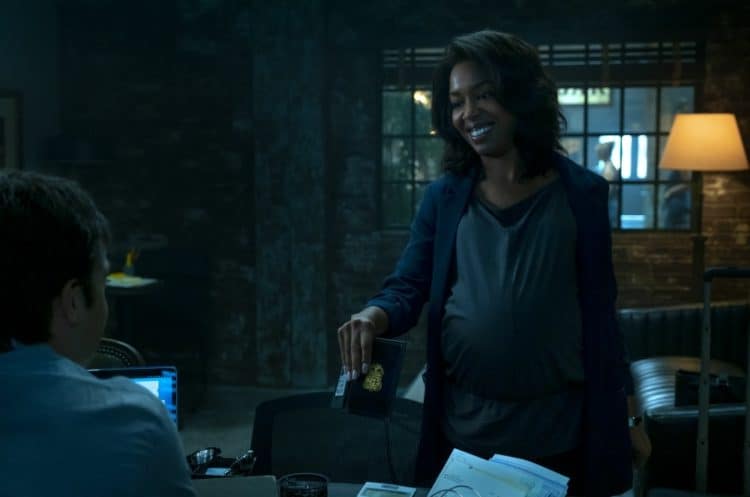 Getting cast in a popular Netflix series has become like a golden ticket for career growth. We've seen actors who were relatively unknown become big names after working with Netflix. Hopefully that will also be the case for Jessica Frances Dukes. Jessica joined the cast of Ozark for season three, and she's already building a buzz thanks to her portrayal of special agent, Mays Miller. Although this isn't her first role in a series, this opportunity could prove to be her big break. Continue reading for 10 things you didn't know about Jessica Frances Dukes.
1. She Has A Master's Degree
Acting is more than just a passion for Jessica Frances Dukes, it's also something that she's been formally educated on. She has a master of arts degree in fine and studio arts from The Catholic University of America.
2. She Won An Obie Award
Also known ass the off-Broadway Awards, the Obie Awards are given out each year by The Village Voice. They were first given out in 1956 and have since become a staple in the theater community. In 2014, she won an Obie for her role in the play, Bootycandy.
3. She's Been In A Lot Of Theater Productions
Jessica Frances Dukes has raked up some on screen credits over the last few years, but theater is her first love. She got her start on the stage and has appeared in many plays throughout her career. In fact, it was her theater work that got her an audition for the role on Ozark. According to Jessica, "I was doing By the Way, Meet Vera Stark by Lynn Nottage at Signature Theatre and I really wanted everybody to see it. I sent out invites to casting directors, and Alexa Fogel (who casts Ozark) was one of them. People from her team came, and maybe a week or two later, I had an audition for Ozark."
4. She Dressed Up For The Season 3 Premiere Even Though It Was Cancelled
By the time the third season of Ozark was set to premiere, many places in the United States were already practicing social distancing. This resulted in the official premiere being canceled. However, Jessica still decided to get dressed up for the event and celebrate as if it were still happening.
5. She Loves Playing Complex Characters
Jessica Frances Dukes has a clear idea of the type of characters she likes to play. She told Women and Hollywood, "I love the layers. I love playing people that are complex, especially black people who are complex and not seen on the surface. I love to dive into worlds that challenge the way we look at the way we live and take care of ourselves and each other."
6. She Was Inspired By Several Legendary Actors
Some actors have one main person who they drew inspiration from to begin their own career. However, Jessica Frances Dukes has a whole list of stars she admires. Some of the names on her list include Maggie Smith, Alfre Woodard, Whoopi Goldberg, Don Cheadle, Tom Hanks, and Denzel Washington.
7. She's Passionate About Business
Aside from acting, business is one of Jessica's biggest passions. She told Broadway Box that if she wasn't acting, she'd be an agent or a manager because she loves learning about the ins and outs of the business. Some of other other passions include cooking and hosting guests at her home.
8. She Was In A Flonase Commercial
Doing commercials is a great way for actors to get experience. In 2015, she appeared in a Flonase commercial for BET. Even if you don't have allergies, you're probably very familiar with the popular prescription nasal spray.
9. She's A Big Jason Bateman Fan
As an actor, getting the chance to work with someone you've looked up to is probably one of the best honors. Jessica Frances Dukes is a big fan of Jason Bateman's work, so she was very excited to get the chance to work with him on Ozark. She has also been watching another recent project of his, The Outsider, on HBO.
10. She Looks Up To Regina King
Jessica Frances Dukes was incredibly excited when Regina King won an Oscar in 2019. She has looked up to King. When she spoke about King she said, "A lot of us model our careers after her when it comes to longevity and art. I was so happy to see that award in her hand and to see the look on her face when she got it."