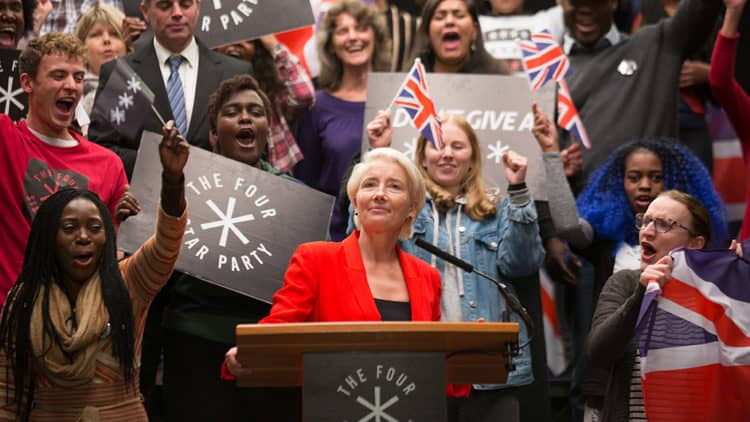 Years and Years is a new drama for the TV screen. Said show was made by a partnership between BBC and HBO, which is why it is now being broadcast by both channels. Something that interested individuals might find useful. Here are 10 things that you may or may not have known about Years and Years:
1. Created By Russell T Davies
Years and Years was created by a man named Russell T Davies. In short, Davies wanted to become a comic artist when he was a child, which changed to an interest in becoming a play as well as a screen-writer when a careers adviser suggested that he study English literature. Eventually, he winded up at the BBC, where he worked on children's TV shows before moving on to adults' TV shows instead.
2. Written By Russell T Davies
Of course, Davies is still very much involved with Years and Years. To be exact, he is the writer for the show, meaning that his previous projects should provide interested individuals with some indication of whether they would be interested in Years and Years or not. Some examples of these previous projects include but are by no means limited to Casanova, the Doctor Who revival in 2005, and a trilogy of shows called Cucumber, Tofu, and Banana.
3. Centered on the Lyons Family
Character-wise, Years and Years is centered upon the Lyons family, who are what one might call a relatively normal British middle-class family. In total, there are four Lyons siblings, who are Stephen, Daniel, Edith, and Rosie. Stephen is the best-off in an economic sense; Daniel is a gay man who gets into a relationship with an Ukrainian refugee; Edith is the most political of the four Lyons siblings; and Rosie is the worst-off in an economic sense because of her spina bifida.
4. Family Drama Over the Course of 15 Years
Years and Years is a family drama in the sense that it follows the Lyons siblings plus the rest of their family over the course of 15 years. However, interested individuals might want to take note of the fact that the show starts out in 2019 before moving forward into the future, meaning that it should come as no surprise to learn that the show has something to say about current trends.
5. The Show Is Dystopian Fiction
For those who are curious, Years and Years can be considered an example of dystopian fiction. However, it stands out from a lot of its counterparts for a couple of reasons. One, it focuses on the slide into a nightmare future rather than start out with one having already been established. Two, Years and Years is both subtle and not so subtle when it comes to its presentation of a world gone wrong.
6. Presents the Slide Towards Dystopia As Being "Mostly Boring and Tolerable"
The subtle touch can be seen in how the show presents the slide towards dystopia as being "mostly boring and tolerable." This is very interesting because a lot of people have very fantastic ideas about what authoritarian rule looks like, which can be a serious problem when their unrealistic expectations cause them to overlook the warning signs of worsening conditions. In other words, if a real dystopia comes about in the developed world, it is much likelier to happen because of a gradual, not so noticeable slide rather than a sudden, dramatic imposition, during which time much of day-to-day life can be expected to remain unchanged for most people in most respects.
7. There Is One More Key Figure
With that said, Years and Years is much less subtle when it comes to the one key figure when isn't a member of the Lyons family. In short, Emma Thompson plays a businesswoman turned politician named Vivienne Rook, who is very divisive to say the least. American readers should have no problems recognizing that Donald Trump went into the mix, but it is important to note that the character references both Boris Johnson and Nigel Farage as well. Moreover, Vivienne Rook is also an embodiment of everyone during their worst moments on the Internet.
8. Makes Various Predictions About the Future
Of course, no piece of fiction about the future would be complete without making predictions about the future. Some of these are very subtle, with an excellent example being the offhand mention about there being a future cure for spina bifida that isn't available to Rosie because she just can't afford it. Other predictions receive much more attention, as shown by how Daniel's partner is a Ukrainian refugee from a Russian occupation that serves as a stand-in for worsening persecution of gays as well as other sexual minorities as well.
9. The Writer Is Most Scared By the Prospect of Nuclear Devastation
Having said that, Daniel has said that he is most scared by the threat of nuclear devastation, which he believes to have made a comeback because of recent occurrences. In this, he isn't alone. After all, the very different treatment of Libya and North Korea within the last decade has made it clear to authoritarian regimes that weapons of mass destruction are one of their surest options for maintaining their power. On top of that, there are a lot of people who have been speculating that if Iran ever feels pressured enough to go for nuclear weapons rather than the ability to make nuclear weapons within a very short time period should the need come up, that could convince Saudi Arabia to go for them as well.
10. The Lyons Family Will Be Neither Wholly United Nor Wholly Divided
Of course, the Lyons family will be neither wholly united nor wholly divided over the course of the series. After all, Years and Years is supposed to be a family drama, meaning that it would be very strange for it to pass up on such a rich source of potential conflict.