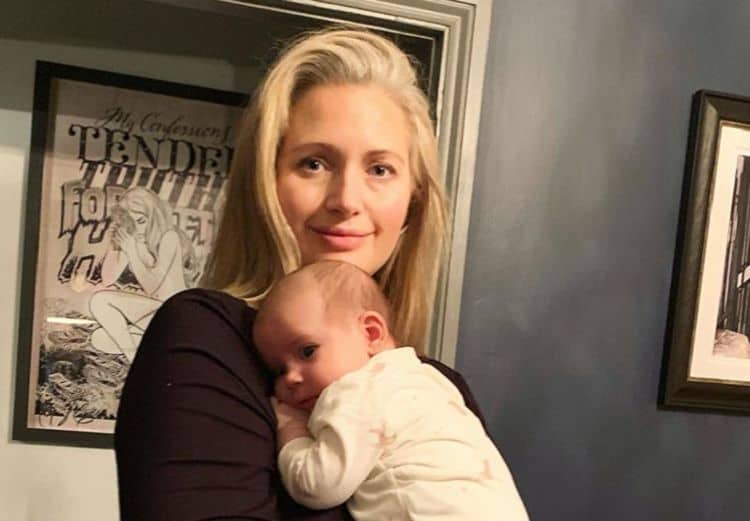 Hayley McQueen is a television presenter, a co-host, a fiancé, and a mother, and she's got a lot going on in between. She's the kind of woman you see on the screen doing her job well, and people either love her or they hate her. Much like anyone who has a bigger than life persona like her own, she does that quite well. There's very little in-between, and that's what makes a person good television. But, many people don't know that much about the English star and her life, so we thought we'd allow you to get to know her a bit better by sharing some things you probably did not already know about this television host and her life.
1. Becoming a Mother Wasn't Easy
When she finally opened up to her fans and her viewers about her pregnancy, it was to share that she struggled for many years with a horrible endometriosis diagnosis. She didn't think she'd ever have children of her own, and that was something she struggled with for a long time. She didn't think it would be possible for her to get pregnant with her health concerns, and she was over the moon when she found out she was having her own baby girl, and she shouted it from the rooftops.
2. She's Embracing her Post-Baby Body
If there's one thing she's not ashamed of, it's her post-baby body in all its glory. She shared photos online of herself in a sports bra and her underpants one month after having a C-Section to welcome her daughter into the world, and she is not ashamed of her body. It worked hard, it fought hard, and it gave her the love of her life, and she will never be ashamed of the fact that her body did this beautiful thing for her.
3. She's Clear Her Looks Don't Validate Her
She once stated that while she's, "at my heaviest, but also at my absolute happiest," about giving birth and being a mother. Her looks don't validate her. The love she feels for her little family and the pride she feels in her body are what validate her and make her feel good about herself and her life. Her happiness is more important to her than a number on a scale or the reflection looking at her back in the mirror. She likes who she is as a result of all of that, and she's celebrating her body and all it did for her.
4. She's Proud
She's proud. She's proud of herself. She's proud of her body. She's proud of those who support her and those who are dealing with many of the same issues in their own journey. She's proud of all of that, and it's a big and beautiful thing for everyone in her life.
5. She Was Dealing with IVF
One of the most beautiful parts of her journey is the fact that she and her fiancé wanted a baby so badly. They wanted to become parents, and they were working with a lot working against them. They had to deal with diagnosis after diagnosis, one working ovary, follicle issues, and what might seem like nothing going for them. The day that they were set to begin the IVF process is the same day that they found out she was already pregnant and expecting her first baby.
6. Her Fiance Helped Her Through the Journey
Throughout the journey of trying to become parents and going through the IVF process from the start, her fiancé, Kirk, wanted to help her out. He did extensive research and was confident that despite her health issues and struggles, they could naturally conceive a child if they focused on diet, exercise, and lifestyle. They don't know what worked for them, but it doesn't hurt to figure those things out and let them work in your favor. If there is an advantage you can take, after all, why not take it and use it?
7. Her Fans Appreciate Her Candidness
One thing her fans love about her is the fact that she is open with them. She's been through a very long and difficult journey, and she's hidden no part of it from her fans and her followers. She's shared her struggles, her fears, her hopes, and the beautiful moments, and it helps her fans realize that there is hope for them, too. So many women face struggles like this every single day, and she's a ray of sunshine for them.
8. She's A Woman of the World
She was born in England in 1979, but she's not one to stay put for too long. She's also lived in both Scotland and in Bangkok throughout her adult life, and she's finally decided to settle in Yorkshire. Those were her years in the early 90s with her family, and she wouldn't trade them for anything.
9. She's an Educated Woman
Before she became a sports caster, she was a woman who went to college and got a degree. She wanted to learn how to do all she wanted to do. She got her degree in PR and Journalism, she specialized in Broadcast Journalism. She even went further and decided to learn all she could about Media Law. In addition to all of that, she also decided to study hard and work hard enough to earn her Bachelor's Degree with Honors throughout college, which we love about her.
10. She's Engaged
She's not yet married, but she is a spoken-for woman. She's engaged to a German model and actor by the name of Kirk Newmann. They have a daughter together, who was born in October 2019. They worked very hard to have this baby, and she is their everything. They both wanted her badly enough to work on IVF, to work on finding out how to beat health issues and have a baby, and to make this teamwork a dream come true. They did that, too, and this is a lucky little girl.
Tell us what's wrong with this post? How could we improve it? :)
Let us improve this post!