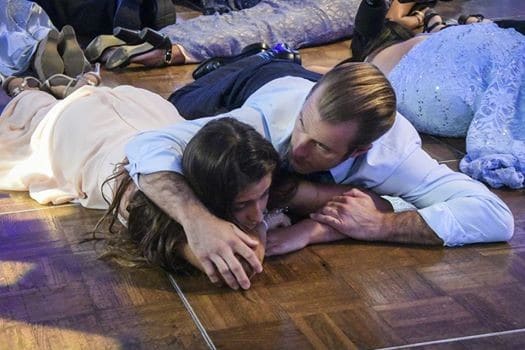 Danny Williams has faced hostage situations, bombs, torture, and a few personal betrayals. Yet there's one thing he dreads above all else: teenage boys. Any father of a teenager daughter will tell you the same. Danny has been dreading the moment Grace got her first boyfriend, though he couldn't have anticipated that it would be his friend's son. Family matters are woven into the narrative of this week's Hawaii Five-0 where Danny must protect his daughter's entire class from being killed by terrorists. On second thought, we retract our previous statement. The only thing Danny hates more than teenage boys are politically-influenced terrorists.
Danny already has anxiety issues, so chaperoning Grace's winter formal does nothing for his blood pressure. To his credit he goes in very calm. That is, until he finds out that Lou's son is Grace's new boyfriend. Lou really didn't help matters by having "the talk" with Will. Lou is much too optimistic about the whole situation. Everyone at Steve's poker night knows how Danny is going to react. You've never seen a teenage boy more terrified when he's alone in a room with his girlfriend's licensed-to-carry father. Unless of course you're interrupted by machine guns; those are worse.
Armed gunmen storm the building and jam the phone lines so no messages can be sent to the outside for help. Danny and Will are the only advantage the kids have, so they make their way to the control room to get put a message on the electronic sign outside the building. The catch is they have to get there through a crawl space, and we all know Danny has a touch of claustrophobia. To get through the crawl space Danny asks Will why he likes his daughter. The kid actually provides a succinct, honest answer every father wants to hear.
The first person who does see the sign tips off the leader of the hostages. Honestly, some people don't think. Will is actually helpful. He's the one who changes the sign, then follows up by knocking out a gunman headed in Danny's direction. He even figures out who the gunmen are after, a classmate whose father is a diplomat for the Philippine consulate. You can tell Will takes after his father. Lou has the good sense to head to the dance just to see why his son isn't responding to him. He barely misses a bullet, but at least the message is finally out that Danny needs help. Once back-up arrives, Lou makes swift work of the consulate bodyguard paid off to help the terrorists. How do they not know to never tell a cop what he can and can't do when his child's life is on the line?
The whole reason the terrorists are after a kid is to make a trade for their leader who will be executed in two days. The Philippine President sees the hostage situation as a too large a threat towards the country, so instead of helping he expedites the execution. Luckily Danny is able to tell Steve that Will is in another part of the building. Using a livestream video, Will is able to give the police a clear view the hostage situation so they can breach. Steve may not be Grace's father, but the look of relief on his face when it is all over shows just why he is the best uncle.
Perhaps Steve can advise Chin on the art of being an uncle. Just because Sara is living in Mexico now doesn't mean she is out of Chin's life. They still talk all the time. Chin needs to let go just a tiny bit, because I'm pretty sure it is not healthy to turn your niece into a spy by screenshotting her new home. Luckily Chin has plenty of time before he has to worry about Sara dating. As for Grace and Will, they can enjoy as many dances as they like while their dads snack on sandwiches near the perimeter.
Who else was proud of the fathers and uncles in this episode?
Hawaii Five-0 Season 7 Episode 8 Review: "Hana Komo Pae (Rite of Passage)"
Summary
Danny's stress over raising a teenage daughter multiplies when combined with a hostage situation in this week's Hawaii Five-0.