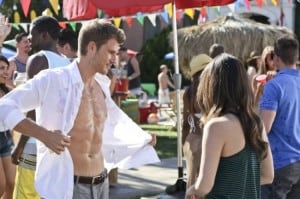 Break out your red cups because it's spring break in BlueBell. Lavon has thrown a Pond Party for college co-eds looking for a place to go crazy, in hopes of turning the town into a prime spring break location and getting part of the attention that the likes of Cancun and Daytona get yearly. However, Dr. Hart was never a fan of spring break when she was in college, opting to study rather than hit the beach, and she expresses to Lavon that they could be in for a lot of trouble by turning their sleepy little town into a party capital. There's the possibility of sexual assaults, alcohol poisoning, damaged property – all things decidedly un-BlueBell in nature.
Jonah vows to take Zoe out and show her how fun a spring break can be, since the good doc could use a way to let off steam following her breakup with Wade. There's another party, though, that's not quite ready for Zoe to become more carefree; George Tucker and Jonah have never been on good terms. He thinks that Jonah's a disingenuous womanizer who always gets what he wants and Jonah feels that George is jealous of how carefree his life has been. After a tense moment at the Rammer Jammer, George cautions Jonah to stay away from Zoe – that she's a good person and not someone who can use and abuse. Jonah laughs it off, but he's soon dealing with Tucker again, as a flat tire on the way home from a fishing trip keeps Zoe at the office much later than expected. Brick was going to be on call that night – without him, there's no one to cover for her, so there's no way for her to indulge in her wild side while tending to injured collegiates.
Brick inadvertently lets it slip that the delay that night wasn't his fault; George wanted to go out of the way to get a glimpse at rare migrating ducks and they wouldn't have gotten the flat tire, nor would he have injured his hand on a lug nut if they had avoided the scenic route. Having defended him against Jonah, Zoe heads to George's boat to confront him about his butting into her business with Jonah. He admits that he was the one who wanted to take the scenic route, but it's not because he's jealous of Jonah making a move on Zoe. He just doesn't like him and doesn't want him to take advantage of Zoe. Dr. Hart counters that maybe, after the mess that she's been dealing with recently, she was the one who was using him and leaves to go find Jonah.
Upset at Zoe being mad at him, George takes Brick's fishing gear back and gets him to cover for her so she can have a little fun that night. His injured hand was healed and this would be a way for George to get back into Zoe's good graces; fortunately, Brick agrees. Zoe and Jonah head out for a day of spontaneous fun, something the former doesn't quite understand, only to be interrupted once again. By George. Only this time, the lawyer's not interrupting out of some personal vendetta or fit of jealousy. Shelby stopped by the boat and confided in him that something's wrong with Brick – he's been clumsy lately and experienced severe headaches. Combined with the mysteriously healing hand and she doesn't know what to do. Zoe tells George that he did the right thing in coming to her and heads, along with Jonah, to find Brick.
After some resistance, Brick agrees to get an MRI the following morning on the condition that they don't tell Shelby. They just moved in together and he doesn't want to trouble her with the idea that she'll be taking care of a sick old man the rest of her life. The following morning, George, AnnaBeth, Lemon, Jonah, and Zoe are waiting on the results of the MRI, where Zoe and George make up from their tiff. George tells her that he wasn't jealous of Jonah; he doesn't think that Jonah can appreciate her, can truly see all the good in her. Shelby ends up showing up to nervously show off her closet app until Brick comes out into the waiting room. The prognosis? Ophthalmic migraine, a totally treatable condition.
Free of burden for a while, Zoe gets to do her keg stand and enjoy a little time at the party. However, Jonah has to go – he has a fellowship at Mount Sinai to get to. She walks him to his car where he tells her that she's more of a see-the-ducks kind of girl rather than a party girl. Only for her to flash him on his way out of town.
50 Grand
While Zoe's wringing her hands over the thought of getting drunk during a spring break party, Lavon is trying to keep things orderly when he runs into Ruby, back in town taking care of her grandfather. The two have an awkward first meeting, the pain from their breakup still evident, but they cordially agree to have coffee the following day and catch up. Zoe, meanwhile, is stocking her fanny pack with first aid supplies and snacks to keep her energized for her first spring break celebration, which is set to include foam wrestling, push-up contests, and Jonah Breeland. The handsome doctor has had his fair share of experience in the Land of Keg Stands and wants to introduce Zoe to the joys of letting go once and a while.
During her first day out, though, Todd Gainey, Sr. comes driving into town advertising the Fillmore $10,000 beer pong tournament, drawing more than a few interested co-eds in the process. Panicking about losing the additional tourism that would come with being a spring break getaway, Lavon turns to Ruby, who has an idea about a way to raise money and get publicity for BlueBell. It's time for a Palms on a Pleasure Craft contest, where any interested party places at least one hand on a $50,000 boat – the last one standing gets to take the boat home.
After Wally puts the Rammer Jammer on sale to focus on his health, both Lemon and Wade express their desires to find the money to buy it and give themselves a fresh start. While Lemon takes the idea to AnnaBeth, who quickly rejects it for fear of the business hurting their friendship, Wade gets laughed at by Wally once he suggests buying the place, leading to him entering the PPC contest. Lemon, only having gotten $648 toward her goal, hears about Ruby being back in town from AnnaBeth and runs to enter the contest, too. Wade opts to flirt his way into culling the herd and Lemon opts to intimidate one of the contestants next to her into quitting until they're left facing off against one another. Oh, and a perennial hard-on-a-hard-body-er who had been ducked away out of sight.
Who begins singing "99 Bottles of Beer on the Wall".
And talking of the physical impact (hallucinations, sweating) that come around hour 36 of every contest like this.
16 hours into the contest, Lemon and Wade agree to team up to take her out. They wait until about 21 hours before having a fake argument with one another and making the other contestant believe she was having hallucinations, which are said to be a precursor to brain damage. With the help of Tom Long's lizard costume, they get her to quit, leaving them to battle one another for the boat and, more importantly, the money. At 36 hours, Lemon tries to trash talk him and ends up telling him that she wants this so bad because it's her one chance at doing something by herself, at being an adult. She wouldn't entertain the idea of borrowing the money from Brick to buy the Rammer Jammer because she didn't want him to have a say and wanted to prove that she could stand on her own. While that doesn't get Wade to give up, something else does – Zoe Hart coming by with news of Brick getting an MRI the following day. The two then take their hands off at the same time, resulting in a tie. They both get the boat.
Meanwhile, AnnaBeth sees how close Lavon and Ruby have gotten since their reunion, complete with a picnic and professions of wanting to be together. After Lemon confesses to being an awful friend and encourages her to fight for Lavon, AnnaBeth goes to his house where he reveals that he told Ruby that he has feelings for someone else. Ruby was willing to try and make a relationship work while still living in Dallas, but Lavon's feelings for AnnaBeth were too strong. The two share a kiss, as they're finally allowed to pursue a relationship.
Additional thoughts and observations:
-"You just mascara'd my eyeball!"
-"My wife may kill me, but I want to live."
-So, Brick is obviously not well. No doctor gave the prognosis and the look he gave after hugging Shelby told all. What do you think is wrong with him? (My guess: early-onset dementia.)
-I feel like the only person who doesn't hate the idea of Zoe/George and thinks that they do have chemistry. Ah well.
-Of course Zoe looked up a "Top 10 Spring Break Activities" list. And of course most of them had to do with boob flashing.
-Lemon's character development this season has been A+++. She's still the highlight of the show for me. I really liked her giving her blessing to AnnaBeth and Lavon, another sign that while she may not have a venture of her own, she's definitely become more of a grown up this season.
–Next week on Hart of Dixie: BlueBell puts on performance of Shakespeare's most iconic scenes, forcing George and Zoe in an awkward position, while Lemon and Wade face staffing problems at the Rammer Jammer and Brick learns a secret about himself.