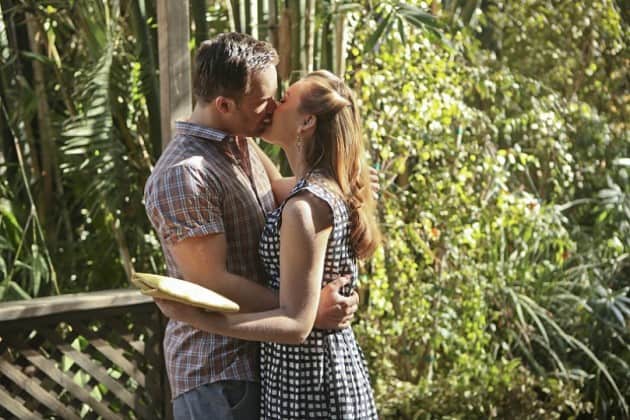 With Zoe and Wade's relationship official, Hart of Dixie has shifted much of this season's focus onto Lemon. Last night's episode was no exception when Lemon finally began the process of confronting her feelings towards the mother who abandoned her. It wasn't all drama though, as George and Annabeth's first date and all the planning that led up to it provided plenty of humor.
Brick sits Lemon down to tell her about being back in touch with Alice but she already knew. It was important for Brick to hear his ex's side of the story, even though he's not forgiving her. Understandably, he only wants to give his daughters the same choice regarding their mother. Lemon still feels strongly about not wanting to even speak to Alice, but I was glad to see that she and Magnolia chose to form a relationship with their half-sister, Scarlett.
While Lemon sorts out her family drama, she fills Lavon in on what's going on. They're basically endgame at this point and I'm perfectly okay with that at this point. George and Annabeth were an odd couple at first, but they make complete sense now. Even the planning process that goes into their first date is hilarious. They both continue to listen to the nonsensical advice of their friends, to try to avoid going to any restaurants that either of them had memories of other dates with their past significant others. After the disastrous Norwegian restaurant incident, I hope they stop overthinking in the future and go with the flow. They have a surprising amount of charm and chemistry that shouldn't be affected by their surroundings.
I said Zoe and Wade are officially together, but that doesn't mean they're married or even boring yet. Honestly, Wade could never be boring. His flirtatious attitude towards women literally everywhere he goes is starting to bother Zoe, which makes sense since they are expecting a baby together. With Lavon's help, Wade rounds up all the women around town in various professions (mail carrier, bakery worker, etc) to tell them he's off the market. Now, duh. Bluebell is a small town and Wade was just being stupid if he really thought any of these women were taking him seriously. All he has done is embarrass himself and rack up quite a long muffin tab over the years at the bakery.
Lastly, it's important to note Shelby's presence in the episode. It's her daughter Ethel's first birthday, and of course, she goes all out with a party for her. Lemon or Magnolia never particularly approve of Shelby and Brick's relationship, but she's certainly not going anywhere anytime soon. A few weeks ago Shelby gave Lemon the money she needed to keep Fancie's open and since then Lemon has slightly warmed up to her. With Magnolia still home for spring break, it's her turn to bond with her father's live-in girlfriend. It's obvious that Shelby is a lot to handle, but she really does have a sweet personality and it's refreshing to see her character develop.
Notable quotables:
-"Lemon Breeland, I am all in. I am yours and I will wait. I promise." – Lavon. If we don't get to see a Lemon/Lavon wedding by the end of this season, let's count this as their vows.
-"I love your father, and a part of making him happy is loving his daughters. So I am gonna love you, Magnolia. Despite how very difficult you make it." – Shelby
What did you think of "The Butterstick Tab"?
[Photo via The CW]