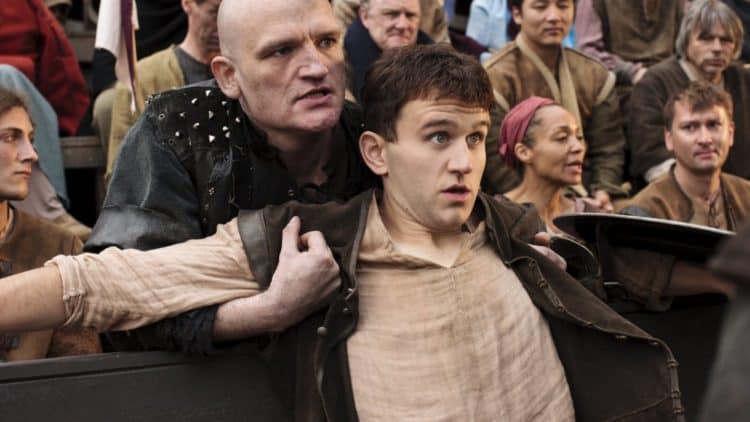 Harry Melling broke into the acting world in 2001 when he was cast as Dudley Dursley in Harry Potter and the Sorcerer's Stone. He continued to play the role throughout the film series making his final appearance in the 2010 film, Harry Potter and the Deathly Hallows: Part 1. Since then, Harry has gone on to be featured in a number of film and TV roles and his resume is coming along very nicely. Even though he's already accomplished a lot, his future is looking equally as bright. He has a role in the upcoming Netflix mini series, The Queen's Gambit, which is set to be released in October 2020. Keep reading for 10 things you didn't know about Harry Melling.
1. He's Not Really Into Social Media
Due to Harry's age and the success he's had in the industry, most people would probably expect him to be pretty active on social media, however, he isn't at all. There are accounts associated with his name on Instagram and Twitter, but he doesn't have a verified account on either platform.
2. He Isn't The First Person In His Family To Act
Harry comes from a very talented family that includes a few other people who have broken into the professional acting world. His grandfather, Patrick Troughton, was a well-known British actor who appeared in Doctor Who. Unfortunately, he passed away before Harry was born. His uncles, Michael and David Troughton and cousin, Sam Troughton, are also well-known actors.
3. He Studied At London Academy of Music and Dramatic Art
Even though Harry started acting professionally when he was just 10-years-old, he still decided to study acting in a formal environment. He enrolled at London Academy of Music and Dramatic Art (LAMDA) when he was 18-years-old. The school boasts a long list of notable alumni including Benedict Cumberbatch and Chiwetel Ejiofor.
4. He Did His Own Stunts In The Old Guard
A lot of former child actors struggle with shedding their young image and moving on to more adult roles. However, that's something that Harry has managed to do successfully. In 2020, he had a main role in the Netflix film The Old Guard which not only gave him a chance to show off his acting skills, but also perform his own stunts. He said, "That was pretty exciting. You know, I don't usually get to do stunts. So for me that was a very exciting moment."
5. He's Done A Lot Of Theater Work
Most of his fans are most familiar with Harry's on screen work, but he's also had an impressive theater career as well. At one point in his career, he had even landed several theater roles back to back and had taken a bit of a break from on screen work. Despite going back and forth, he says he doesn't prefer one medium over the other.
6. He Had To Wear Prosthetics For Harry Potter and the Deathly Hallows: Part 1
By the film filming for Harry Potter and the Deathly Hallows: Part 1 began, Harry had already been attending acting school. During that time, he had lost so much weight that he thought there was a chance he wouldn't be asked back to play Dudley. He ended up having to wear prosthetics for the film so that his character could have his usual chubby appearance.
7. He Doesn't Like To Travel
Traveling is usually a big part of working in the entertainment industry and it's something lots of people enjoy. Harry feels differently about traveling, though. He once said, "I am a really bad traveler, I hate traveling and I hate being late so I figure if I could just click my fingers and be somewhere then that would be great!"
8. He Likes To Read
People who love to read would agree that relaxing with a good book is one of the best feelings in the world. Harry really enjoys reading although his schedule doesn't always allow him to read as much as he'd like. With the COVID-19 pandemic causing him to spend more time in the house than usual, he's been able to catch up on some reading.
9. He Loves Poetry
Acting may be Harry's first love, but it certainly isn't the only form of self expression he loves. During an interview with The Reviews Hub, he shared that he really enjoys poetry and spoken word, however, he's never performed spoken word and has no plans of ever doing so.
10. He's A Playwright
On top of being an actor, Harry is also a talented writer. In 2014, he wrote a play called Peddling which he also starred in. The play opened at HighTide Festival and Off-Broadway and became well-known for its poetic style and captivating story. Many of Harry's fans are hoping he plans on doing more writing in the future.
Tell us what's wrong with this post? How could we improve it? :)
Let us improve this post!