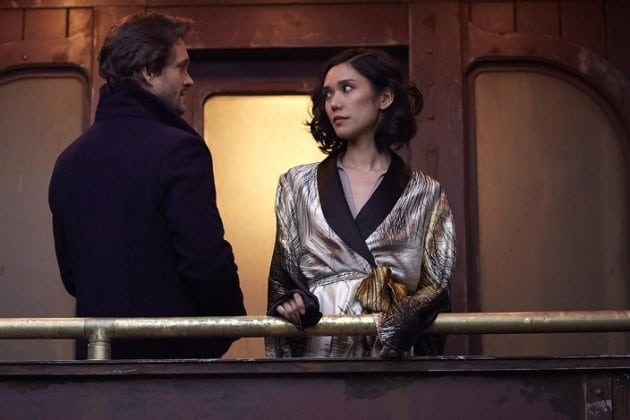 As Season 3 of Hannibal progresses, Dr. Lecter continues to reveal bits of information about his past to Bedelia and to the audience. He used to keep snails in his garden for the firefly larvae to eat, he tells her, so that they could feast and grow into delicate creatures. The process of consumption is obviously something at the heart of Hannibal, but the ways in which Lecter talks about them or expresses them take on different meanings in different contexts (often, he is simply eating the rude–but not always). I imagine Hannibal considers himself akin to his firefly larvae, having grown into the similar kind of delicate creature that he must see himself as. Other than the flashbacks of young Hannibal copying La primavera into his sketchbook, we have no way of knowing what Hannibal looked like before he became Hannibal the Cannibal, but one might wonder if the refined and cultured person we know from this series developed out of a rougher, more grotesque state. As hard as it is to imagine Mads Mikkelsen's Hannibal as ugly–in the sense of personality and actions–that had to exist at some point, making the keeping of snails and fireflies an important reminder of that transformation from the person he no longer is.
Bedelia toasts to the snails, lamenting their fates, to which Hannibal notes that they, the eaten, follow their nature as surely as those that eat them. Nature, too, is something both Hannibal and Hannibal are interested in, since much the conflict in the series and within Lecter is a result of nature. We've already heard Hannibal say this season that the person he is just happened. Nothing other than nature was the cause of his existence. So, the cycle of snails being eaten and fueling fireflies to reach their true, beautiful form also feeds into the understanding and appreciation of nature's power, which is greater than man's in this series. Things will happen as they do, and that's no reason to feel sorry for snails or spiteful of fireflies. That helplessness is easy to identify and acknowledge but still incredibly difficult to live with, and it may be that only Hannibal–with his detachment and appreciation of aesthetics over morality–is capable of living the kind of life in which he doesn't let things that are out of his control affect him more than they need to. He knows that people are coming after him, and he knows in what ways they are going to come after him (the benefit of having a bounty being a bigger heads-up). A less deliberate version of the character might take more precautions, but this Hannibal lets the natural order of things being carried out.
"Fireflies live very brief lives," Bedelia tells Hannibal. His response is his ultimate opinion on the matter: "Better to live true to yourself for an instant than never know it." So, that hypothetical and more precautious Hannibal would not only be avoiding the natural order of the world but would also be suppressing his own natural identity. To let the brevity of life dictate personal action is something Hannibal would disagree with. This, among many other reasons, is why he respected Bella Crawford so much. She was a character who recognized her circumstances but did nothing differently in her life until she felt like she needed to compromise for the sake of Jack. That kind of autonomy-driven decision is pretty common in a cancer arc, but it's a worldview that is present throughout Hannibal. Characters who try to avoid what they are end up less successful than those who embrace their true selves (Abel Gideon being punished for masquerading as the Chesapeake Ripper is one example).
This is perhaps why Jack achieves success in his fight with Hannibal at the end of this episode. When Bella pleaded with him to cut out the thing in his life that was killing him, it sent him into an introspection that had him believing he was done with all this revenge business and that his purpose in Italy was simply to bring Will back (literally and figuratively). But what we see in that fight is Jack's nature being allowed to come out. During the entire sequence, from the moment he's looking up at Hannibal in the window to the moment he's looking down at Hannibal from the window, his only line of dialog is "Alive," a response to Hannibal asking how Jack will feel once he (Hannibal) is gone. That's the kind of living Hannibal can also appreciate, since this isn't Jack playing around the obstacles of the law–this is Jack being Jack. And, to briefly take off the reviewer hat and put on the viewer hat, what an absolutely gorgeous and pleasant sight that is for us. There are so many great things to say about the fight sequence that it makes it hard to even begin. There are the aesthetics, from the music to the choreography. There's the necessary win for the good guys, which is still a deeply important thing to witness in spite of the fact that we know Hannibal isn't going to be caught in this episode. There's the performance from both actors, Mikkelsen delivering the taunting dialog with aplomb. It's one of the very best scenes in any episode of Hannibal to date, and it manages to do so while being laugh-out-loud funny and intensely and viscerally satisfying.
Again, though, much of that satisfaction comes from knowing that another character is allowing himself to be himself in an episode which features Will being more Hannibal, intentionally and unintentionally, than he is being Will. In an episode which features Alana decidedly not being Alana, save for the moments when she reaches out to Pazzi to try to protect him only to catch Hannibal on the phone and freeze up. In an episode which feature Pazzi letting his emotions override the smart inspector that he is–one that would be aware of the necessity of putting feelings aside so that the greater good, getting Il mostro behind bars, could be accomplished. Jack, then, is Hannibal's equal in "Contorno," and in some ways his superior. He is the representation of learning through experience. He is the one–not Will–who has been devoured and traveled through the belly of the beast to emerge as the purest version of himself, while the other principal characters seem to still be sloshing around in Hannibal's stomach, waiting to do the same.
Bite-Sized Thoughts: Buon appetite!
– Will was also in this episode. He got thrown off a train. So sad. Kind of funny, though. The raven-stag-patronus makes a return appearance, though, which is serious business. Thankfully, it has shed the Dimmond-heart carapace. That would have been awkward if we got the heart-stag (heart-hart) all season.
– Touching on Will's story, Chiyoh's motivations are much less clear than they initially appeared to be. She knows exactly where Hannibal is. She believes violence isn't the only form of influence. She throws Will off the train. And she…is going to warn Hannibal? Take Hannibal down for herself? Seek other answers?
– Mason's "spitters are quitters" dialog to Alana gives Joe Anderson a real chance to embrace how awful a character Mason Verger is. Simply fantastic.
– Apparently, epiphany gives off a smell that Hannibal is able to identify on Pazzi.
– Poor Pazzi. We hardly knew ye. It's actually somewhat of a horrific scene, not only because of how gross it is, but also because there's such a loving and tender warmth to that dinner scene with Jack, in which we spend time with Mrs. Pazzi as well. It's humanizing for the sake of making the death more significant and painful, but it also shows how unique a happy moment in an episode of Hannibal really is. And, of course, the sequence is artistic in that sadistic way that Hannibal always pulls off, Pazzi's death mirroring that of his ancestor, Francesco.
– It turns out that shirtless Hannibal rubbing up on Bedelia is really, really creepy. Who would have known?
– "Ciao, Bella." Heart. Sinking.
– Product placement alert: Mason uses a Macbook.
– "Strange to talk so much. Not used to hearing voices outside my head." This is Bryan Fuller/Steve Lightfoot dialog in its purest form. I don't know what it is about omitting pronouns and subjects in sentences, but it's endemic to the entire cast. This isn't a criticism, just an observation.
– Seriously, though, how good was that fight? The spinning of the record gives the sequence a bookending that allows it to kind of exist in its own world, separate from the rest of the episode (which is a perfectly fine episode but nowhere near on the heightened level of its ending). The no-look throw of Hannibal backwards into the glass display. The way Jack pulls a Salamanca from Breaking Bad by going back for that hook to finish off Hannibal. That Jack takes off his shoes and sneaks up behind Hannibal in the same way Hannibal did that to Miriam. Perfect execution, incredibly high standard for endings of episodes going forward.
Hannibal by the Numbers:
Speaking roles in "Contorno"
1. Hannibal, 96 lines
2. Pazzi, 65 lines
3. Chiyoh, 39 lines
4. Jack, 25 lines
5. Mason, 25 lines
6. Will, 23 lines
7. Alana, 19 lines
8. Bedelia, 17 lines
9. Man on phone, 13 lines
10. Mrs. Pazzi, 10 lines
Total: 332 lines (most of season thus far)
19 total scenes (fewest of season thus far)
Longest scene by line count: Jack's dinner with the Pazzis, 53 lines
Shortest scene by line count: 4-way tie, 0 lines
Longest scene by running time: Jack versus Hannibal, 4 min. 49 sec.
Shortest scene by running time: Pazzi looking at Hannibal's profile, 0 min. 11 sec.
Average running time per scene: 2 min. 11 sec.
[Photo via NBC]