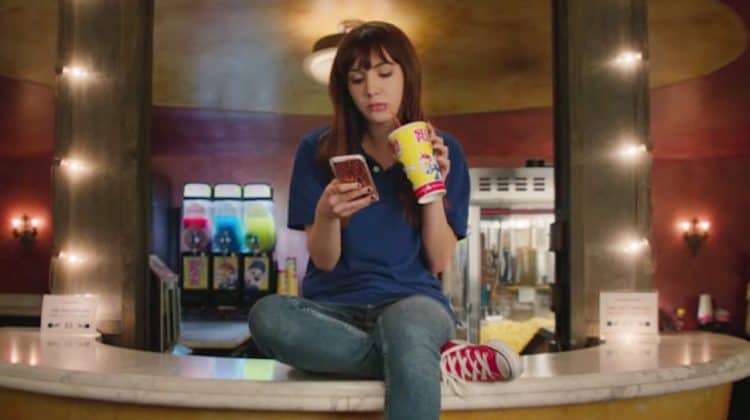 From the moment she made her first on screen appearance when she was just 12-years-old, it was clear that Hannah Marks didn't come to play. Her talent, confidence, and work ethic have come together to make her one of Hollywood's brightest young stars. Hannah has made appearances in several well-known TV shows including Criminal Minds and Law & Order: Special Victims Unit. She has also been in movies like The Amazing Spider-Man and The Runaways. She is best-known for her role in the 2006 film, Accepted and her main role in the BBC series, Dirk Gently's Holistic Detective Agency. Keep reading for 10 things you didn't know about Hannah Marks.
1. She Comes From An Artistic Family
Creativity is something that simply runs in Hannah's family. Her mother, Nova Ball, was an actress who did most of her work during the 70s and 80s. Hannah's grandfather, Ernie Ball, was a musician and her great-grandfather, Ernest Ball, was a composer.
2. She's Also A Filmmaker
Hannah entered the industry as an actress, but it didn't take her long to reveal that she also has other talents. She is also a writer, director, and producer who already has a handful of projects under her belt. In 2018, she wrote, produced, and starred in a film called Banana Split.
3. She Considers Herself To Be Neurotic
Hannah thinks of herself as a neurotic person and has struggled with anxiety throughout her life. Although these things could've easily derailed her, they actually had the opposite effect. She says, "As I've gotten older, that anxiety has inspired me to work harder, whereas when I was younger, I found it hard to have anxiety, hormones and puberty all at the same time."
4. She's A Tiger King Fan
The pandemic has been going on for so long that the Tiger King phase of it seems to have been a lifetime ago, but in other ways it feels like just yesterday we were learning . But there's no denying the fact that the docuseries provided us with peak entertainment when we needed it most. Hannah, like millions of other people was a huge fan of the show.
5. She Hates Exercising
Working out has become a huge part of Hollywood culture. Most celebrities spend lots of time in the gym trying to maintain their bodies. However, Hannah Marks isn't that kind of celebrity. She told The New Potato, "I hate working out so much – like hate it, hate it. If I could live on a couch, I would. I'm trying to break my old habits though."
6. She Loves New York
Hannah may not be from New York, but the city still feels like home to her. She's spent a lot of time working in New York over the last few years, and she's absolutely fallen in love. She travels there whenever she gets the chance. During her talk with The New Potato, she said that New York is where she wants to die.
7. She's A Proud Dog Mom
Hannah has a very busy schedule, but she hasn't let that get in the way of being the best dog mom to her fur babies. She has two cute little french bulldogs named Friday and Fable. Like any good pet parent, Hannah has created an Instagram account for her pups.
8. She Wants To Try As Many Things As Possible
Oftentimes, when people have more than one talent, they feel the need to focus on just one in order to be successful. However, Hannah hopes to be able to pursue all of her interests and plans on trying to do as many things as she possibly can. She told V Magazine that being able to try new things in is part of what keeps her work exciting and she doesn't want to lose that.
9. She's A California Native
Despite her love for New York City Hannah is a west coast girl underneath it all. She was born in Los Angeles but raised primarily in San Luis Obispo. She currently lives in the Los Angeles area although she spends a lot of time traveling back and forth to New York.
10. She's Good Friends With Gillian Jacobs
We've all heard stories about how cut throat the entertainment industry can be. Since the competition is so fierce, some people will do almost anything to get ahead which often results in a lot of backstabbing and fake relationships. But Hannah has found that there is some authenticity in Hollywood after all. She is good friends will fellow actress, Gillian Jacobs. The two worked together on the upcoming film, I Used to Go Here.