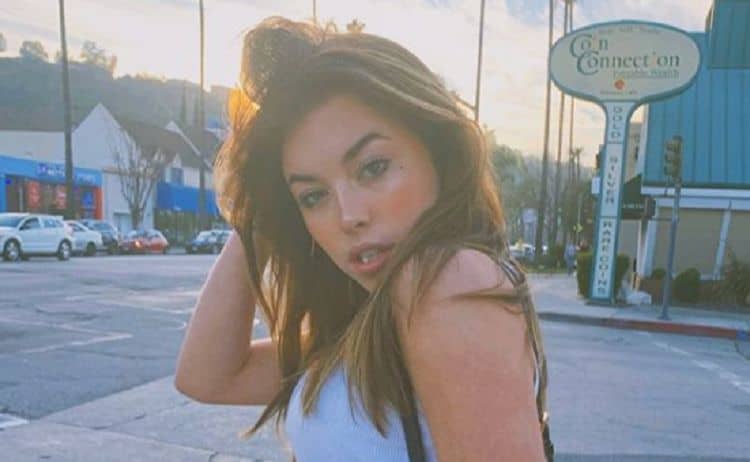 The internet is one way to fame, as evident by the many online celebrities who've come up in the last few years. The various social media platforms dotting the online domain are the hub of these celebs, and they attract many followers on such platforms.Cynthia Parker is one of these famous internet personalities and uses Tik Tok as her ticket to fame. If you do not know about Tik Tok, it is a social site where you can share your videos. Who is Cynthia Parker? You may ask. If you do not know about her or want to know her more. To quench your curiosity and answer your questions, we present you with ten things you most probably did not know about her.
1. Her Early Life And Growing Up
Cynthia Parker was born on the 27th of September 2004 in Ontario, Canada, making her 15 years old currently. Her mother raised her in Ontario, and they still live together with their dog called Stormi, according to The Famous People. Not much information is available about her father and whether she has siblings or not.
2. Schooling
At the moment, Cynthia is in her mid-teens and it is expected that she should be schooling. Whether she is in school or where she is attending her classes is in the dark as at the moment. It is a possibility that she may be homeschooled as is the norm with many school-going celebrities.
3. Her Shot to Fame
Sometime in 2019, she started gaining popularity due to the videos she uploaded to her Tik Tok account. They were mainly short funny clips as she graduated to lip-sync videos that brought her immense numbers in terms of followers. She picked popular songs and sang along with some dance moves that wowed her fans. Cynthia also spread her popularity to other social platforms such as Instagram, where she also attracted a decent fan base.
4. Stats
Many of her fans on social media appreciate her beauty. They have the opinion that she will head on to the runway sooner or later to kick off a modeling career. Looking at her present body stats, you get the idea why she can make a good model. At the moment she is 161 centimeters tall and weighs 58 kilograms. Her eyes are green in color, and she has a flowing blonde mane. All of the above stats are suitable to usher her into the modeling scene.
5. Social Media Presence
Aside from Tik Tok and Instagram, she is also present in the other notable social platforms such as Twitter, Snapchat and even has her own YouTube channel. On Tik Tok, which seems to be her favorite platform, she has over 800k followers. Her Instagram is just a few followers shy of the 300k mark and 56 posts. On her photo uploads, she shares her lifestyle, the places she visits and also great moments with friends. Her YouTube channel has some few videos, mostly of her singing and dancing and it has a significant number of subscribers. The channel is at the moment managed by her mother.
6. Her Relationships
There has been much speculation on the relationship status of Cynthia, where she has been associated with several fellow online celebs. In 2019, she was in a relationship with Chase Hudson, a fellow Tik Tok. Their union picked up to much fanfare with many looking up to them as the ultimate power couple. However, they broke up after a few months. Presently, there are rumors that she is in a relationship with Mattia Polibio, who is also popular on Tik Tok.
7. Her Hobbies
When she is not online uploading her videos and photos on various social platforms, Cynthia loves to dance. This is evident in most of her videos, where she will burst a move alongside lip-synching. She also enjoys travelling, and on her Instagram, she shares some of the destinations she has been to in her home country, Canada. According to Facts Ninja, it is her dream in future to venture professionally into acting and dancing.
8. Cynthia's Online Persona
Many of the upcoming celebrities have earned the tag of being arrogant and proud towards their fans, and they receive backlash for that. Blame it all on the power of fame. However, Cynthia Parker soothes the hearts of many fans due to her calm persona, where she values her followers. She features some of them who appreciate her by bringing her gifts. She also works with her fellow Tik Tok stars.
9. Regard For Friendship
As from her posts on Instagram and other social media handles, you get the idea that she loves hanging out with friends. She seems to be an easy-going person and easy to be friends with. Her regard for such close association seems to be one of the factors that endear her to many, resulting in a growing follower base.
10. Net Worth
For the short period that she has been present on the online domain, Cynthia has an impressive asset base to show for it. According to Wiki Bio Worth, her net worth presently stands at $400k and is still growing. At 15 years old, this is a good start and spells fortune in her future endeavors. The nearly half a million dollar value comes through her sponsorship duties where she is the brand ambassador of brands such as Fashion Nova. She also has an online store that deals in t-shirts and other apparel. Presently, she is under the management of Los Angeles-based Parimore entertainment.
Conclusion
Social media platforms have in the past decade gained much mainstream appeal, and the result is a growing number of online personalities. One of them is Cynthia Parker, who rides on the wave of video sharing platform Tik Tok. Above are some of her details about her that you probably did not know. Keep up with her on Instagram or Tik Tok handles.
Tell us what's wrong with this post? How could we improve it? :)
Let us improve this post!