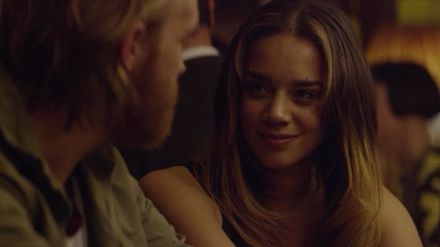 British actress Hannah John-Kamen may be only 29 years old, but she's already racked up an impressive list of film and TV credits that would be the envy of even the most seasoned performer. After getting her start in TV shows like Black Mirror (2016), Whitechapel (2012), The Syndicate (2012), The Midnight Beast (2012), and The Hour (2012), she made her move onto the big screen; just a few short years later, she's one of the hottest draws at the box-office. With new productions already in the works for 2019 and 2020, now's a great time to find out more about the talented star.
1. She sees the good in villains
In Antman and The Wasp, Hannah took on the role of the Ghost, a character that has traditionally been portrayed as a male. In addition to getting tongues wagging about the gender-swap, Hannah created more controversy when she suggested the villainous character wasn't really bad…just a little misunderstood. "I think everyone's redeemable. I really do,' she's explained. "I approached the character as if she's the good guy and through my eyes, she's the good guy. Through the protagonist's side, yes she's the bad guy. But in my mind, she's got her objective. The stakes are really high. But in the Marvel Universe, anything's possible."
2. She's a fan of Old Hollywood
She may be best known for playing modern heroines in action thrillers, but when it comes to her choice of films to watch, Hannah prefers old school classics that showcase the best of Old Hollywood. "I grew up on it, on Some Like it Hot, Gone with the Wind, that's my Grandma's favorite film," she shared with Brief Take. "I was really introduced to that at a very young age, so movies usually just triggered this excitement in me and this passion as well."
3. She does her own stunts
If you've ever watched one of Hannah's films, you'll know just how physical some of her scenes can get. What you might not know is that even in the most hard-core action sequences, Hannah is the one performing the stunts. While most actors are happy to sit by and led a stunt double take the risks for them, Hannah is the exception, claiming she gets a thrill out of pushing her abilities to their limit, and well and truly "kicking ass".
4. She got starstruck around Michelle Pfeiffer
Acting with the legendary actress Michelle Pfeiffer in Antman and The Wasp may have been a dream come true for Hannah (who's a lifelong fan of the actress), but she found working with her a daunting experience, none-the-less. "I got star struck being on the set a lot of the time. I'm a huge fan," she's said. "I was obsessed with her Cat Woman. I thought she was so badass. It was daunting, but you kind of use that. You kind of use that in the scenes and you also kind of take that energy and you really kind of apply it. It was amazing."
5. She studied at the Central School of Speech and Drama
Even from a young age, Hannah knew her destiny lay in acting. At the same time as she was studying at Hull Collegiate School, she was honing her skills at the National Youth Theatre in London. After finishing high school, she took her training further at the Central School of Speech and Drama, all the while auditioning for parts and juggling her studies with appearances in popular shows such as Misfits and Whitechapel.
6. She's a keen dancer
As every aspiring actress knows, the more skills you can list on your resume, the better your chances of making it big. This has certainly held true for Hannah, whose resume would be the envy of even the most seasoned performer. In addition to being an accomplished musician and pianist, she's also a whizz on the dance floor, having trained in ballet dancing, salsa, jazz dance, and tap dancing. When it comes to singing, she can give you a tune in pretty much any genre imaginable, including blues, cabaret, folk, jazz, and rock.
7. She's amazing at accents
We know the British actress can pull off a great American accent, but the range of dialects she can twist her tongue around is jaw-dropping. In addition to Australian, French, Italian, RP, and Russian, Hannah is also skilled in most British accents (the variety of which is pretty endless). According to her acting profile Hannah's range of accents include Cheshire, Cockney, Devon, Essex, Geordie, Hull, Irish, Lancashire, Liverpool, London, Manchester, Norfolk, Northern England, Northern Irish, RP/Neutral, Scottish, Somerset, South London, and Welsh.
8. She took the lead in a West End musical
These days, Hannah is best known as a TV and film actress, but her first big break came on the West End. In 2012, Hannah was offered the chance to star as Viva in Viva Forever!, a musical based on the music of the 1990's girl group, the Spice Girls. The production, which was written and created by Jennifer Saunders of Absolutely Fabulous fame, premiered on December 11, 2012, at the Piccadilly Theater. Reviews of the show itself were scathing, but Hannah managed to escape the disaster largely untouched, with The Daily Mirror even calling out her performance for praise: "It's a shame a talented cast, especially Hannah John-Kamen's Viva and the rest of Eternity, are let down by a clichéd plot and leaden dialogue."
9. Her film debut was in Star Wars
In 2015, Hannah made her move from TV to the big screen with a minor role as First Order Officer #1 in Star Wars: The Force Awakens. She's since appeared as Sophie in Tomb Raider (2018), F'Nale Zandor in Ready Player One (2018), and Ava Starr/ Ghost in Ant-man and the Wasp (2018).
9. She's due to star in Brave New World
In June 2019, it was announced that Hannah had been cast in the upcoming sci-fi dystopian drama, Brave New World. Hannah will be tackling the role of Wilhelmina "Helm" Watson and will be joining a glittery cast that includes the likes of Jessica Brown Findley, Demi Moore, Joseph Morgan, Harry Lloyd, and Alden Ehrenreich.
10. She has a pragmatic approach to auditioning
In the cut-throat world of showbusiness, most actors are desperate for any part they can get their hands on, whether they're suitable for the role or not. Hannah takes a more pragmatic approach to the auditioning process, refusing to get too disappointed in losing roles that aren't a perfect fit. "I think when you go into an audition room, it's [about] having an air of confidence in your interpretation of the character and the script," she told Interview. "My dad has always said to me, "Keep your feet on the ground," and that gives me some confidence to go in. If I'm right for the role, I'm right, and if I'm not, I'm not."