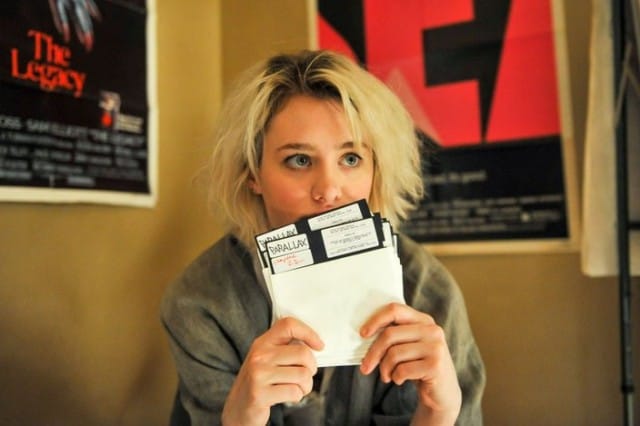 AMC has set an official premiere date for Halt and Catch Fire Season 3. The network is changing things up for its critically-acclaimed drama, moving the series from its previous Sunday night perch to Tuesday nights, with a start date set for late August.
Halt and Catch Fire's ten-episode third season will kick off with a two-hour season premiere on Tuesday, August 23, at 9 p.m. Following the two-hour premiere, the eight remaining Season 3 episodes of Halt and Catch Fire will air in the show's new regular time slot, Tuesdays at 10 p.m. on AMC.
"Following last season's critical reception, we believe that season three is poised to take our show to the next level. While a strong, evolving technology narrative will continue to drive these next ten episodes, the real story remains the emotional and psychological journeys of Joe, Cameron, Gordon, Donna, and Bosworth," said showrunners and executive producers Christopher Cantwell and Christopher C. Rogers in a statement. "If season one was a tale of the corporate boardroom and season two chronicled a start-up, season three is about the perils of a promising young company striving to join the ranks of the winners whose names still define the competitive landscape of Silicon Valley. Whereas Mutiny was once a rag-tag group of young coders full of limitless potential, the company now finds itself squarely in its adolescence, striving for corporate adulthood in a strange land where its future is far from guaranteed."
The first two seasons of Halt and Catch Fire are available to stream right now on Netflix. Check out AMC's official description for Season 3 below:
In the third season, which picks up in March 1986, Mutiny leaves Texas for the big leagues of Silicon Valley. Founders Cameron Howe (Mackenzie Davis) and Donna Clark (Kerry Bishé) search for the idea that will launch Mutiny as a player, but new collaborators test their partnership. Gordon (Scoot McNairy) struggles to find a place within his wife's company as Joe McMillan (Lee Pace) builds upon his empire, reinventing himself with a bold play that shocks the Valley and sends him back into the lives of his old partners. In addition to Pace, McNairy, Bishé, Davis and Toby Huss as John Bosworth, the third season features Annabeth Gish as Diane Gould, a seasoned Silicon Valley venture capitalist, and Manish Dayal as Ryan Ray, a talented and ambitious programmer, in recurring roles.
[Photo via AMC]