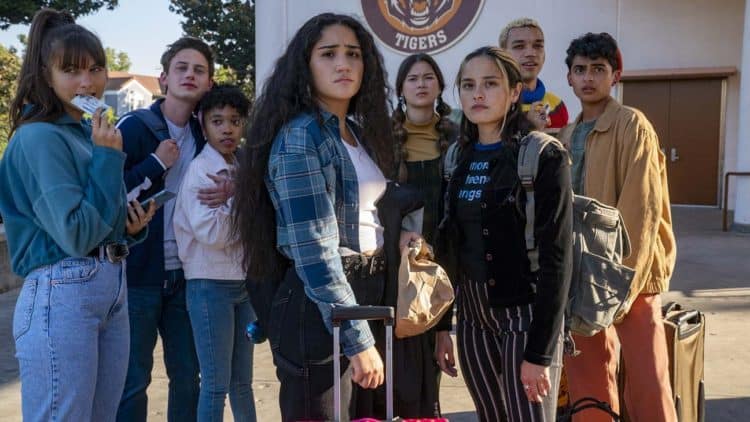 We may be very early on in the year, but it's already clear that 2021 is going to be a huge year for Haley Sanchez. The up and coming actress is on the verge of her big break and she's ready to show the world what she can do. Haley has a main role in the soon to be released HBO Max series Generation. The show followers a group of high school students who are trying to find their place in the world while also overcoming the challenges of every day life. The show is already being compared to another popular teen series, Euphoria, and it would be exactly what Haley needs to take her career to new heights. Keep reading to learn 10 things you didn't know about Haley Sanchez.
1. Generation Is Her First TV Credit
Most of the cast members on Generation are relatively new to the industry, but Haley might just be the newest of them all. Her role in the series marks her very first TV credit. According to IMDB, her only other on screen appearance was in a short film in 2019 called Redress.
2. Her Parents Also Work In The Entertainment Industry
After learning about Haley's family history in the entertainment industry, you might just start to think that being an entertainer is simply in her blood. Her mother is Melissa 'Rocky' Brasselle who has been acting since the late 90s. Haley's father, Robert, is a stuntman. Her maternal grandmother, Arlene DeMarco, was the lead singer of the group The Five DeMarco Sisters.
3. She's Passionate About Social Justice
Even though she's just getting started in her career, Haley already understands the importance of using her platform to stand up for what she believes in. Haley currently has a link in her bio to a petition on Change.org that is asking for signatures to show support for a young protester who was arrested over the summer.
4. She's Not Really Into Social Media
Social media has become a very important tool, and many people in the entertainment industry use their online presence to their advantage. At the moment, however, Haley doesn't seem to have much interest in building a large social media following. She doesn't post very often and currently has less than 300 followers on Instagram.
5. She's Close With Her Generation Cast Mates
Haley couldn't have asked for a better experience for her first TV role. Not only does she get to be part of a great show, but she gets to do it with an awesome group of people. Haley and the rest of the cast members on Generation have built a very close bond. They spent a lot of time hanging out together even when they weren't filming. Hopefully the closeness they formed will translate into great chemistry on screen.
6. She's A Trained Actress
Despite growing up around performers and having her own natural talent, Haley has still undergone training to help her get the most of her skills. She studied at Actor's Edge in San Luis Obispo in California. When discussing her experience she said, "Aaron (Actor's Edge Head Instructor) genuinely cares about his students. He really helps you become the best actor you can be whatever skill level you're at. I took Aaron's classes and continue to coach with Aaron. We worked on my self-tape and callback for Generation together. In both coaching and his classes Aaron allowed me to see things that I never knew were there. "
7. She Did Some Modeling As A Child
Acting may be Haley's main focus now, but when she was younger she was all about modeling. She started modeling when she was just a year old and got the chance to work with Warner Brothers. At 4-years-old, she signed with Acme Talent and Literary and continued to model for several years.
8. She's Not Actually A Teenager
Despite the fact that Haley is playing a high school student in Generation, her real life high school days are quite a ways behind her. Her page on IMDB reports that she was born in February of 1993 which makes her 23-years-old. Fortunately, she still has a very youthful appearance.
9. She Was On A Talent Competition Show
Generation may be Haley's first TV acting credit, but it's not technically her first time on TV. In 2008, she and her mother appeared on the short lived reality competition show I Know My Kid's A Star. During the series, ten parent/child pairs lived together in a house while the children competed in various contests each week. The winner earned a $50,000 prize and a year contract with an agent.
10. She's A Singer
Sometimes it can take a few tries before a person finds their niche, and that seems to have been the case with Haley. In 2018, she released a singe titled "Separate Ways" under the name Haley DeMarco. As far as we can tell she hasn't released any other songs and it doesn't appear that she has any plans to.