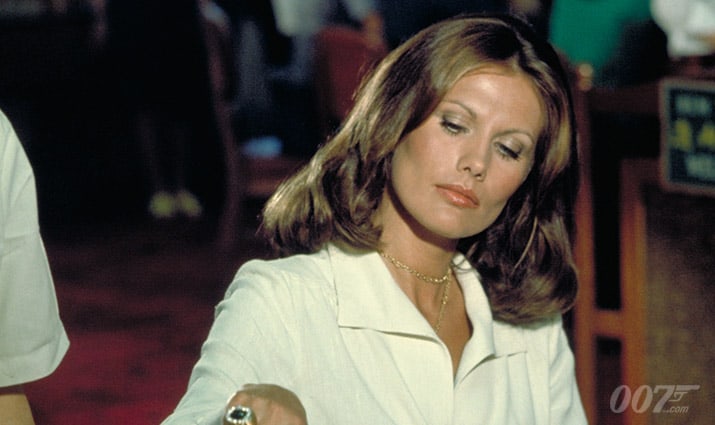 It might sound a bit harsh to say that Maud Adams was a better model than an actress but considering that it's been said before it doesn't sound quite that bad. She did manage to gain a good deal of notoriety thanks to her career when she was still a part of the entertainment industry, but while she did get to be a Bond girl like several others, Maud was still better known as a model than as a big star at one point. She did have a successful career while she was in the business and she did manage to get a lot of attention at the same time, but after all the glitz and glam was over it's been seen that she's typically remembered by those who were or still are huge James Bond fans. She's been retired since 2006, but as it's bee seen, if one has a role in the movies that is easy to remember and has a chance of being brought up again and again, it's bound to happen that they'll be mentioned once or twice in the years that follow their departure. Plus, as I mentioned, Bond girls tend to be remembered by a lot of people for various reasons, one among them being that they belonged, at one time, to one of the most well-known franchises throughout the world.
Unlike some actresses though, Maud looks back on her time as a Bond girl as a positive thing since she admits that being a part of something like the Bond story was bound to be a positive thing for anyone that took such a role. There have been disputes over the years about what it means to be a Bond girl, and what it meant to have someone such as James Bond being surrounded by so many beautiful women. The idea that some folks can't look at a story and simply realize that there was more to it than what was being seen isn't too difficult, since the role helped a few women to really get noticed in their own time. Maud was just one among many, but she looked at it as something that helped her career and was legendary in its own right. While she went on to have roles in other movies and in TV it's fair to say that she looked at this as just one more part of her career that really helped her to establish herself as someone in show business.
Despite retiring in 2006 she did show up for a couple of appearances after that, but the latest was in 2010, while she hasn't been seen on camera much since then. She has been in more than one documentary in her time, and it's been seen that she's still of the mind that the Bond movies she showed up in were definitely a boon to her career. Some women have spoken out about James Bond as a negative stereotype towards men, some have said he's not as perfect as some would make him out to be, and even others would claim that the character is kind of detestable. But the fact of the matter is that every Bond girl, from the least known to the most famous, has been a part of that franchise and has earned at least a small place in movie history for it. Even if they eventually fall off the map so to speak and aren't heard from again for years and years, they'll have earned a small amount of immortality that is all that any person can really hope for. Maud being known as a model and as a Bond girl is a double dose that a lot of people would give just about anything to be known for since in this world a lot of folks are of the mind that if you can become known for something, pretty much anything is worthwhile so long as it gets your name in the record books.
With Maud though, her time spent in front of the camera and on set have already done this for her, meaning that if she did want to come back, which there's no indication of at the moment, she wouldn't really need to, other than to perhaps tell people her account of how things went down back in the day, and possibly to take up the role of a woman that had been there, seen it, done it, and had plenty to tell. Like pretty much all Bond girls her days of playing the young, vibrant model are pretty much over, but the stories she could tell would be worth sitting down to listen to since if anyone has ever just sat and listened to those that still have their memories of the decades that have come and gone, a lot of folks can tell a pretty good story that's more than little interesting to hear.