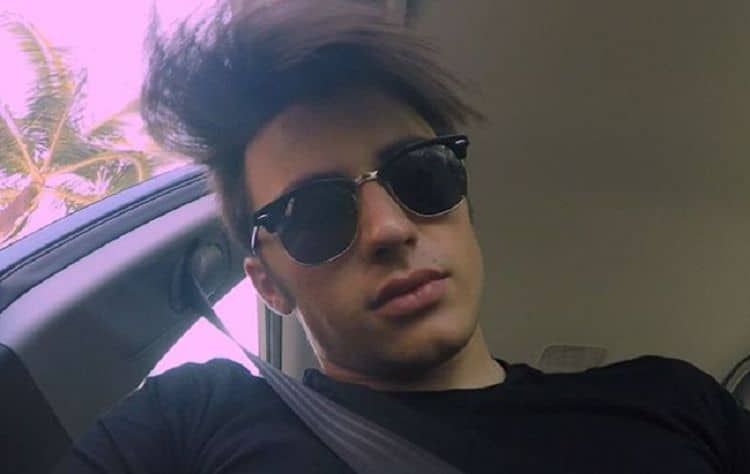 Every couple of years, there's a handsome young actor who becomes the heart throb of the generation. Gunner Burkhardt is on his way to becoming the face today's teens can't get enough of. The 21-year-old actor has gained popularity due to his role in the Netflix series, Alexa and Katie. Although the show deals with the heavy subject of cancer, there is a comedic element that reels viewers in. With the success of this role, there's no doubt that there will be plenty of big things to come for Gunner in the future. Like most up and coming celebs, people who have seen Gunner's work are dying to learn more about him. Here are 10 things you didn't know about Gunner Burkhardt.
1. He Is A Successful Model
Working as an actor isn't Gunner's first time in front of the camera. He actually had a successful modeling career before trying his luck in Hollywood. Gunner got his start in modeling when he met a woman whose daughter was a model. The woman put him in touch with a modeling agent and was eventually signed to International Modeling & Talent Association. His career quickly began to take off and he worked at both photoshoots and fashion shows. After earning second runner up as Junior Model of the Year, Gunner decided to try his luck at acting.
2. He's From Ohio
Ohio may not be known for its glitz and glamor, but to Gunner Burkhardt, it's the place he calls home. Gunner was born in Guernsey County, Ohio. He attended Meadowbrook High School in Byesville. Although he is proud of where he's from, he knew he would eventually have to leave in order to pursue his dream.
3. He Grew Up Near One Of His Alexa and Katie Cast Mates
When Gunner Burkhardt met one of his cast mates on Alexa and Katie, he was in for a surprise. Barrett Carnahan, who originally auditioned for the role Gunner earned, is also from southeastern Ohio. Although they grew up in close proximity to each other, the two didn't actually meet until they started working together.
4. He Enjoys Playing Sports
Acting and modeling aren't the only things Gunner loves to do- he also likes to play sports. Gunner was a member of his high school's football and basketball teams. However, Gunner left both teams after his junior year so he could spend more time developing his skills as an actor.
5. He Moved To L.A. After High School
Everyone knows that Los Angeles is one of the best places to be if you're trying to become an actor. That's exactly why Gunner decided to move there right after his senior year of high school. During an interview, Burkardt said, "I pretty much graduated high school, packed everything in my car and drove across the country." When he first arrived in L.A., his acting was "really bad" and he spent two years working with some of the best acting coaches in the business.
6. He Made His First On Screen Appearance In 2016
Gunner Burkardt isn't a seasoned actor by any means, but Alexa and Katie isn't his first rodeo. He got his first role in the 2016 film Unlucky. Although the role was minor, and the film wasn't very popular, it served as a great way for Gunner to get his foot in the door.
7. He's Been In A Lifetime Movie
If Gunner Burkhardt looks familiar to you, you may have seen him in the 2019 Lifetime movie, The Secret Lives of Cheerleaders in which he played a football player named Patrick. The movie is centered around a high school student whose instant popularity quickly puts her on the cheer captain's bad side. His role in the movie put him on a lot of people's radar and left a lot of fans with crushes.
8. He Loves Artistic Photos
Most people's Instagram pages are filled with random selfies, but Gunner Burhardt's is a little different. While he certainly doesn't shy away from a good selfie, he also enjoys posting artistic photos that show a glimpse into his model side. Although he doesn't have very many photos on his account, the ones he does have definitely tell a story.
9. He Was Surprised He Landed The Role In Alexa and Katie
When Gunner Burkhardt auditioned for the role of Spencer, he was up against some pretty stiff competition. Although he was confident in his abilities, he thought the role would go to a more experienced actor. So when he found out he earned the role he was a little surprised that he beat out the rest of the competition.
10. He Is Respected By His Coworkers
Although Gunner is relatively new to the acting world, he's already worked with some very talented people. And in addition to working with them, he's also gained their respect. During an interview, Savannah May, who had the leading role in The Secret Lives of Cheerleaders, spoke about what it was like to work with Gunner. Savannah referred to him as "phenomenal" and said their chemistry was natural.
Tell us what's wrong with this post? How could we improve it? :)
Let us improve this post!