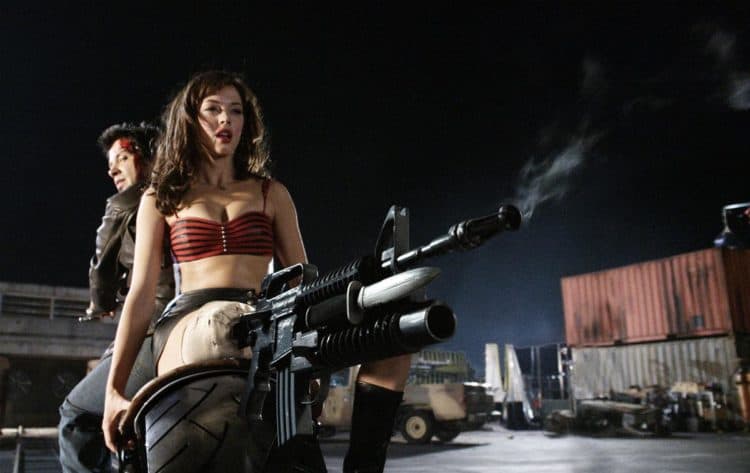 In April 2022, Quentin Tarantino and Robert Rodriguez's criminally underrated, three-hour, and eleven-minute double feature, Grindhouse, will officially turn 15. For anybody who seriously follows movies, there are likely going to be times when what you think is going to be a smash hit becomes the exact opposite. As I sat in a theater one Friday night during the opening night premiere of Grindhouse nearly 15 years ago, the energy in the packed theater and wildly engaging audience participation in the film was a memorable theater experience for me. It doesn't happen often; the last I can recall before that was watching Jurassic Park in a theater at the age of 11 in the summer of 1993. The reception I saw with my own two eyes led me to believe this film was going to dominate the box office–it didn't. There are many theories as to why that didn't happen, but what these two filmmakers achieved was just the right balance of nostalgic homage and pure, undiluted entertainment. Grindhouse was actually two movies packaged together, Planet Terror (Rodriguez) and Death Proof (Tarantino), just like how b-movies and exploitation films used to be packaged in the glory days of Drive-In cinema and Grindhouse cinemas of the 1960s and 1970s. There was even an intermission after Planet Terror that featured 5 fake trailers, all filmed in a 70s aesthetic, just like what would have been featured in that era's Grindhouse films. Why didn't it work? Well, by 2007, 70s and 80s exploitation films were now niche offerings for those interested in those eras, and the film's three-plus hour running time came at a time when 3-hour films were starting to fall out of favor at a multiplex near you. But for those of us who saw the film as it was meant to be seen, there is no question of its greatness. Let's take a trip down memory lane and re-examine what made Grindhouse so great.
Planet Terror
The first film in the double feature is Robert Rodriguez's zombies are taking over the planet exploitation throwback, Planet Terror. Starring an unforgettable Rose McGowan and Freddy Rodriguez in the lead roles, this film is so superbly similar to 70s b-movie horror films that it is almost unrecognizable as a movie that was made in the mid-2000s. The plot is rudimentary enough, which is another throwback to the simplistic storylines in 70s exploitation flicks. A biological weapon is released throughout a California city that turns half of its residents into flesh-eating, zombified psychopaths while a group of survivors fights against them. The film is never meant to be anything beyond pure fun and horror cheesiness, and Rodriguez keeps it this way within every frame of its running time.
The Trailers
After Planet Terror, the film's intermission features 5 trailers made for fake films from a variety of genre filmmakers from the 2000s. The trailer for Machete was actually turned into a Robert Rodriguez-directed film a few years later which later became a franchise. The rest of the trailers were Rob Zombie's Werewolf Women of the SS, Edgar Wright's Don't, Eli Roth's Thanksgiving, and Jason Eisenher's Hobo with a Shotgun. Each is superbly indicative of genre films within the horror and exploitation field. Until the release of the entire film as one continuous segment as seen in the theatrical run, it was impossible to view the trailers unless you could quickly catch one as it was uploaded to YouTube.
Death Proof
In the grand scheme of things, Death Proof is certainly the weakest Tarantino-directed feature, but even his weakest effort is still a fun ride. Death Proof can best be described as a Quentin Tarantino slasher film, and it is that, but there is also something engrossing about this simple film, and it is almost certainly Tarantino's incredible dialogue that remains on point with all of his previous films. The story is about three friends who all fall victim to a crazed serial killer, former Hollywood stuntman that goes by the name "Stuntman Mike" (an incredible, playing against type Kurt Russell). Over a year later, Stuntman Mike decides to stalk another group of 4 friends, but this time he meets his match when this group of ladies surpass his stunts since they are driving a much more powerful muscle car then his. Death Proof, like Planet Terror, is not a bad film; rating a b-film along the scale of something like There Will Be Blood or No Country for Old Men misses the point of what Rodriguez and Tarantino were aiming for by recreating this type of cinema in the 21st century. If I had to choose, I actually prefer Death Proof over Planet Terror thanks to the acerbic, witty dialogue.
What Makes Grindhouse Great?
What makes Grindhouse an unforgettable experience is the rarity that came with watching the film as it was meant to be seen in theaters. The film faded from theaters in a few short months and was initially only released as two separate movies minus the 5 fake trailers in the summer of 2007. Thankfully, the entire film with the trailers was released on Blu-Ray in 2010 and fortunately, it remains in print. Acquiring this Blu-Ray is the only way to watch Grindhouse as a whole. Cult films, b-movies, and exploitation films are always going to be victims of cinema purity and snobbery. But what Rodriguez and Tarantino proved with this movie is that this type of cinema appeals to the best types of transgressive art that film can display. The movies are mindless fun, and very violent to the point of making the violence comedic, but exploitation cinema allows us all to partake in an alternative view of the world, a world that allows us to laugh at the absurdity that all too often comes with life, and maybe, just maybe, not take ourselves so seriously. Grindhouse is nihilistic, sure, but a little nihilism every now and again keeps us grounded, and allows us to ponder why the world is so messed up and why bad things constantly happen to people.