Blink and you'll miss it, but the latest teaser for Grey's Anatomy's midseason return dropped a major hint about Bethany Joy Lenz's new character, one which has now been confirmed. It was announced back in October that the One Tree Hill alum would be checking into the ABC medical drama for a major arc. Shondaland has been extremely tight-lipped, only revealing that Lenz's character's name is Jenny. Now a few days away from Season 14's midseason premiere, the latest promotional teaser just gave a first look at who Lenz will be playing.
It has been confirmed that Lenz will be playing the fiancée of Paul Stadler (Glee's Matthew Morrison), also known as Jo Wilson's abusive, estranged husband. Whether or not Jenny will know of, or believe, anything that Jo claims about Paul's behavior is up for debate. The premiere will pick up right where the midseason finale left off, with Jo coming face to face with Paul.
Morrison made his Grey's debut last season in a series of "what if" moments that had Jo's beau Alex contemplating confronting the man. Season 14 saw the Morrison's character revisited when Jo decided to finally divorce her husband, despite knowing it would mean exposing her location to him. The moment Jo has dreaded for years finally happened, when Paul walked right up to her in the final seconds of the finale. Her first suspicion would be that Paul would come to confront her. However, Lenz's presence changes that idea.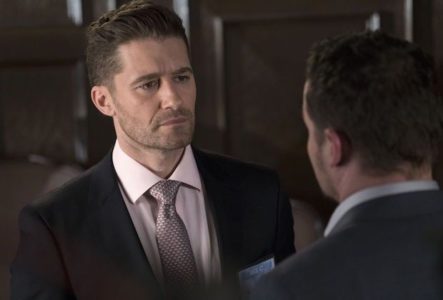 Your first look at Lenz's character Jenny happens at the 0:10 second mark of the video below.
Further speculation about Jenny was fanned by the last-minute title change of the premiere. Previously entitled "Four Seasons in One Day", the new episode is now "1-800-799-7233". Brought to the table by Grey's star Giacomo Gianniotti (Dr. Andrew DeLuca), the new title bears the phone number of the National Domestic Violence Hotline. The midseason premiere will bring the conversation of Jo's domestic violence to the forefront, and Jenny's current relationship with Paul should play a major role in how this confrontation years in the making plays out.
Grey's Anatomy returns this Thursday, January 18 at 8pm on ABC.