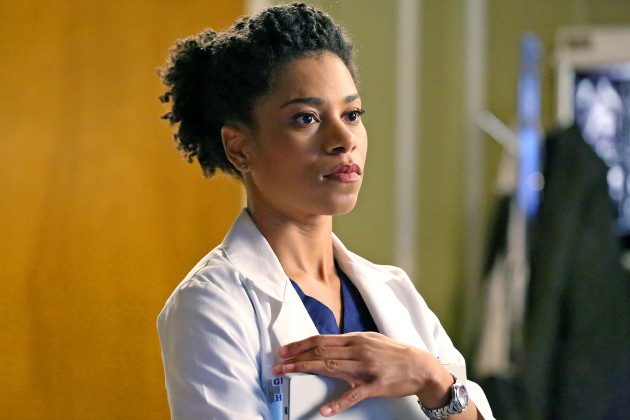 This week on Grey's Anatomy, a shift in the earth is not only felt physically, but emotionally as well. An earthquake shakes up the whole hospital, and what shakes out as a result may be more than one doctor can handle by the end.
As a result of the earthquake Owen and Amelia do their best to help a little girl and her unconscious mother over the phone. Little Ruby calls the hospital from a remote cabin for help when her mother is knocked unconscious by the earthquake. In one of the most nerve-wracking moments this season, Amelia, Owen, and Webber must walk Ruby through performing a surgical procedure on her own mother. The CPR sing-along to "Stayin' Alive" so that Ruby can keep her own mother alive would be comical if it wasn't so devastating. Eventually paramedics find Ruby and her mother and transport them to the hospital, and everyone is safe. As an added bonus Amelia and Owen stop fighting their feelings for each other too.
If you were wondering how Jackson and April are doing back at work after the loss of their son, let's just say there's no right way to deal with grief. For right now avoidance is the theme. Jackson walks around putting on a happy face while his wife puts on her too busy to talk face. So while April assists with the Ruby situation, Jackson helps Ben come to terms with his brother's gender transition. Jackson helps Ben realize that his new sister is just making the change to become who she's always been.
Maggie realizes this week just how nonexistent her love life is when a woman old enough to be her grandmother is getting more action than she is. Maggie is monumentally bad at being asked out, potentially even worse than her sister Meredith, which is saying something. Maggie explains that she really isn't interested in dating, but Callie calls her out on being scared. So Maggie finally accepts a date with a good looking radiologist. Good for her, because big sister Meredith is about to get a giant dose of reality.
Jo is the first to realize that Meredith hasn't lost a single patient in four months. While this is definitely great for her career, Meredith is in some major denial regarding her marriage. It's hard to understand how Alex has managed to restrain himself from rolling his eyes at Meredith's explanation of her happy long-distance marriage. After treating a family about to be united by marriage, but who couldn't stand each other, Meredith is told about her winning streak. She realizes the disturbing fact that she has not lost a single patient since the day Derek left. It's a testament to her original hypothesis that this distance was needed to remind Meredith and Derek of who they are outside of their marriage. However, the strange woman who picks up Derek's phone seems to indicate that Derek is not on the same logic track as Meredith. Distance definitely does not make the heart grow fonder, and I wish I didn't see this coming.
Given Derek's history, who thinks McDreamy is back to his old cheating ways?
[Photo via ABC]