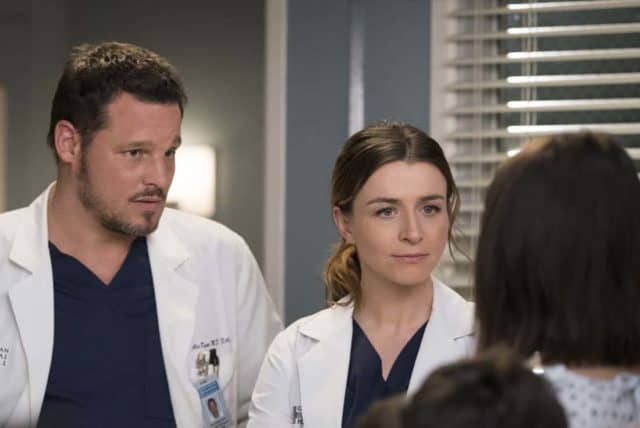 Praise Jesus, April is back! We need to start of this week's Grey's Anatomy recap with that gratitude, because it was rough going there for awhile. April needs God and prayer in her life, not unlike some others. The Serenity Prayer also has its place with those who need strength and guidance, particularly Dr. Webber. Whether you put your faith in a higher power or you build faith up in yourself, it's a catalyst for the courage to live.
April has finally made up with God. Though God probably understands April's crisis of faith, she nevertheless feels the need to go on an apology tour around the hospital. It's easy to apologize to the people she used and yelled at, but not so easy to apologize to Jackson. Because she wasn't just lashing out at Jackson during this whole period, she hated him. When she lost God, it was as if every reason Jackson ever resisted going to church with her was validated. Jackson won and God did not, and that didn't sit right with April. But when April lost God, Jackson was still there, constantly checking in. April and Jackson can finally coexist peacefully, that is until she finds out that he's seeing Maggie. That's going to be a fun conversation (not).
Alex and Amelia have two terminal patients to take care of using a risky sound waves procedure. Though this was Amelia's idea, the thought of accidentally decapitating a child doesn't sit well with her. Koracick is excited about trying the procedure on the kid whose tumor is causing uncontrollable laughter, but there is a price for being at the frontier of medicine. More risk does not always equal more reward. The procedures is a success for one child, but not on Kimmy, Alex's long-time patient. It was a miracle the first patient survived. Kimmy's tumor being far more aggressive, Koracick is not comfortable using the procedure on her. He will, however, give her her dying wish of going to Broadway. Sometimes you win, sometimes you lose, and sometimes you get a miracle. Meredith found her miracle test mouse to beat Marie Ceron, but Alex won't get the miracle to save Kimmy.
Owen returns from Germany very grumpy. It's his own fault that Teddy rejected him. Rather than face that, he shifts his focus to hunting down another doctor with some very shady practices. Shady might be too nice a word for it. Illegal, immoral, despicable are all good words to describe a doctor who fakes breast cancer diagnoses in women so that he can charge them for chemotherapy they do not need. He even scares Arizona into thinking she has breast cancer for a bit. I'm with Owen. He should be beaten up just for scaring Arizona.
Webber is shaken when his sponsor, Holly, returns to Grey Sloan with end-stage liver failure. He talks to this woman almost every day, but she did not tell him that she was sick, or that she had signed a DNR. When Holly continues to refuse treatment, Webber digs in his heels and orders Meredith and Maggie to save her by any means. If there is one thing that can get a recovering alcoholic to drink again, it is the loss of his sponsor. Meredith knows what an out of control Richard Webber looks like, but Maggie doesn't. They can't save Holly, and they can't get Catherine back to Seattle in time to talk Webber off the ledge. So it's up to Maggie to convince Webber to let go. It's actually not that hard, since she did the same thing when her mother was dying. Once Webber sees this perspective, he gives Holly what she wants, including a serenity prayer with Amelia. That prayer is right on the nose when it comes to not being able to control life and death.
Now that April has regained her faith, will she be okay with her ex-husband's new relationship, or will it drive her back to the brink?