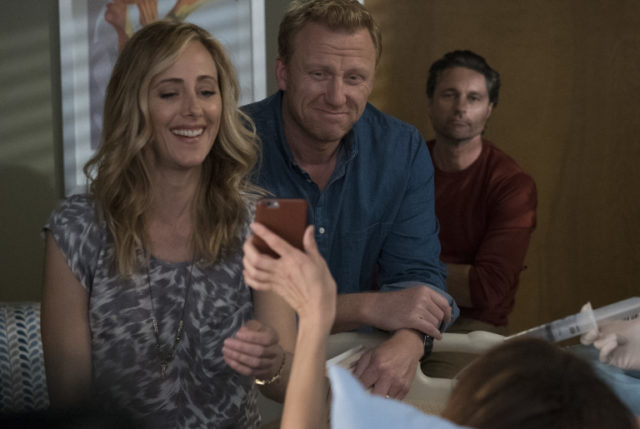 Grey's Anatomy wouldn't be the show we know it to be if it didn't leave us hanging for dear life in a season ending. Creator Shonda Rimes has done it to us for so many years, and she did it again with the season 13 finale. In that episode, we got a glimpse of a potential new character, which just happened to be Owen's sister and the ex-wife of Nathan, Meredith's new beau. Come to find out with the season 14 premiere, that's not all that we'll have to deal with in the new season. New drama, new affairs, and new faces filled the hallways of Grey-Sloan Memorial last September 28, but we also got plenty a glimpse of the past throughout the 2-hour special.
First off, we knew that co-writer Krista Vernoff was coming back. She was around for the first 7 seasons, and you can almost feel the difference. Along with her lighter writing and dialogue, she also gave us a few blasts from the past featuring former character favorites such as Christina, George, Ellis, Callie, and Derek.
In addition, another character favorite is back. Teddy actually escorted Owen's sister back to the US. It wouldn't be too complicated if Owen isn't having issues with his wife Amelia, but they are, of course. They've had issues for the good part of season 13, and nobody really knew what was going on. The reunion between former pals and lovers Teddy and Owen results in a kiss. What that means for those two is unclear at this point, and it's also not a straight indication that we're looking at the end for Owen and Amelia.
Speaking of love triangles, the show is littered with it. We learned of the most obvious one from the season 13 finale, and we got the first glimpse of the interaction in this season's premiere. Meredith and Nathan have been hitting it off for quite some time, but they only decided to make it official in the final episode last season. Shortly after that, we found out that Nathan's ex-wife is alive and on her way via medical transport to their hospital. Then there's April and Jackson, torn lovers who just can't figure out what to do with their family life. April has decided to move out when she figured out that Jackson has feelings for and is pursuing Maggie. Jo and Alex on the other hand are finally moving on as well, but now the person who was in the way to begin with, Paul, is in the picture. We also meet another new character, Andrew's doctor sister Carina, who's now matched up with Arizona.
There's so much new information, but the appearance of Carina is very important because she reveals the biggest shock of the season opener. Through her research, we all find out that Amelia has a brain tumor. It's really too much to process at the moment, so we'll take the time to digest it all before Shondaland hits us with another bomb in the next episode. Grey's Anatomy airs on Thursdays at 8 p.m. on ABC.
Save