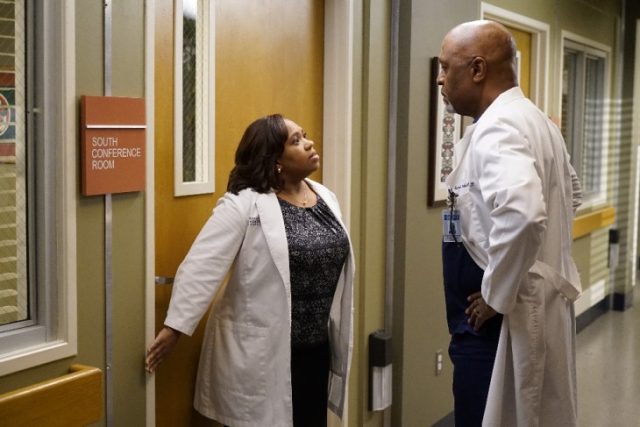 Anyone who's worked in any one profession for a long time will tell you no one likes the harbinger of change. This is especially true if the change comes from an outsider. No one likes to be told that the way they've done things for years is wrong or could be improved upon, especially if you add in the age factor. Grey's Anatomy does just that by adding in an outside doctor who shakes up everyone's work ethic. We all know how well combining an outside doctor with different opinions to the Type-A personalities at Grey Sloan Memorial works.
When Catherine and Bailey realized that there may be a flaw in their residency program, we knew that the doctors were going to go into a panic. We'd all like to forget the Cahill debacle of Season 9. Alex thinks this visit is because of him, but it's much bigger than that. Unfortunately, Eliza Minnick is here because of the program…which Webber is in charge of. Minnick's mantra to get the residents talking, "Nothing leaves these walls", is probably one of the most ridiculous things I've ever heard said within the walls of Grey Sloan Memorial. No one in the hospital has ever been able to keep a secret for long. Her second favorite mantra, let the residents sink or swim, is the most ridiculous thing the attendings have ever heard. They already didn't like her, but interrupting in the middle of their surgeries is the quickest way get people to want to kick you out of this hospital with a good literal kick.
Sad to say that Minnick got to see the best and the worst of the hospital's emotional problems. Amelia and Owen's personal problems easily interfere in their work. All they do is fight over their patients because Amelia finds it easier to avoid, rather than talk, to her husband. Amelia hasn't been sleeping at home because she has been terrified of telling Owen that she doesn't want to get pregnant. She knows she can't put the genie back in the bottle if she tells the truth, so it's easier to make her husband lay on the floor during a surgery (there's a reasonable, innovative reason for that). It's not as if Amelia's fears were unfounded. Letting the genie out of the bottle puts her back at Meredith's. Jackson and April's weird cohabitation is complicated by them both being on Tinder, yet they're the stable ones. The two are so amicable in fact that Jackson is the one to encourage April to give dating a real try despite her resistance.
There's only so much beating around the bush Bailey can do with Webber regarding Minnick's presence. He's more than blindsided when she tells him Minnick is doing more than observing, he's genuinely hurt. By the end of the day he's learned something though. Minnick's pushiness in the OR actually makes Maggie a better teacher and gives Leah and DeLuca more opportunities to learn. They didn't need to sink because they had their teachers there to keep them from drowning. Overall Minnick liked her experience at Grey Sloan, and even expressed a subtle interest in Arizona. However, she's very clear about her terms. If Minnick makes the decision to become an attending at Grey Sloan Memorial, she'll be working alone, without Dr. Webber. Bailey always does what's best for the hospital, but this time it might mean betraying her mentor to do so.
Should Webber stay on as the Director of the Residency Program, or is it time for a change?
Grey's Anatomy Season 13 Episode 7 Review: "Why Try To Change Me Now"
Summary
A new doctor shakes up the teaching methods of Grey's Anatomy.