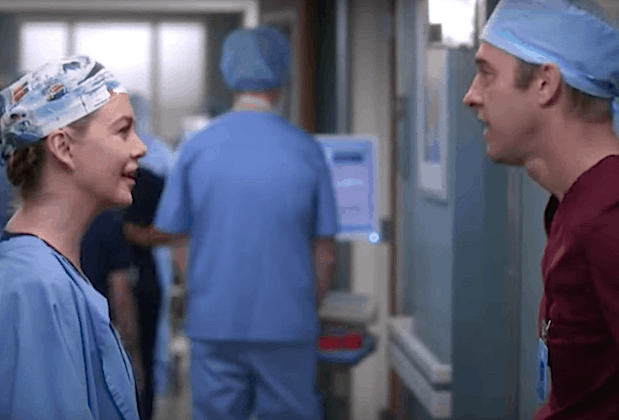 A rabbi, a patient, and your ex walk into a bar. This bad joke isn't exactly how this week's Grey's Anatomy starts out, and certainly not in a bar. But the characters in this bad joke are the right people to help move three doctors out of their dead zones. There is something about the right person telling you what you need to hear, at just the right time. For better or worse, Grey's Anatomy milked that belief for all it was worth.
When Amelia told Owen to go to Teddy, I thought it was a sign her brain tumor had returned. Now I see the wisdom in this move. It was nice to see Teddy again, and there's no denying that she and Owen have chemistry. Why wouldn't they? Owen and Teddy are best friends. They know everything about each other. There's almost no reason they wouldn't be a perfect match. They love each other, but that is not the same thing as being in love. Owen's terrible history should have been proof of that. Strike one. Owen had several opportunities to be with Teddy and always chose someone else over her. Strike two. The fact that he was in bed with Teddy 24 hours after he was in bed with Amelia is strike three. Owen loves Teddy, but if he was in love with her, the way she has been with him, he wouldn't have gone to her at his ex-wife's suggestion. He would have just known. I could go on about what Owen Hunt does and doesn't need, but I'll save that lecture for another day.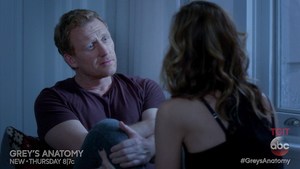 Meredith, on the other hand, has better sense. She married McDreamy, and still doesn't get enough credit for her good taste in men. While the prospective suitor in question is her patient, we're more than happy to overlook that. Nick Mars (Scott Speedman) is a doctor, specifically a transplant surgeon who had the ironic luck of needing a kidney transplant himself. 5 weeks post-op, he collapses right in front of Meredith. Sounds like fate to me. Did we mention that he and his big heart of gold took in his niece, thereby making him a single parent, just like Meredith? She has more stimulating conversation with him in his hospital bed than she has had with a man in years! Plus, she saves his life. When can he move to Seattle?
April treats Eli the Rabbi for a one in a million complication. Dr. Bailey gave the rabbi the standard of care treatment for his condition. No one could have predicted that the medication that helps every other patient would end up killing him. This man quickly realizes he is dying, yet he still takes the time to heal April. April has been in desperate need of someone to snap her out of her spiral, and Eli the Rabbi was the perfect person. In an enormous amount of pain, Eli listens to April complain about the unfairness of life. Mercifully, the dying man shuts her up. It's hard to argue life's unfairness with a rabbi who brings up the Holocaust. He's right. Nowhere in any religious text does it say that life will be perfect if you follow all the rules. There are too many biblical stories that lean the opposite direction. April just misread the text. She was already on the right path, doing God's work by doing her part to make things better. She's not promised good things because she sat with Rabbi Eli while he died, but easing his pain for those few moments matter. Just like that, April's faith is restored.
Did the episodes events finally get the doctors over their humps, or will they cling to the pain?
Grey's Anatomy Season 14 Episode 17 Review: "One Day Like This"
Summary
Grey's Anatomy turns the page on Meredith, April, and Owen's next chapters, but will they move on, or cling to the pain?