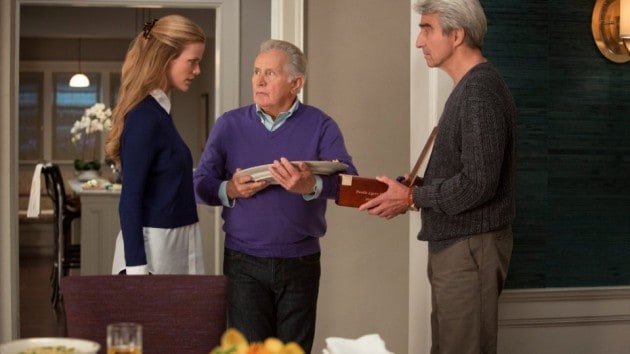 Since the beginning, Grace and Frankie has been a slow-but-enjoyable ride. However, things finally began to pick up a little steam in the third episode, "The Dinner."
The episode begins with both Grace and Frankie continuing to adjust to their new lives. Grace backs out of an event that is being sponsored by Robert and Sol's law firm, and Frankie is struggling to be creative with so much going on. Meanwhile, Robert and Sol also continue adjusting, but their plan to establish a new normal is a dinner party for all of their children. Sol worries that they haven't thought the dinner through enough, but Robert assures him that everything will be just fine. The dichotomy presented here between the opposite reactions that each "couple" has to their respective new lives is a much more interesting scenario that the show has had thus far, and a stronger central theme serves to strengthen the actual plot in a way that Grace and Frankie has definitely needed.
All of the kids are extremely concerned about the dinner, with the primary concerns being Grace's reaction if she finds out and Coyote's history with Mallory. In addition, Brianna has to deal with the issue of Grace wanting to return to her former company (of which Brianna is the current CEO). She doesn't want to re-hire her mother because she's worried about being thrust back into Grace's shadow, and Grace reluctantly understands. Frankie also tries to get a job, but she is, humorously, even less successful than Grace. The humor in this episode is, fortunately, more consistently funny than the previous two, and Grace and Frankie really begins to show that it can fire on all cylinders when enough effort is used.
At the dinner party, things between the soon-to-be step-siblings are just as awkward as everyone had worried. Coyote tries to talk privately with Mallory, and the full story of their last encounter comes out as Mallory nearly has a mental breakdown in the middle of the meal. Brianna and Bud end up also getting into an argument as they both address that their families have been broken apart. Over dessert, tensions reach a high as everyone finally speaks their minds. Mallory and Coyote finally bond through their new status together, and Brianna and Bud walk out with the cake. Meanwhile, Grace and Frankie talk to each other about their respective days, and they realize that life just isn't what they want it to be at all right now. To relieve stress, they decide to go and get some cigarettes. At the store, though, they are completely ignored by the employees, causing Grace to completely freak out, as she refuses to be irrelevant. Returning home, they find the cake waiting for them.
It took a few episodes, but things are really starting to finally click on Grace and Frankie. The children are all coming into their own, and the interactions between them are becoming almost as strong as the ones between the four leads. The humor all hit for once, and the thematic strength of "The Dinner" elevated the episode's storylines beyond what had previously been accomplished.
[Photo via Netflix]