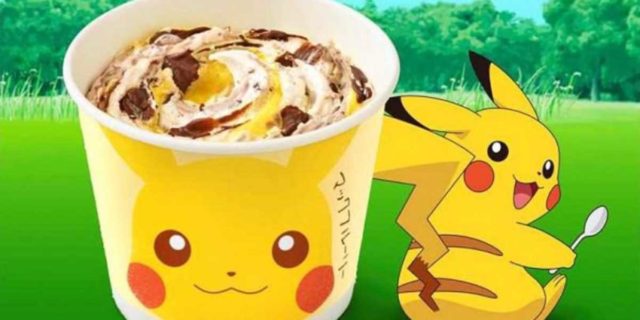 McDonald's is famous for adding new items to its menu that tie-in with popular culture and trends. They are also known for collaborating with big brands. These two points are evident in their constantly changing themed Happy Meals and their range of McFlurries. The latest surprising addition to the menu is the Pikachu McFlurry and here is what we know about this fun, new dessert.
Availability
McDonald's is launching this product in Japan on July 14, 2017. It is intended for this flavor to sell until early August. At this time, Japan is the only country where this new flavor is being sold and there are no current plans to introduce this new McFlurry elsewhere. However, it is always possible that McDonald's may extend the sales of the Pikachu McFlurry to other countries around the world depending on how well it is received in Japan.
The release of this product is linked to' Pokémon the Movie: I Choose You', which is released in Japan the following day. It is the 20th film in the Pokémon series and will commemorate the 20th anniversary of the Japanese release of the anime. The movie is planned for the United States in the future, although there is no official release date as yet. Therefore, it is possible that McDonald's will time the launch of the Pikachu McFlurry with the release of the movie.
The Character
Pikachu is probably the best-known and most recognizable of the Pokémon species. This character was designed by Astuko Nishida and Ken Sugimori. Pikachu has become the mascot of Pokémon since it appearing in 'Pokémon Red and Blue'. Pikachu are often captured by humans in the films and games to fight against other species of Pokémon.
The Flavor
Prior to the launch of the new McFlurry, McDonald's invited customers and Twitter followers to guess which flavor they were going to introduce to the McFlurry range and hinted that it was Pokémon related. In addition to the Pikachu McFlurry, customers could guess between Broccoli Bulbasaur, White Peach Jigglypuff, Habanero Charmander, Ramune Squirtle, and Sweet Potato Gengar.
The rather unsurprising answer was a banana and chocolate flavored Pikachu McFlurry, as any self-respecting Pokemon fan knows that Pikachu is the best contender and rightful winner. Of course, Pikachu is not actually banana and chocolate flavored. These flavors were simply chosen to represent the yellow and brown colors of Pikachu. They are also flavors that are known to complement each other. In fact, the chocolate and banana combination is already available in some countries. However, the Despicable Me 3 branding is used for this McFlurry flavor.
Packaging
Rather than having one standard cup for all McFlurries, McDonald's prefer different cups that differentiate each of the flavors. In the case of the new Pikachu McFlurry, they have decided to offer customers a full range of cups for just one flavor. These will each depict a face of Pikachu that show six different emotions, including a smiling face, a sad face and a face where Pikachu is winking.
If you live outside Japan, then all you can do is wait to see if McDonald's decides to launch the banana and chocolate flavored Pikachu McFlurry where you live.