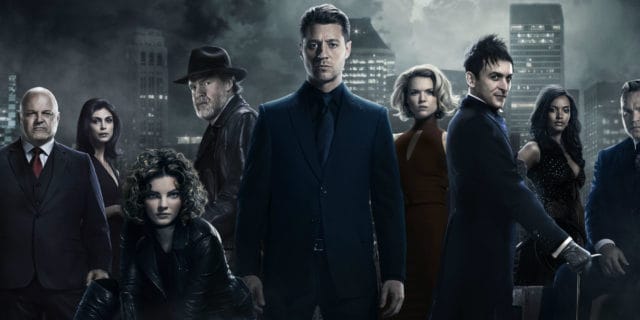 Season 3 of Gotham was concluded on a high note. The makers of the series have promised to make an array of changes other than introducing more villains. The release date is yet to be made clear but it is speculated to be mid August. Here are some bold predictions for Gotham season 4:
In Gotham Season 4, Bruce will take up the vigilante persona. He will be the backup man for Batman to drive crime out of Gotham. Bruce will be assuming the new role and everything else that goes along with it, especially at a ceremony in the Bat cave.
Gotham season 4 will bring back Scarecrow aka Jonathan Crane to compliment the Penguin. His super villain antics will be manifested when he gangs up with Penguin to counter Batman's anti-crime activities. It seems like the reduction of Jerome's role and introduction of the Joker necessitated Scarecrows comeback to back up the fledgling Penguin. This combination of characters will make this season quite exceptional.
Joker will debut in this season. He is going to be the main challenger to Batman's law and order missions. He is going to form an alliance with Penguin, the kingpin of Gotham's underworld. Although the show already has a handful of remarkable villains such as Penguin and Riddler, it is impossible to imagine Batman without the Joker. The super villain has been a near perfect complement to Batman's persona.
Penguin often portrays himself as a successful businessman with a number of investments in almost anything. In Gotham season 4, he will be establishing the Iceberg Lounge which will at the same time double up as a club. Elsewhere, in DC Comics, Iceberg lounge has served various purposes. But this joint will be known to be a hub where Penguin will organize his criminal activities during the wee hours of the night. It will also act as a meeting point for Penguin and his criminal allies. Penguin will also begin tracing his lineage, leading him to a discovery that he has a huge number of relatives than he thought, some of them do not even exist.
Although Jerome Velaska was resurrected in Season 3, don't expect much from him again, at least not in Season 4 of Gotham. Jerome will feature less in involving himself in criminal activities, resulting in the elimination of of his name from Batman's list of Gotham's top felons. He will mainly engage in low profile activities without allies. One reason why no one wants to team up with him is that he is a sociopath maniac. Although his Maniac character will evolve quite drastically, he will fail to garner sufficient following on the show. But the major reason why you won't be seeing him around in Season 4 is the fact that the actor has another job (on shameless). The other reason could be that his character is so intense and has also been featuring in 22 episodes. That is a lot. You can't use such intense characters all the time. It also stresses people when the character has to keep recurring.