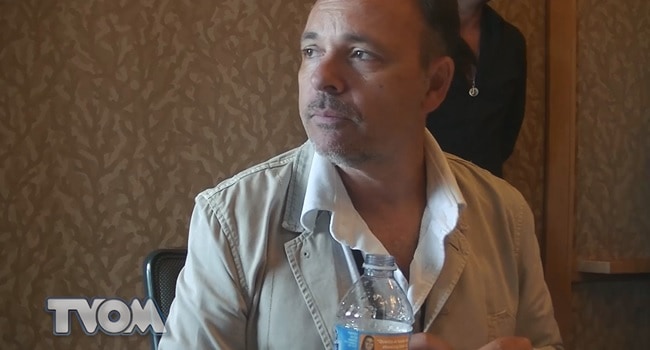 Fox has come a long way with its DC Comics series, Gotham, the story of Bruce Wayne (David Mazouz) before he became Batman, the backstory of Jim Gordon (Ben McKenzie) before he becomes Gotham City's commissioner of GCPD. It's also the origin stories of Bruce's many future villains such as The Penguin (Robin Lord Taylor), The Riddler (Cory Michael Smith), The Joker, Catwoman (Carmen Bicondova), Poison Ivy (Maggie Ghea), Mr. Freeze (Nathan Darrow), Hugo Strange (B.D. Wong) and more.
Last week at San Diego Comic-Con, TV Overmind participated in the Gotham Press Room with several outlets to chat with the cast and crew behind the show to get some insight into what is coming in Season 3. Danny Cannon, who is a director, show-runner and executive producer on the series, was one of the great talents we got to speak with as he teased what is coming up in Season 3 of the Batman prequel.
Highlights of the interview:
-How the show will approach the aspect of monstrous villains as a result of the Season 2 finale and how Cannon views it as a director.
-Bruce Wayne's approach of establishing a public personality as the story towards becoming Batman continues.
-The introduction of several new villains, including Mad Hatter and how he will blend in with villains such as Penguin, Riddler and more.
-What we can expect with Ivy Pepper's upcoming story as Maggie Ghea will be coming in and playing an older version of the character.
[youtube https://www.youtube.com/watch?v=PFAdCS7J4j0]
Gotham Season 3 begins on Monday, September 19 at 8/7c on FOX. Stay tuned for more roundtable videos of the cast and producers in the next few days right here at TVOvermind. What are you most excited about the 3rd season of Gotham? Are you looking forward to see the arrival of Court of Owls? Let us know in the comments below.
Make sure to check out our other Gotham round tables from San Diego Comic-Con as well: Morena Baccarin (Leslie Thompkins) — Cory Michael Smith (Edward Nygma).
[Photos via YouTube]