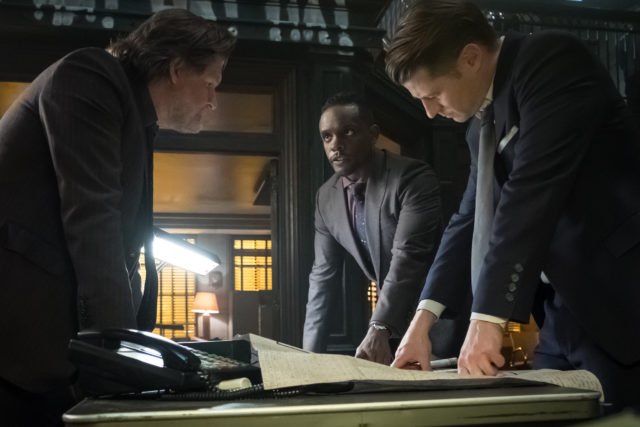 I'd be lying if I said I hadn't been pretty hard on Gotham lately. As a general rule, I try not to be overly critical. I know that it takes a lot of talented people and a lot of hours to make a really good television show, and I absolutely believe that it's much easier to trash something than to find positives. Lately, though, Gotham hasn't had a ton of positives. I've been pretty consistent, though, in hailing some of its best qualities and my favorite parts. This week's episode stuck much closer to some of the core principles that make this show great, and in Season 4's penultimate hour, it really paid off.
"One Bad Day" was a marked improvement over its predecessors for several reasons, but a major contributor was Jeremiah Valeska. We've now reached the point where we accept Jeremiah as the Joker, but what I've found really compelling thus far is the distinct differences from Jerome to Jeremiah in terms of craziness. Jerome certainly had a joker-esque way about him, but what I like about Jeremiah (at least in this episode) is his distinct, calm personality. Most recent iterations of the Joker play him much more like Jerome, but Jeremiah's calm-but-still-a-psychopath portrayal has me paying closer attention, and it's not a bad thing. He's just as threatening and the stakes are just as high. Since Gotham is its own take on the Batman story, it's refreshing to have a fresh take on the most famous Batman villain of all-time.
As a whole, "One Bad Day" stuck to some of the elements that make Gotham a great show. Villains double crossing each other like Penguin, Butch, and Jeremiah. Harvey Bullock being a good detective and good friend to Jim Gordon. An adventure with both Bruce Wayne and Selina Kyle to rescue Alfred. Every one of the stories in this week's episode felt true to the show, and a lot less like the wheel spinning they've been doing most of this season. It's not always fair of me to just criticize the show without offering a solution or two, so here they are: Stick to the core relationships of the show, continue honest interactions between the characters, and don't stall out the story. React honestly and move forward. "One Bad Day" did a great job of this. Keep it up, Gotham!
Here are a few other thoughts:
I adored the Jeremiah scene with the bazooka. I mentioned earlier how calm and collected this Joker has been, even when firing a bazooka at other villains. It was hilarious and terrifying, like any good moment with the Joker should be.
I haven't been extremely compelled by a Bruce storyline in some time, but his search for Alfred and the "cliff-hanger" (promo department kinda ruined it) re: Selina was the most compelling Bruce Wayne story the show has told all season, and maybe longer. The scarecrow induced sequence with Alfred was extremely compelling, too.
Chris Chalk is very underrated as Lucius Fox. He needs more credit. So here's some.
It's also wonderful to see Bullock step up on that occasion it's needed. Donal Logue is such a gem.
I liked all of the stories this week, but I LIVE for the story between Lee, Nygma, and Gordon this week. It was so raw and real. Morena Baccarin and Ben McKenzie are married, so of course they have great chemistry, but adding The Riddler in there really made the story three dimensional.
This episode of G0tham honestly gave me a huge sigh of relief. I was so worried that the show I once loved was gone forever, but "One Bad Day" proved that the show I love is still in there. A great bounce-back effort!
What did you guys think? Did you enjoy the episode? Let us know!
Gotham's Season Finale airs Thursday, May 17th on FOX
Tell us what's wrong with this post? How could we improve it? :)
Let us improve this post!