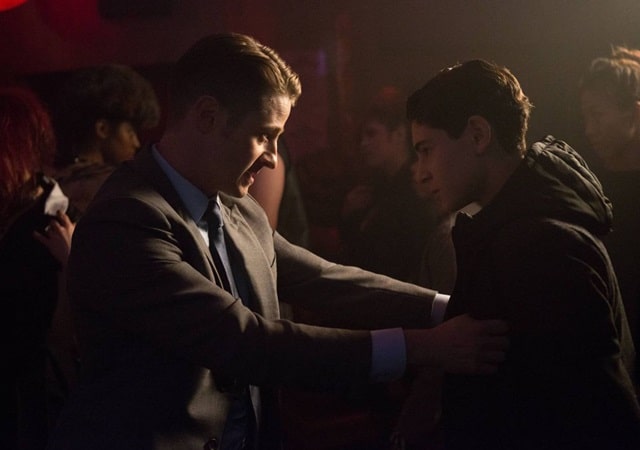 This week's Gotham was one of the strongest episode of the second half for Season 2 so far as Bruce's arc got to a very compelling point while Penguin continues to go through a hellish time at Arkham that takes a surprising turn of event at the end.
We got introduced to a new character this week, Jeri, played by Lori Petty who I will always remember best as the DC villain Livewire on Superman: The Animated Series. As I knew that she was coming into this episode and was dressed up the way she did, I knew that Livewire fans like me would get a kick out of it. There is just something with that great voice of hers that is truly magical and fun to watch.
I'm glad that she didn't really play a villain (per say) and was just a guiding hand for Bruce as he was looking for Malone. I was probably not the only one that thought her "costume" had a very Joker-y look to it. This is a very wild guess, but how twisted would it be if she is actually the mother of whoever becomes the Joker in the future? The only problem with that idea is that he would be at least 14-15 years younger than our future Batman so maybe that's not it. Either way, if we see more of Petty again in future episodes, I wouldn't mind that.
While nothing against the perfromer, I wasn't compelled by Michael Bowen's performance as the man who killed Bruce's parents, despite the deep speech he had about how a monster like him should die. It was already obvious that Bruce wouldn't kill him, but it was a shock that Malone took his own life with Bruce's gun which is where this story got more interesting. Also, a lot of props to David Mazouz for a very strong and powerful performance.
What made his character arc more intriguing towards the end was his decision to live with Selina for a while as he starts to learn how to live differently in Gotham. That element felt like a nod to Batman Begins as Bruce in that film left Gotham City for his training and explore the world. This also goes along with his teenage phase as he does rebel against authoirty, but not in the traditional way, which I'm looking forward to see more of in future episodes.
Penguin's arc shifted gears very quickly as Hugo put him through two last experiments (for now) before telling Penguin that he is now sane and free to leave Arkham. It couldn't be more obvious that he has a giant agenda in mind, but Hugo is definitely underestimating the power that Penguin has in this city when he isn't in prison or a mental institution. All I'm hoping for is that he reunites with Nygma because I need more of that twisted relationship as the Riddler is startng to come to life even more, given the ending of the episode.
Overall, this was one of the show's best episodes in a long time as the writing was strong from start to finish which hasn't always been the case for some Gotham episodes. As harsh as I have been in the past about this show, Gotham is starting to really improve in larger ways.
Gotham airs on Monday nights, 8/7c on FOX.
[Photo: FOX]
Summary
Penguin's time in Arkham takes an interesting turn of event while Bruce comes face to face with his parent's murderer in this week's Gotham.