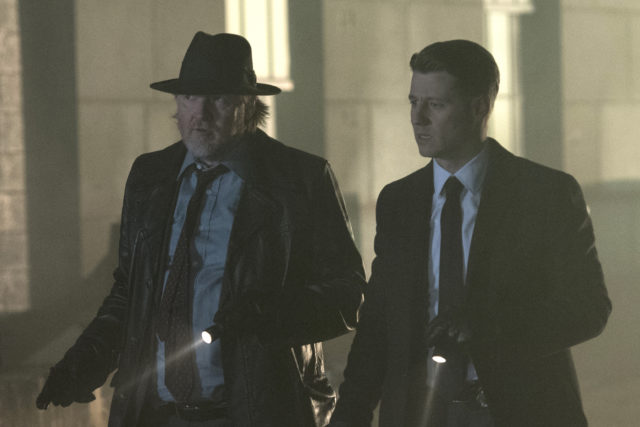 Gotham has had an up and down season so far. Some of the highs have been quite good, while other moments did a lot of wheel spinning and killing time. "One of my Three Soups" was decidedly the former. It threw Jim and Harvey back into action together, it told us more about Barbara and how she fits into things, and it put three compelling villains out there to keep the police and Bruce Wayne busy. One of Gotham's greatest strengths is its villains, and releasing three of them at one time brought with it an overall excellent episode.
Let's start there, the villains. We welcome back Jonathan Crane, the Scarecrow, Jervis Tetch, the Mad Hatter, and Jerome Valeska to Gotham City in this week's episode. Supposedly Jerome is not the Joker, so let's just call him Jerome for right now (we find out in next week's episode….I think). These three villains have given Gotham some of its best, most compelling material, and releasing them from Arkham all at once raised the stakes to perhaps a season high. I think most of the Jervis Tetch stuff had been compelling last season, so bringing him back to "distract" Gordon while Jerome worked on something was a welcome change of pace from the misadventures of Jim and Sofia Falcone. Bruce, meanwhile sought out Jerome for what turned out to be a foreshadowing moment in which Bruce saves his enemy's life, as Batman is wont to do. Having Jerome and Tetch in the same episode really gave this episode a punch. Gotham is at its best when it leans into the wacky villains.
I'm really glad that the Jim/Harvey feud is over. My love for this show is built on the relationship that Donal Logue and Ben McKenzie have carefully crafted. Their relationship in this episode feels both classic, since their relationship was at the foundation of the show from the beginning, and fresh, since they recently reconciled. Their mutual respect for each other has grown deeper, as Harvey knows Jim is willing to get his hands dirty, and Jim no longer looks down on Harvey for being morally flexible. With any relationship, sharing of secrets and open honesty breeds trust, which becomes clear in the show's primary buddy cop relationship.
I've said this in plenty reviews prior and I'll say it again: Erin Richards is a gem. I'm not sure that the show knew what to do with Barbara at the start of this season, and she's bounced around from being Ra's Al Ghul's main squeeze, to an arms dealer for Sofia, and back to the coy club owner that we've grown to love. Now, however, she figures out that she's been chosen as Ra's Al Ghul's replacement, which eventually comes with its own female warrior entourage. That's pretty sweet. Richards has been excellent at playing evil Barbara and I'm hopeful that with this new story comes more opportunity. It was still my third favorite part of the episode, but this was overall a pretty strong one.
A few other thoughts:
The word on the street is that Jerome Valeska is not the Joker, but that Cameron Monaghan is playing another character on Gotham this season. So I think it's possible that Monaghan both is, and isn't, the Joker. Or maybe his current character isn't Jerome Valeska? Anyway, I'm psyched to find out next week.
It was very sad that a wacky-villain-centric episode didn't include The Riddler or The Penguin, but imagine that they'll be included in the resulting story, given Penguin's alliance with Valeska while they were both in Arkham.
Also sadly absent, Jim Gordon's savior Lee Thompkins. I can't wait to see them together after she saved his life.
I'm overall very pleased with this episode of Gotham. I don't know that they always understand their strengths, but this episode played to them very well.
What did you guys think? Did you enjoy the episode? Let us know!
Gotham airs Thursdays at 8/7c on FOX
Tell us what's wrong with this post? How could we improve it? :)
Let us improve this post!