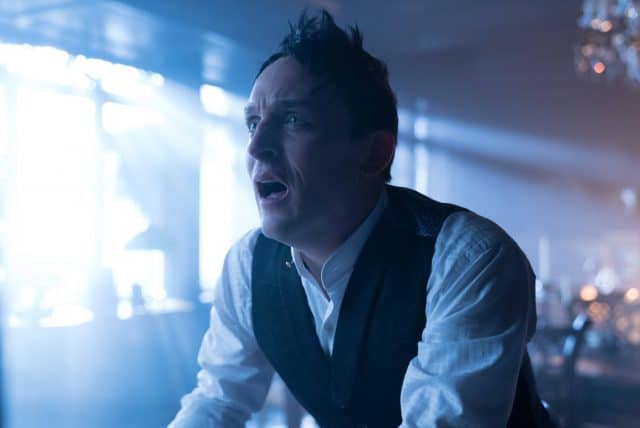 Ladies and gentlemen, Gotham is back and rolling on all cylinders. They wasted no time at all in continuing the stories of "Mad City" that were left hanging at the break. "Ghosts" was an appropriate title, because seemingly every character was haunted by something they'd done, or their past in some way had come back to haunt them.
This week on Gotham: Oswald gets a new campaign manager, but is being haunted by the ghost of his father, which causes some issues. Jim is being hunted by Zsaz, on orders from a broken Lee and a vengeful Falcone. Jim and Harvey investigate the death of someone who died twice, and discover underground followers of Jerome. Bruce and Alfred welcome Selina's mother into their home, but may have bitten off more than they can chew.
This was a really fun, exciting return for the show. It played to all of its strengths, and only parts of it felt off or out of place. Anything to do with the hit on Jim was fun and exciting in every way. Anthony Carrigan is nothing short of dynamic as Victor Zsaz, whose commitment to the job was both comical and exciting. Like several villains on the show, his odd little respect for Jim made the chase and subsequent "calling off" of the hit that much more enjoyable to watch.
Bouncing from that story, Lee going through the journey that led her to call off the hit was compelling, but the best part perhaps was that they nipped that story in the bud. The last bit of Gotham that we all saw was Jim shooting Mario and saving Lee's life… but she didn't see the knife. This particular plot thread had the potential to get extremely whiny and dramatically overplayed, but instead Lee determined that Gordon did, in fact, save her from Mario in the first episode back, which will make for a much more compelling story down the line.
I didn't care for any of the Selina's mom stuff. It was relatively predictable and I figured she would bring some kind of trouble to the Alfred/Bruce/Selina crew. That said, I still think Mazouz and Bicondova are two of the best young actors on TV today, and the story would have been a lot worse without them.
Here are a few other thoughts:
Paul Reubens' work on this show was fantastic, so it was good to see him again. Even though it was a twisted Clayface version.
The Jerome-centric cult is eerily reminiscent of "The Jokers" from Batman Beyond. So that's cool.
"Doesn't anyone die in Gotham anymore?"- No Harvey, they do not.
I really loved the little speech from Zsaz about his liking Jim better than Mario.
Even the parts that didn't really work cooked and sizzled for Gotham this week, and everyone was at the top of their game. Harvey was classic Harvey, Lee was emotional but thoughtful, and every fight scene left me wanting more. Most of these stories have plenty of great material that should keep this season fresh and thrilling.
What did you guys think? Did you enjoy the episode? Let us know!
Gotham airs Mondays at 8/7c on FOX
Gotham Season 3 Episode 12 Review: "Mad City: Ghosts"
Summary
Jim and Harvey deal with the aftermath of Mario's death, and unwittingly discover a new threat in this week's excellent Gotham episode.