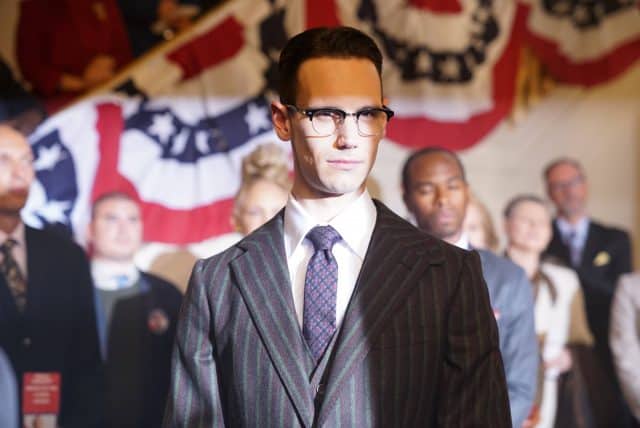 Gotham is now in full swing, and it's drawing some positively loony parallels to today's America. Though, of course, not everything in Gotham is realistic, some of their content is hitting remarkably too close to home. This season of Gotham as a whole has been strong, but "New Day Rising" contributed to a couple frustrating, nagging bits of the show that I've been less than crazy about.
This week on Gotham: Jim finds that he's not totally free of The Mad Hatter's grip, Captain Barnes agrees to let him meet with Alice. After Jim has an episode in the precinct, Barnes and Leslie put him on suicide watch. Jim and Leslie have a much needed conversation. The mayoral election results are impending. Butch has been paying off campaign officials, but Nygma wants Oswald to run a clean campaign, which results in friction between the two. Fake Bruce gets closer to Selena, while real Bruce hunts for him.
I have really enjoyed the season as a whole so far. That's still the case with this episode, but I have a few quibbles, so I'll get that out of the way first. My main problem is with the Jim and Leslie story. I fear that their conversation at the end will serve as temporary resolution to their issues, and it really shouldn't. I understand why they would want to move forward, but I don't understand what Jim stands to gain by not telling her truth. After this episode, we are well past the point of Jim being able to say "I went to find you and you were already with that other guy". That's frustrating, because I really liked the relationship the two of them had. Sure, Jim had apologizing to do, but I'm just not sure I like the direction the story is headed.
That said, the rest of the episode was well-balanced and structured. Even though I was apprehensive about the Bruce Clone saga when it first began, I was satisfied with the way it turned out in the short term. Not to mention I saw it coming a mile away when the cronies behind Wayne Industries turned out to be behind clone Bruce. I always enjoy watching Bruce with Selina, too, if for no other reason than David Mazouz and Camren Bicondova are two of the best young actors on television today.
My favorite part of the episode was definitely the Nygma/Butch feud, and seeing that continue to escalate during the season will be loads of fun. Brains versus brawn is always a fun battle to watch, and these two characters are particularly compelling.
Of course, watching the election story in general was a little scary, because of how close it hits to home. It's obviously intentional ("Make Gotham Safe Again") but that doesn't make it less poignant or realistic. Much like Donald Trump was borne to us out of fear and anger, Oswald Cobblepot was borne to the people of Gotham.
A couple of minor thoughts before I wrap up:
What's going to happen to Captain Barnes? I'm very curious now that he's touched that poisoned blood.
Barbara was barely in this episode, but every minute with her is magical.
I absolutely love the Jim/Harvey bromance. That little moment when Harvey sticks up for Jim at the end of the episode just gave me all the feels. It's so subtle, but lovely.
Overall, this was another strong installment in what's been a strong season so far. Though I've had some quibbles, it's still an excellent show overall.
What did you guys think? Did you enjoy the episode? Let us know in the comments!
Gotham airs Mondays at 8/7c on FOX