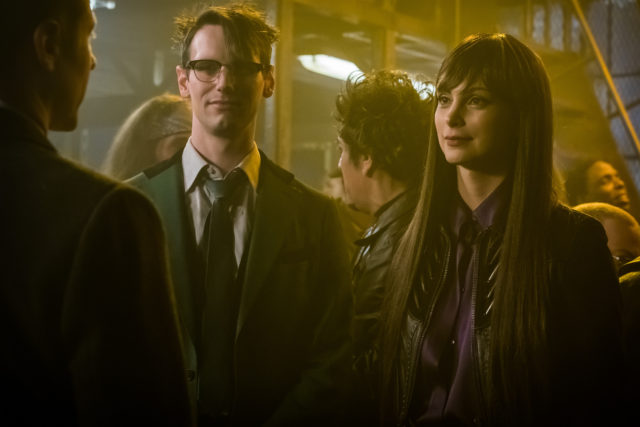 I love Gotham. I really do. Ever since it embraced the wackiness in Season 2 and has just gone balls to the wall, I've counted it among my favorite shows. Lately, particularly this season, Gotham has struggled to balance all of its characters into a compelling narrative, likely because there are just. so. many. "Pieces of a Broken Mirror" is the perfect illustration of that problem. Certain aspects of the show are excellent, and others are just weird or don't make sense. Then, there's the big marketing push that they've been doing about a "Nygmobblepot" reunion, or the Joker and Penguin joining forces, and that was about the next episode and not this one. I'm going to change up my normal review structure in favor of breaking down the positive and negative story aspects of this particular episode.
Negatives:
I like to deal with negatives first because I like to end my reviews on positive notes. So, the negatives first. Aside from marketing the heck out of the Cobblepot/Joker/Nygma stuff and not getting any of it in the first episode back, the Nygma part by itself was a bit of a mess. I saw it coming a mile away that his "Riddler" alter-ego was the one trying to take down Lee. I think that would have been more of a compelling twist had I ever cared that Nygma was split in two, but I don't like the "Riddler is a split personality" angle at all.
The devolution of Bruce Wayne's character has been painful. I understand that his growth into Batman must come from somewhere, and that he's a billionaire playboy and all, but party Bruce is just not fun to watch. He's obnoxious. David Mazouz is much better than the material he's been given here. Even in a tangentially-related-to-Batman story, Bruce Wayne should be more likable. Of course, more likable would just be likable at all at this point.
Poison Ivy. The revolving door of Ivy actresses is just getting hard to watch. I can suspend my disbelief when it comes to her, but only if they decide what they want to do and stick with it. We're now on the third actress playing Ivy, and she finally has powers similar to the Poison Ivy character of lore. But the repeated changes has been hard to reconcile with the rest of the show.
Positives:
The Jim and Lee reunion was exactly what I hoped it would be. It was brief, but the longing glances could not be ignored. All I really wanted out of that was a spark, and I felt it.
Speaking of Jim, his entire journey during this episode illustrates one of the key pillars of Gotham. When the show is good, it has a lot to do with Ben McKenzie's journey as Gordon, and this episode was much better for it. Jim reuniting with Lee, Harvey, and Barbara put him on an emotional journey that was both compelling and satisfying.
Exploring Alfred as more than a fighting butler was incredible. Sean Pertwee has always been one of the strongest Alfred portrayals out there, but putting him out on his own got to explore his character in a fun and interesting way. It gave him feelings, a personality, and a story to follow that was completely separate from Bruce, and it worked. This is probably the only saving grace from making Bruce into a petulant little rich kid. I felt for Alfred as he developed feelings for this woman and then was crushed when she was killed. I felt along with him, which gives this episode major points in my book.
The "Solomon Grundy" experiment ending is very timely. I quite enjoyed it for awhile, and I know from Comic-Con that Drew Powell did too. Ultimately, though, I found the Butch version of the character more compelling, and finding his way back from Grundy should be an interesting journey.
Peyton List. I'm aware that I listed Poison Ivy's revolving actress door in the negatives column, but their choice for the new one couldn't be better. Peyton List has done some incredible work on Frequency and The Flash in recent years, and I couldn't be more excited to get her on one of my favorite shows. I have no doubt that she will bring additional depth and excitement to the Ivy character. She certainly adds to the hope that the Ivy revolving door will close, because I desperately want to keep her on the show.
Hopefully this new review structure gave you something interesting to read. Gotham has plenty of compelling elements in the back half of this season, but it desperately needs a few course corrections. But, Gotham is at its absolute best when it steps on the gas, so the upcoming villain team up has me hopeful as ever that the show will erase some of the lagging bits in favor of some crazy action.
What did you guys think? Did you enjoy the episode? Let us know!
Gotham airs Thursdays at 8/7c on FOX
Gotham Season 4 Episode 12 Review: "A Dark Knight: Pieces of a Broken Mirror"
Summary
Jim navigates crimes without Harvey when disaster strikes in the narrows, spurning an investigation, on this week's mixed bag episode of Gotham.