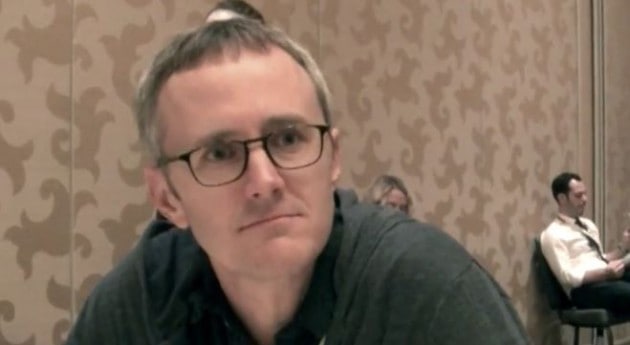 Last season was a big year for Warner Bros. TV and DC Comics as they premiered several new DC TV shows, including FOX's Batman prequel series Gotham, which tells the origin stories of Jim Gordon (played by Ben McKenzie) and of Gotham's most iconic villains before The Dark Knight became the city's protector. One of the people that is a major part of the creative team behind the show is John Stephens (The O.C., Gossip Girl), a staff writer as well as an executive producer on the series, who helps bring Gotham to life each week.
TVOvermind was fortunate enough to participate in Gotham Press Room at San Diego Comic-Con with other news outlets at roundtables where stars and producers from the show discussed what is coming up in Season 2. Stephens was one of the people we got to talk to, and you can watch his entire roundtable interview in the video below. Here are some of the highlights:
With Gotham City being as dark as it is, what unique tone is Season 2 going to have: "I would say that Season 1 of the show was a lot about trying to find the show. It was a bit more of a case-of-the-week to a degree, and we started to become more serialized as the show went on. Season 2 will be fully serialized. There will not be any case of the weeks at all. It will be like a saga of these characters' lives. It will become a lot more character specific and less about solving any particular cases. I think when you saw in Season 1, our original conception was that it was a city dominated by the Falcones and Maronis, and all these mob worlds that we kind of lived in. Season 2 will see the underworld shift, and we will [see] the evolutionary shift of beginnings of our world of super-villains and where did they come from and then setting the stage for what will happen later on in early Gotham."
When asked about a tease for the future Bat-Cave in the Wayne mansion: "When they go down into that 'underground compartment' [Laughs], Bruce will uncover what his father was up to before his death. It will be part of an investigation that will give him clues linking to both his father's death, but also what was going on inside of this mystery inside at Wayne Industries. It will also let him re-visit this idea of who his dad actually was, which will then change his vision of who he is going to become going forward and give him an integral piece of what becomes the persona of Batman."
Gotham Season 2 begins on Monday Sept.21, at 8 p.m. on FOX. Stay tuned for more roundtable videos of the cast and producers in the next few days right here at TVOvermind.
[Photo via YouTube]