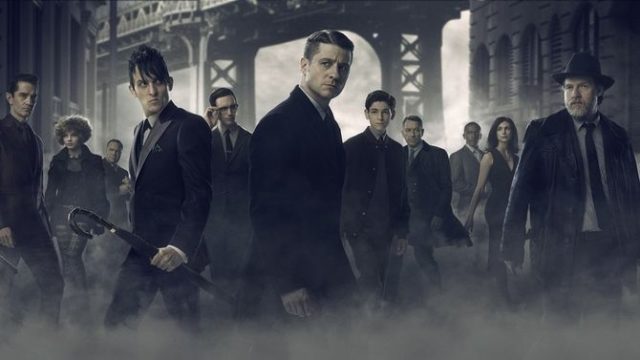 Imagine "Gotham" as a feature film. The hit series on Fox has quite a following, so naturally, we all would love to see who would play these characters on the big screen. Yes, Batman has been done several times with varying degrees of success, but it's time to go way back to before "Batman Begins" to tell the story of how Gotham City got so wonderfully corrupt and crazy. Here is a dream cast that would work if they were casting "Gotham" as a feature film.
Chandler Riggs as Bruce Wayne
Instead of "Stay in the House Carl" it would be Alfred yelling "Stay in the Manor Bruce" after Chandler Riggs who plays a young man growing up fast in a world gone mad. Whether he's fighting zombies or the crazed villains of Gotham, this young actor could finally get rid of his eyepatch and get a wardrobe upgrade. Would he have to cut his chocolate side swept locks? No way!
Rupert Graves as Alfred Pennyworth
He's English he has a thick head of silver hair and he's funny. Best known recently as Inspector Lestrade on BBC's "Sherlock" this British star has played next to several movies and TV heroes, so why not bring him in as Butler/Coach extraordinaire for young Batman? Graves' last TV role was on the ABC Drama "The Family" which got canceled after one season. As "Sherlock" is on hiatus again, perhaps for good, this talented actor may be free to take the part.
Robin Lord Taylor as Penguin
Nobody does it better! It has to be Robin or no one at all. From his spiky little head, pointy features, limping gait to his maniacal laugh, he could go toe to toe with Burgess Meredith for the best Penguin of all time. Yes, Danny DeVito was good in the role too, and some might argue for him to reprise the role but that version of the Batman universe found Oswald Cobblepot a little further along in the story, so he would not be right for Gotham, the movie.
Freddie Highmore as The Riddler
Fans of "Bates Motel" are missing him already and would love to see him doing what he does best–playing a mentally deranged anti-hero. He has the boyish good looks, and mild manner would be perfect as his alter ego Ed Nygma. Who would suspect what was going on in his twisted mind until he finally snaps and the villain takes over?
Cameron Monaghan as the Joker
Oh yeah, let's make it a fact–Cameron is the Joker! When we first saw Jerome in the interrogation room, fans gasped at how perfect Cameron brought back The Joker. Channeling a bit of Jack Nicholson, Cesar Romero, and Heath Ledger, he nailed the part. Then Gotham messed with our heads killing him off but he's back now, so why not have him star in the movie version?
Benedict Cumberbatch as Jim Gordon
Yes, he can do a good American accent and him playing the lead detective at Gotham PD would be epic. He would bring just the right amount of humor and angst to the role. He would just have to trade in his long black coat for a suit jacket. Plus he could share the screen again with Rupert Graves which is always a treat.
Madison Lintz as Selena Kyle
We are long overdue for a Sophia/Carl reunion and this could happen in the Gotham universe. These two actors played so well with each other that the choice to cast her would be brilliant. She has more than earned her acting kudos coming out of the barn as a "walker" so why not cast her as the young Catwoman? Madison Lintz is growing up to be quite a stunner. If not Selena Kyle, she could take on the role of Poison Ivy.