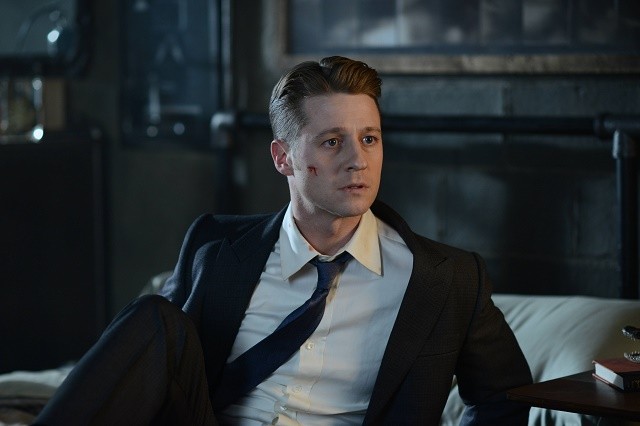 Compared to last week's strong episode, the fall finale of Gotham Season 2 was a major letdown, as it felt like there were no stakes at all and, therefore, no real danger.
Even though we know that this is a show based on a huge comic book mythology where certain characters are pretty much safe from not getting killed off, there still needs to be some stakes and actual danger where you can't predict what's going to happen. As fascinating as this whole aspect of the Sacred Order of the Dumas has been, there was no way that Bruce was going to be sacrificed because, duh. We did get a very compelling dynamic between him and Silver, who sort of redeemed herself a bit in this episode. Heck, even Tabitha was interesting for once as she went against her brother and abandoned him as he was defeated.
However, while everything involving Bruce failed to impress, Gordon's continuing struggle with the darkness remained compelling throughout "Worse Than A Crime." I must give credit to the Gotham writers for being able to keep this internal fight that Gordon is constantly having refreshing on a weekly basis. After 11 long episodes, Gordon finally gives into his inner darkness as Penguin convinces him to shoot Theo. But the ending of the episode takes away the effect of that moment as Theo's body gets taken to the Indian Hill, which is revealed to be run by one very familiar Batman figure: Doctor Hugo Strange. Knowing what his character is capable, I'm sure that we will be seeing Theo again and somehow alive, which again, makes the fall finale a bit weak because there were no stakes or losses at all here. Heck, another big discovery is that we see Fish Mooney's body at the Indian Hill — once again, where are the stakes? Maybe I'm being too picky as we don't know what the result of Indian Hill will be yet, but right now, I'm skeptical.
"Worse Than A Crime" also ends with a very chilling scene, as Mr. Freeze makes his Gotham debut, freezing a man to death and thus setting up what is to come in the second half of Season 2. Although I don't know how big of a role Freeze will play throughout the remainder of Gotham's second season, the nerd in me couldn't help but cheer for such a great introduction along with a well-adapted costume; honestly, it helped erase some of those images of Arnold Schwarzenegger as Mr. Freeze in that awful Batman & Robin movie (parents: never let your kids watch that one).
Despite the issues I have with there being a big lack of danger, "Worse Than A Crime" was a solid Gotham episode and a decent fall finale. Now we just have to wait for the show to return in late February of 2016.
Gotham returns with new episodes starting on Monday, Feb. 29, at 8/7c on FOX.
[Photo credit: Nicole Rivelli/FOX]
Tell us what's wrong with this post? How could we improve it? :)
Let us improve this post!