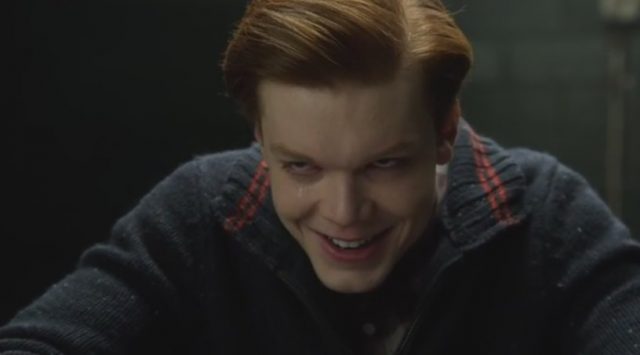 When Gotham first premiered on Fox television in 2014, fans of the DC Comics character Batman were both skeptical and intrigued. After all, Batman has had his share of superhero outings in the past, including a previous TV series and several popular films. Batman is his own franchise. But the series premise, of delving into the backstories of the characters, provided a fresh interpretation of the city and the superhero fans have followed for 75 years. The favorite Batman mythos characters are there, and newly introduced ones too, but seen as younger versions of themselves.
Here are a few of the most familiar:
Detective James Gordon-will eventually become Commissioner James Gordon and Batman's first supporting character (portrayed by Ben McKenzie)
Bruce Wayne-witnesses the murder of his parents and grows up in the care of his butler Alfred, to become Batman (portrayed by David Mazouz)
Butler Alfred Pennyworth-cares for Bruce as he recovers from his parents' murder and encounters the characters who will become regulars in Gotham (portrayed by Sean Pertwee)
Oswald Cobblepot–The Penguin (portrayed by Robin Lord Taylor)
Selina "Cat" Kyle– will become Catwoman in later years (portrayed by Camren Bicondova)
Edward Nigma–The Riddler (portrayed by Cory Michael Smith)
Jerome Valeskap–The Joker (portrayed by Cameron Monaghan)
Harvey Bullock-Gordon's Gotham City Police Department corrupt partner (portrayed by Donal Logue)
Fish Mooney-a new character who helps to tell Penguin's story until he drops her off the side of a tall building (portrayed by Jada Pinkett Smith)
Season Two aired its first episode on September 21, 2015. It was given two subtitles:
Rise of the Villains (First Half of Season)
Wrath of the Villains (Second Half of Season)
Season Three aired its first episode on September 19, 2016. It was given the subtitle of Mad City.
Since November 21, 2016, 54 episodes of Gotham have aired, but Season Three promises to amp up the depravity and fights for power as new Super-Villains are presented for the very first time. Gotham will continue to become more chaotic due to the malevolence of the villains fans have known for generations. Bruce Wayne, with his mentor and butler Alfred Pennyworth, will learn that there are deeper secrets than he ever expected concerning his parents' deaths.
The Court of The Owls will have its criminal deeds delved into, and James Gordon will pursue a new path as Gotham's bounty hunter. Gordon will search for Hugo Strange (B.D.Wong) to make him accountable for the horrific Indian Hill experiments and also Fish Mooney, who had been subjected to those horrors. Other master villains with plots lines will include The Riddler, Catwoman, Poison Ivy (played by Maggie Geha), Tabitha Galavan as Tigress (played by Jessica Lucas), Barbara Kean (played by Erin Richards), the Tweed Brothers, Jervis Tech as Mad Hatter (played by Benedict Samuel) and Butch Gilzean (played by Drew Powell). Overarching all of these tantalizing origin stories will be a new set of alliances battling to gain the ultimate power over the city of Gotham.
Season One. Pilot. Bruce's Parents Killed
Bruce Wayne is witness to his parent's deaths as a robber steals their belongings and then shoots them both. Selena "Cat" Kyle, Catwoman to be, is hidden above the street on a stairway and is also witness to the tragedy. Bruce screams in agony… a high pitched visceral scream. Critics noted that this is the only time he shows this extreme emotion. For some fans, this scream was a signal… a kind of bat shriek which serves to mark the exact moment when Batman is born. It is also an exceedingly bloody and violent version of all the origin stories about Batman, and the only one where Bruce screams.
Season One. Pilot. Gordon Meets Bruce the First Time
Bruce falls into a river of tears when Gordon asks him what has happened to his parents. Gordon tells Bruce the story of his own father was killed by a drunk driver. Gordon tells Bruce he completely understands how he feels. He also promises him that regardless of how dark the world is, "there will be light". It is a poignant first meeting. Gordon encourages Bruce to be strong, and promises to find the man who killed his parents. Gordon also meets Alfred for the first time. "Head up", Alfred tells Bruce. The scene is an interchange establishing the fight against evil which both will engage.
Season One. Episode 16. The Blind Fortune Teller
Jerome Valeska coldly confessed that he murdered his mother, because she was a drunken whore…well, he actually called her a filthy one (to start), and angrily asserted that she deserved to die. Then, Jerome's entire demeanor and facial features morphed into an eerie, spine chilling vision of the Joker he would become. Many fans viewed this glimpse as an encounter with the future. The dark evil lurking in his eyes drilled outward from his face, past the screen and into the collective audience psyche. Jerome's red-ringed eyes, red-tinged lips and horrifying trademark Joker grin, made famous by Joker's past, were impossible to ignore.
Season One. Episode 1. Gordon Kills the "Penguin"
Detective James Gordon and his crooked police detective partner Harvey Bullock are assigned together to the murder case of Bruce Wayne's parents Thomas and Martha. Gordon proceeds with the investigation, but this places him in the midst of Gotham's corrupt leaders. Mobster Don Carmine Falcone orders Bullock to order Gordon to kill Oswald Cobblepot as a proof of loyalty. Bullock will kill Gordon and Cobblepot if Gordon doesn't do it.
Gordon walks Cobblepot to the end of the pier. As Cobblepot waddles along, the physical gestures and movements which will distinguish him throughout life as The Penguin are unmistakable. Cobblepot's very black hair and very white skin echo the coloring of the bird he will be. Gordon leans in to the sniveling Penguin, and growls into his ear that he must never come back to Gotham.Gorden shoots his gun past Cobblepot's ear and simultaneously pushes Cobblepot over the end of the pier, without killing him. This scene establishes the kindness and sense of justice inherent in Gordon. It's a pivotal plot moment not to be missed.
Season One. Episode 17. Red Hood
https://www.youtube.com/watch?v=ygKwF3Xv0Uo
Fish Mooney gouges out her own eye with a spoon and stomps on it. She takes it out herself before Dr. Dulmacher's team can take her eyes out to use for his own personal experiments. She said, "you will take nothing from me". Without a doubt, this gruesome moment defines Fish Mooney as a take charge woman supreme, and one of the most fascinating gangsters of the series.
Season 1. Episode 2. Selina Kyle
https://www.youtube.com/watch?v=a8ehgSmRQlE
Selina Kyle is the young girl version of Catwoman. She shows some of her athletic skills when she needs to escape from the bus which held children kidnapped by the Dollmaker group. She hides in the back of the bus, using the seats as acrobatic equipment, climbing over and hanging under until she can slip out the door. She deftly slides under the bus, barely making a sound. It is a classic moment displaying the gymnastic prowess which will make her famous.
Season 2. Episode 7. Riddle Me This
Edward wakes up to find a riddle from… himself. He has an eerie conversation with his own imagination. His dead girlfriend, Kristen Kringle, is missing. He accuses his alter ego of disposing of the body. His alter ego argues with himself. What a mind-bending thing to watch his thoughts personified; to realize that his entire brain is a complexity of intellectual discord.
Season 2. Episode 6. Distractions
Bruce and Alfred talk over Bruce's readiness to begin his quest. In this moment, Alfred is shown to be a very fit mentor indeed. He very aptly tells Bruce that "distractions will be the death" of "Master Bruce" while he teaches him how to fight his enemies. Bruce bites Alfred's arm just at the moment Alfred tells him that his enemies will fight dirty. He tricks Bruce into letting down his guard and clocks him a good one. This is an intimate moment displaying the significant mentor and student relationship they share. It also continues the theme that Alfred is one very badass butler.
Season 2. Episode 20. Strange and the Office Search
Harvey Bullock and Gordon Search Hugo Strange's office with a warrant. Bullock shows off his blustery detective ways while confronting the enigmatic Hugo Strange, whose slithery demeanor is easy to hate. The moment is a quirky showdown between the two extravagant characters. Bullock is almost likeable compared to Strange…and Strange is condescending to Gordon, who Strange dismisses for no longer working for the GCPD. It's a microcosmic moment of Gotham City power plays.
Season 2. Episode 13. Bruce and the Therapist
After Bruce was violently abducted, and nearly died, Alfred arranges a meeting for him with Leslie Thompkins (Morena Baccarin) who is known for her work at Arkham Asylum as a medical practitioner. Alfred arranged the meeting because he was worried about Bruce, who has returned from Switzerland. Alfred is worried that Bruce is hiding traumatic feelings. Leslie asks Bruce how he feels. His reply is that he felt intensely alive and invigorated. He was not afraid. He asks if Leslie thinks of him as abnormal. She says he is certainly unusual. Leslie tells him that he needs closure rather than seeking out the culprits who killed his parents. Bruce tells her that he has another chance at life. This moment is a highly revealing glimpse into the driving forces deep within Bruce's personality. His experiences shape his future action and propel him forward with a higher level of focus than others. It is the stuff of what made the heroic Batman.