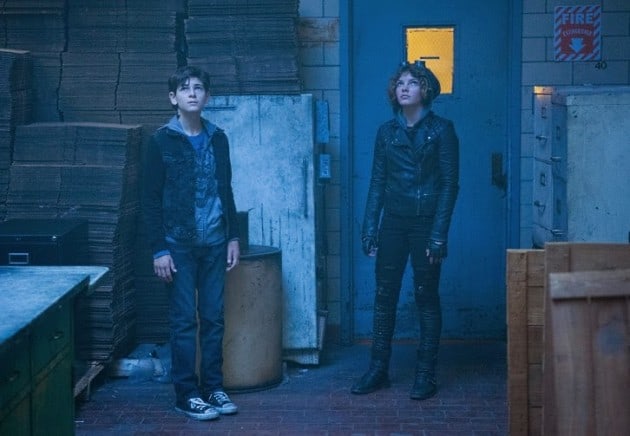 It has been a bumpy road for the Batman prequel drama Gotham which was a little out of loop for the first five episodes, but has since then been improving week after week. Last night marked the mid-season finale for the show as Bruce's relationship with Selina continues to get fleshed out when assassins come after them.
I was initially one of the people that weren't thrilled with the idea of having a young Bruce Wayne and Selina Kyle on Gotham, many months ago when it was only talked about at the TCA. Luckily, it turned out to be better than I expected and that's something that these past few episodes have proven a lot. They do have one of the better dynamics on the show and I don't know if it's because they are young, or if it's because of the fact that these two will have one of the most complex relationships ever when they get older? I don't know what it is, but Bicondova and Mazouz continue to bring a lot of fun to these episodes.
Even though this episode was heavily about those assassins coming after Selina and Bruce, this was really Alfred's episode. Sean Pertwee has been exceptional in the role since day one and he completely stole the show last night. I have mentioned several times throughout the season that this Alfred is, without a doubt, based on the Batman: Earth One (an excellent graphic novel that you should pick up) version of Alfred. Last night, I couldn't be happier that this is the Alfred that we have because he kicked some serious butt in this episode. Alfred has always been one of my favorite characters in the Batman mythos so it's good to see that Pertwee is bringing so much to his version of him.
Even though Falcone and Penguin are some of my top favorite characters on the show, I was surprisingly not really interested in what was going on with that plot at all. However, I will give Fish some props for actually being not too over the top which has been one of the show's major problems with this character. You can still be a strong character without having to throw some Eartha Kitt into it (with no disrespect to Eartha Kitt), and if Smith can continue to portray Fish like she did last night, it will be easier to enjoy this character a lot more. But overall, I just didn't find anything going on with any of those three characters, interesting.
Who knew that Richard Kind could be so scary? His character is definitely a force to be reckoned with and I think it says a lot about Kind's great acting abilities when you love to hate this character. I like that in a way, he is Gordon's personal villain and it can't be easy to fight a villain who happens to be the mayor of Gotham City: just look crazy it can get in the comic books. Due to the events in this episode, he reassigns Gordon to Arkham Asylum, which now sets up a new chapter in Gordon's arc when the show comes back in January.
Overall, "LoveCraft" was a solid mid-season finale and a nice way to end the first half of the first season. To look at these ten episodes as a whole, I think Gotham has a lot of things they still need to figure out and improve on. Even though these last couple of episodes have been really good, there is still a lot of room for improvement, which I think we will be seeing really quickly in 2015. The characters are starting to get into their groove, some more than others. I like that we are safely and slowly starting to fade away from the procedural format and more into the serialized format, even though we still have villain-of-the-week scenarios. I will definitely be continuing to tune in for this show every week once it returns, and if you gave up on the show early, I highly recommend catching up on the last five episodes.
Gotham will return with brand new episodes in January 2015, Monday nights at 8/7c on FOX.
Photo via FOX
Tell us what's wrong with this post? How could we improve it? :)
Let us improve this post!