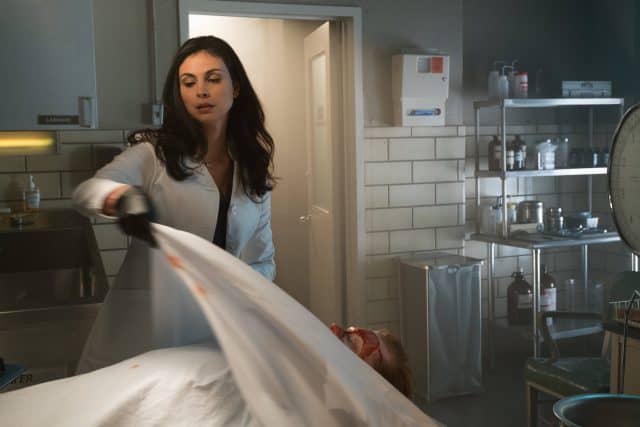 The day many Gotham fans have waited for has finally arrived. Jerome, whom most fans believe to be the beloved Batman villain, The Joker, has finally returned. The show has never outright confirmed that Jerome is the Joker, Cameron Monaghan's commitment to the role and mass assumption by fans may lead to that prophecy coming true after all. Hey, I'm not mad about it.
This week on Gotham: A local cult enacts their plan to revive Jerome, but it doesn't exactly go as planned, which results in some mutilation. Gordon and Bullock try to stay a step ahead of Jerome's followers. Penguin is "helped" by Barbara, and launches panic mode over sabotage that doesn't exist. Bruce decides to pay off Selina's mom's "debt", only for that scenario to play out differently.
The big story of the night, of course, is the return of Cameron Monaghan's Jerome. Lots of twists in that saga were shocking. I particularly enjoyed that they couldn't successfully revive him at first. I would've died laughing if he never came back, and they brought back Monaghan just to play dead Jerome. Alas, they just decided to time it differently so that his face would be cut off (creepy, but awesome) and he had those incredible scenes with Lee. I would've enjoyed the episode just as much if they'd stuck with Dwight as the new Joker-figure, but I'm thrilled that Monaghan has returned. He slipped back into Jerome's skin (pun intended) like no time had passed, and is one of the most exciting villains Gotham has to offer.
The other plot threads were less appetizing, but still satisfying. I could see a mile away that Selina's mom was trying to scam Bruce, but it wasn't the "twist" that made it compelling, but rather Selina's heartbreak and Bruce's sturdiness, played masterfully by Camren Bicondova and David Mazouz. I'm hoping that this doesn't happen just to turn their relationship into will-they-won't-they drama, though.
If the frosty relationship between Jim and Lee is any indication, however, we're in for a wild ride. She's awfully fiery with Jim, for someone who literally spent the last episode figuring out that Mario was sick. But what I appreciate about it is that there's much less drama for drama's sake. Jim is trying to keep things professional (ish), and he said that he would be okay because Lee's alive. If he sticks to that philosophy, his selflessness when it comes to her will be the only thing to win her back.
Watching the Penguin unravel has been incredible. Penguin v. Riddler was bound to be a wild ride, and they have not disappointed me so far. Really, the psychological thriller that Gotham is becoming works very well.
Here are a few other thoughts:
The more quips from Harvey Bullock, the better. I'm going to start a book.
It was SO good to get Barbara back in a major role this week. She's my fave.
Raise your hand if you would like "acting Captain" Bullock to become a permanent fixture…*sheepishly raises hand*
I'm really excited for this gigantic blackout to play out next week. Exciting.
Overall, I really enjoyed the episode and the crazy, psychological turn that Gotham has taken. 2017 in Gotham City is shaping up to be absolutely bonkers, and I love it!
What did you guys think? Did you enjoy the episode? Let us know!
Gotham airs Mondays at 8/7c on FOX
Gotham Season 3 Episode 13 Review: "Mad City: Smile Like You Mean It"
Summary
Gordon and Bullock try to hunt down a madman before he resurrects another on this week's thrilling episode of Gotham.