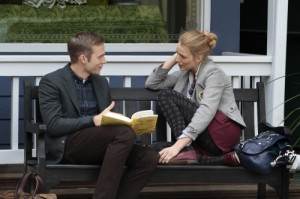 Watching last night's Gossip Girl was the equivalent of snorting the finest Colombian cocaine while on a drunken binge. I've personally never experienced something that wild, but I am pretty sure that "The Townie" is up there in contention for the most ultimate high.
After whining all season long about minions and social status, Gossip Girl slapped me with a "Now what" answer after delivering the best episode of the season. Every time you thought you knew what was going to happen, the rug was pulled from under you, followed by the floor and the foundation. It was just that good. Let's look at the pros of this episode, because there was a lot.
The rundown: Serena left the UES after her tryst with Nate behind Blair's back and ended up in a college town, which was the home of her boarding school. While there Serena spurned a then nerdish Damian for her professor, who turned out to be Ben Donovan, Juliet's brother. While Ben wasn't into a physical/intimate relationship with Serena due to his role as professor, Damian noticed the two at a hotel and spread the rumors about them. Lily caught whiff of these rumors and filed a complaint against Ben, which resulted in the guy being put in jail. Wow.
Who would've thought Lily of all people was behind sending Ben to jail, or more importantly, the hell Serena has been through this entire season? I never saw it coming, but with everything being out in the open now, I'm kind of mad that I didn't. Last week's episode featured Dan confronting Lily about how she handled Serena's screw ups, which were not the best coping mechanisms in parenthood. You kind of saw Lily regret a little about her past actions when it came to her parenting, even admitting she screwed up royally. Now with this latest (and arguably epic) faux pas on her plate, Lily's contemplation of her past deeds in "Gaslit" has just gotten a heavier meaning and the ripple effect would make even Jenny Humphrey cringe in disdain.
But what about how Lily got to the point of forging her daughter's name on the affidavit in the first place? Damian Dalgaard,
Jenny's drug dealing ex-boyfriend, is the true culprit behind this whole debacle and possibly Serena's return to the Upper East Side in the first place. Why? Because he was madly in love with the It Girl, who only saw him for the nerd he was. Serena sure knows how to touch lives doesn't she? Funny thing? Serena is just like Lily in so many ways that the resemblance is uncanny, especially when it comes to their seemingly infinite closets of secrets. I suggest a long overdue spring cleaning for these two, because it would benefit those around them tremendously.
With that said, Damian dipped out of the scene before the SHTF and that's the first of some of the miniscule frustrations I had with last night's episode (the rest will be revealed later).
Blair and Dan's couture clad Sherlock Holmes and Watson adventures to Juliet's hometown were scene stealers, especially as Blair was "schooling" Dan on the rules of scheming throughout the episode. But I don't think I'm the only one seeing something under their newfound 'friendship'. So Chair fans, meet your latest possible obstacle. Speaking of Chuck…
Mr. Bass is about to be all about business again, especially after Lily double crossed him by trying to sell off Bass Industries. While Lily had a point about the board not wanting to trust Chuck after his disappearance act, she still shouldn't have been shady about the situation. Chuck had a right to know what his opposition was, which would have given him ample time to come up with a game plan to counterattack. Now, Chuck has to go play in the vipers' nest with his uncle Jack, which can't be good for anyone in the future, including the audience.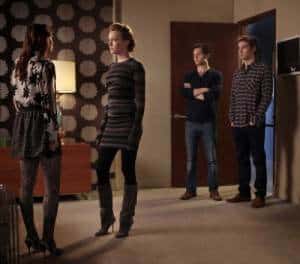 Now for the cons of the night.
Ben's newfound love for Serena. When I say this, I mean his change in demeanor during these last two episodes. At the start of the season, the man was practically dripping venom when Juliet didn't complete a task to his liking in their quest to take Serena down. Now he has a heart? Um… No.
As I stated in last week's review, the entire Nate story line seemed set up to have Archibald missing in action in the quest to save Serena so Dan could have that role of savior without complications. This week, it served as a plot contrivance for Nate to be in the prison at the right time for Ben to give warning about Serena to someone. Was it annoying? Not really. In fact, it was quite clever and would've been even better if Nate's story line continued over. Unfortunately in the end, the status quo is still the same with Nate's parents being not together, his mother still trying to maintain relevance in their social circle, and the Captain probably getting an off hand mention here and there in the future. In short, were we supposed to care?
Rufus's sudden questioning of Lily's actions, especially concerning Chuck (who he loathes to no end) was so left field that it almost blew my high. Almost. Did something occur earlier this season to have Rufus want to throw the towel in on his marriage all of a sudden? If not, the resentment, which was warranted, was a bit much for Rufus to want to 'clear his head' over. He wasn't the "collateral damage" in the equation per se, and should've had a talk with Lily first before blasting her in the middle of her tongue lashing from Serena. Then again, the Humphrey men have always had an epic 'soap box' complex and Rufus might needed to use his again for the sake of grating nerves.
As for Juliet's fate, let's hope this isn't the last we have seen of her. Maybe she can help bring down Damian later on and get the true justice everyone deserves. Come on, people, that would mean more Katie Cassidy, which equals a "Hell Yeah!" around these parts.
So what did you guys think? Did Gossip Girl deliver us a well wrapped Christmas present? Can you wait till Jan. 24th for its return? Sound off below and in the Forums!