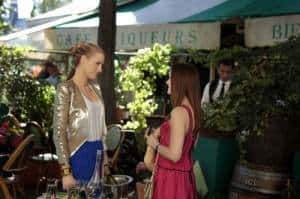 Gossip Girl was a bit of a tour-de-force tonight with the whole Chuck Bass/Henry Prince angle. The 'Who Will Serena Pick?' storyline? Eh…
"We Don't Need Tickets, I'm Chuck Bass."
After getting a frantic call from Lily about Chuck possibly being dead, Serena becomes Inspector van der Woodsen as she travels all over Paris looking for the man going as "Henry Prince". While Serena searches for Mr. Bass, Blair actually has a run-in with him, but doesn't react too much, because she is about to meet Prince Louis again so that she can actually get over Chuck once and for all. When Blair tells Serena that Chuck is fine and that he's only playing games, Serena still finds Chuck on her own, but is shocked when he claims to not know who she is in front of Eva. Later Serena gets Chuck to himself and tells him that he can't run away from all that he has worked hard for. Chuck says that he's lost the one thing he ever did care for so who cares what happens to his empire? He then informs Serena that he's leaving Paris for good to disappear into the ether and that Chuck Bass will be no more after today.
Serena knows there is only one person to stop Chuck's madness, but Blair seriously could care less about Chuck's issues. It takes the recovery of the engagement ring (which appears in a shop Blair is escorted to) that was meant for her to make Blair come to her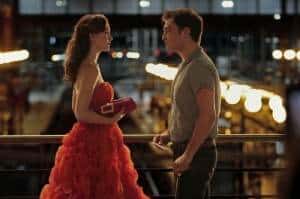 senses. When she does catch up with Chuck at the train station, the scene is something out of an 80s teen movie, but it's SO PERFECT that no words will do it justice. You have to see it. Blair tells Chuck that she doesn't love him anymore, but also reveals that her world is not the same without him in it. If I was Chuck, I would've died right then and there. Hand down. The next day we see Blair bidding farewell to Prince Louis, who she lets off gently by admitting that being him is only deflecting her from her problems at home and wouldn't be healthy for either of them. Blair, honesty is your sword and you slay me with it every time.
While Blair does her goodbyes, Chuck finds Eva, who has given up once she finds out the truth from Serena. Chuck asks Eva to come with him to New York to help jump start his new life. When Eva asks about tickets, Chuck utters the line of the night: "We Don't Need Tickets, I'm Chuck Bass." My boy is BACK, people!!!!
We Choose Us…
Juliet is gung ho about getting Nate to claim Serena as his prize and decides that the friendly competition with Dan needs to be nipped in the bud. After noticing how well Dan and Vanessa look together, Juliet pushes Nate to tell a little white lie to Vanessa involving Dan's true feelings. Nate doesn't want to do it, but after seeing that Dan received the same "I Need To Talk To You" text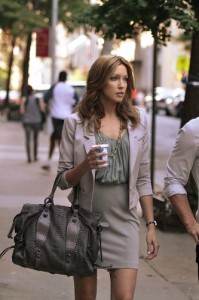 from Serena that he did, it is game on. Nate puts the bug of Dan's affections in Vanessa's ear and all is well until Vanessa tells Dan, who is pissed. Meanwhile, Juliet is trying to set up Nate on another date with a girl to make Serena jealous, but Nate thinks Juliet will be the perfect "decoy."
Dan contacts Nate about the lie and the two clear the air, but not before Vanessa gets hurt in the process. After reading on Gossip Girl that Serena is returning home the next day, the decide in the end to choose themselves, or rather the women in their life currently. When Serena comes home, she notices that Dan has chosen Vanessa and Nate has picked Juliet, leaving her single and looking pitiful.
After this is all said and done, Nate might want to watch his back, because Juliet has a plan, and it involves Serena. As Juliet tells someone on the phone later that she misses them, she takes down the Gossip Girl board, only leaving Serena's mug shot from Season Two as a picture ti glare at. What the hell, yall?
Who's The Daddy, Part Deux
Rufus still refuses to claim Milo as his grandson, but Lily doesn't have time for his conspiracy theories, because she is already growing attached to the kid and wants to turn Jenny's room in the loft into a nursery. Wow, that's how we are weeding out Jenny? Rufus decides to stop being a punk and to accept Milo as his own, but when they find Milo's hospital bracelet, Rufus notices that Milo's blood type doesn't matches neither his nor Dan's. His manhunt to find out the truth is on again.
It seems that the Paris episodes have come to an end, but that doesn't mean that's a bad thing. I, for one, am glad to have Serena and Blair back in NYC, because I can only take them out of their element for so long. Can't wait to see what they run into when they get home.
As for the Baby Milo situation, is there anyone else out there who wanted that baby to actually be Dan's? It would have been a good gamechanger for the show, plus it would've given Georgina some sort of depth than a schemer. Why would she need Dan's signature is still a mystery, but at this point I don't want her to come back to disrupt stuff and then leave, because it's getting tired. Like I said in the past, Georgina is Gossip Girl's answer to the Daleks from Doctor Who. They show up in a big fashion, but leave in a whimper, which is what Georgina is known for. Too bad, because I have gotten used to baby Milo.
Thoughts?