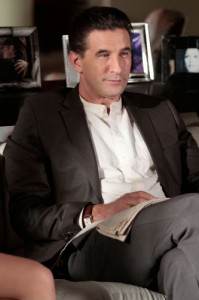 *Sorry for the late recap. I am in the middle of the TN disaster zone so things have been hectic as hell this way.
Why is it that the final episodes in a season of Gossip Girl are better than the rest? This week's episode proves again that Josh Schwartz and crew know how to amp up the drama leading toward the finale. But after saying that, I can't also help but notice that the final episodes can be a bit predictable, especially when a new character is brought in the mix to stir said drama. One last thing before we start, how in the hell is there still snow on the ground?!?!??
The van der Woodsens vs. The Humphreys
During a big breakfast for Lily, the battle lines are drawn as William further makes his presence known and Jenny's duplicity last week doesn't help matters with Serena. As Serena fills William in on her days in boarding school, she fails to leave out her wild child stint that made Gossip Girl headlines. So, Jenny finds this amusing, bringing herself to question Serena's story in front of William. Game on. Elsewhere in the room, Eric makes it known that he doesn't care too much for William, who skipped out of Eric's life when he was two years old. Serena then makes the announcement that she is moving back in to be with Lily, and that she will be inhabiting her old bedroom, which is where Jenny is currently staying. Take that! Then William drops his little shocker, which is that he's moving into the building, as well. As soon as his application is approved that is. Rufus is LIVID! The battle begins…
Serena removes all of Jenny's clothes from the closet, which sends Jenny into a temper tantrum. Rufus tries to defuse the situation, but Serena isn't going, telling Rufus to wake up to Jenny's antics before it's too late. William is being honored at a function thrown at Columbia University and wants everyone to attend, including the Humphrey clan. Eric doesn't want to go, because he doesn't think he owes William a second chance at being a father. Rufus voices his concern to Lily about William moving into the building, but Lily reassures him that it is only to get close to the kids, not her. But Rufus still isn't so sure and waits till Lily leaves to call up a a favor from his old friend, who happens to be Holland. What type of favor? Well, remember Holland is on the committee to see who gets residency in the building and who doesn't. Wow, Rufus.
Jenny and Serena have another argument, due to Blair's meddling (more on that later), where Jenny calls Serena out for being fake around William, which Jenny claims is not the way to get into his good graces. Jenny's right, because Rufus knows all about her mean side, so why shouldn't William know about Serena's wild days as well?
Later, Serena finds out from William that his application was denied. It doesn't take long before she pieces together that Rufus had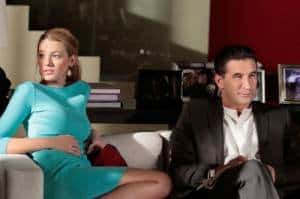 something to do with it. When Serena confronts him about it, Rufus doesn't deny it, which doesn't help matters with Lily, who wants the foolishness to stop. Serena then disinvites Rufus from the party. Later, Rufus gets an ally in Eric, who feels that Rufus is the best thing that happened to Lily and wants his stepdad to fight for his mother's hand. Then Elliot shows up saying that William asked him to take Eric out on a date. While that is nice, Eric has enough common sense to remain cautious.
At the party, Serena comes clean to William about her past at boarding school and he's okay with it. Meanwhile, Rufus shows up at the gala after all and apologizes to Lily for his actions. Did I mention that he blew off Holland as soon as he got there? Don't do that to a needy woman, Rufus. Repercussions tend to follow. It's time for William to give his speech, but instead of going by the script, he speaks from the heart and tells everyone how much family means to him and that he wants to salvage his. Uh oh…
Lily tells Rufus that no matter what William wants, her heart belongs to Rufus. But the brute doesn't know when to fold 'em as he begs for Lily to get another doctor, but she refuses to discuss it with him now. He pushes the conversation till the morning, not getting Lily's stance on things. So, she makes Rufus go sleep at his old loft. DAMN, LILY!!!!
As if Rufus hasn't had enough drama for the night, Holland makes it upon herself to tell Serena something that she thinks Lily should know about Rufus. What could that be? Beats me, but whatever it is sends Serena running to William to tell him to fight for Lily's heart. Uh-oh! I think it's safe to say that the van der Woodsens' win this bout.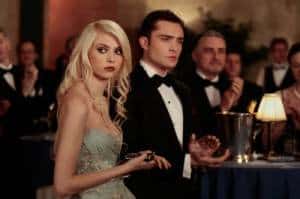 Chuck and Jenny's Slow Paths To Redemption
Chuck Bass is doing cocaine and prostitutes as he copes with life as he knows it. Nate and Serena try to get him to go visit Lily, but he refuses. This piece of information gets back to Blair, who knows the true reason why Chuck is being anti-social on the Lily scale. With Bart dead and Elizabeth being a mistake, Chuck can't afford to live through losing another parent. Blair eventually talks some sense into CB as he does attend William van der Woodsen's function to see Lily, who is glad to see Chuck just as much as he is glad to see her. He tells his stepmother that she looks lovely and great. A little too great in Chuck's eyes. Hmmm…
After getting tossed out of Serena's room and getting the Gossip Girl blast about her dealing drugs with Damian (courtesy of Blair), Jenny has a rough week. After talking with Dan about the situation, Jenny agrees that it is best for Rufus to find out about the drug dealing from her, so, she attends the party to tell her father face to face. While there, she comes across Chuck and they both remark about how "healthy" Lily looks. Hmm….
Jenny is later confronted by a disgruntled old customer of her and Damien's, who is pissed that Jenny sold her antibiotics instead of oxycodone, which left the poor girl with a bad yeast infection. The fact is that the label did say oxycodone and that they were from Lily's medicine cabinet. It doesn't matter now, because Rufus has overheard the whole exchange and drags Jenny back to Brooklyn.
When Jenny gets home, she researches stuff on cancer. What she eventually finds, leads her to call Chuck about Lily's medicine. Chuck is all ears…
Blair's Triumphant Return?
Blair finds herself walking through Columbia, longing to be there. She runs into the two Columbia girls who commented on her
during Eleanor's fashion show. After reintroductions, the girls ask Blair what brings her to Columbia and Blair lies as if she is a new student there. How the two girls don't know the social roster at their school is beyond me, especially given their social status and knack of keeping up with Gossip Girl. Anyway, they buy Blair's ruse after she takes the info on Jenny and sends it to Gossip Girl.
Blair later runs into Nate, who actually is a Columbia student.He berates Blair for faking the funk, saying that he thought Blair was better than that. Nate then informs her of Chuck's status, which worries Blair a bit. While this conversation is going on, one of the Columbia girls overhears it (with some damn good super hearing) and pulls out her phone. While Blair talks to Chuck, the Gossip Girl blast is out on her about not being a Columbia student and her stock plummets hard.
When Blair gets to the gala, she is rebuffed by the two person Headband Mafia and feels as if her life is over, at least for this week. But fate is a funny thing as Blair unknowingly bares her burdens to a man who turns to be on the dean of admissions for Columbia. Coincidently, he was looking at Blair's application early that day and now that he sees that Blair wants in badly, he decides to give her a spot. WOW! I bet a million college applicants across the nation were balking at that scene. Anyway, Blair is flabbergasted and elated. But how is this possible? Blair was late turning in her application to transfer. Two words. Chuck Bass. How can you not love that guy?!!?!?!
Afterwards, Blair catches up with the Headband Mafia and lets them know what the deal will be since she is now officially a Columbia student. Then she closes her story line with the line of the night, "'You wanted to see a Blair Waldorf take down? Well, cross me again and you'll experience one first-hand.'Get em, B!!!
Dan and Vanessa, Happily Ever After?
Dan and Vanessa are still bitter from the whole Tisch thing, but they decide to make amends and deal with the situation by coming up with a list of things they can't discuss, such as classes at Tisch and Dan's plays. Shaky truce right? So imagine when Dan hears from Rufus that Vanessa has accepted an internship with CNN that will send her to Haiti for the summer. He blows a gasket. Dan finds Vanessa and asks what the deal is. She mentions the clause they came up with earlier that morning as her reason why she kept mum, which I think is a lame excuse, but that's just me. They argue to the point where Vanessa says being friends was easier than their current state, which prompts Dan to ask if that's what she wants. Vanessa answers that she doesn't know. Hmmmm…. Lonely Boy is not happy with that comment.
Later, Vanessa stops by the loft to apologize to Dan and to tell him that she doesn't want to take the trip if it means losing him. Dan is happy at this news at first, but after talking to Jenny, he has a change of heart. So, before Vanessa gives the CNN producer her declination, Dan finds Vanessa and tells her to take the job, because he feels that it won't affect their relationship. Awww…
So what did you guys think? William is obviously up to no good and it will take a grand scheme, Gossip Girl-style, to show his true colors. But will the finale scheme this time around be repeat event? Or will Josh and crew leave us hanging on to every word and action of our favorite UES clique to the point that we don't care? Two more week, people. See you next week.