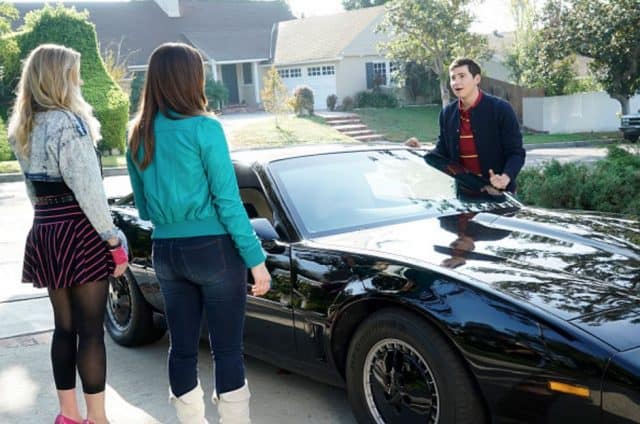 The best episodes of The Goldbergs are often those that let us spend a holiday with the family, and some of my favorites through the years have been those about Thanksgiving. We're in for another treat this year, so let's take a look at this week's new episode, "Ho-ly K.I.T.T."
The main story in the episode surrounds Adam's love of the cars in action shows, but specifically K.I.T.T. from Knight Rider. It turns out that the car will be passing through town, and Adam decides that he can't pass up the opportunity to see it himself. Unfortunately, he can't make it out and has to watch the parade on television. However, Murray and Uncle Marvin end up catching an episode of Knight Rider on television, and they realize that they have a mutual love for the show (and the car), and they head out to see K.I.T.T. without Adam. This causes a huge rift between father and son (with Uncle Marvin accidentally rubbing Adam's face in it), and Adam decides to get revenge. The plot succeeds in pitting brother against brother, and Adam realizes that maybe his plan wasn't the best in the world.
Elsewhere, Beverly has decided that she doesn't want Barry to split his time between two houses, so she invites Lainey and Bill to spend Thanksgiving with the Goldbergs. Barry hates this idea, though (especially since Bill inviting him over was a sign that he approves of his daughter's boyfriend a little more), but Beverly ends up hating it even more once Bill tries to bring his Thanksgiving traditions into the Goldberg home. To get their way, both adults attempt to out-sad each other, but the event instead becomes a turkey competition once they realize that they both know true sadness. Eventually, Bill and Lainey leave once Bill realizes how unwelcome his life is in Beverly's world.
With the different factions at each others' throats, it takes Adam and Beverly both realizing what's important about the holiday in order to bring everyone back together in a way that only The Goldbergs can. The final scene of the episode with everyone at the table is once of my new favorites from the entire series, and it's a great reminder of just how heartwarming this show can be.
The post-credits scene is a treat, too, and I sure can't wait for more Geoff and Erica moving forward.
In the end, "Ho-ly K.I.T.T." was another incredibly memorable holiday episode of The Goldbergs that shows just how strong this show can be with stories like this, and I already can't wait for next year's Goldbergs Thanksgiving.
What did you think of this week's episode of The Goldbergs? Let us know your thoughts in the comments down below!
[Photo Credit: ABC]
Tell us what's wrong with this post? How could we improve it? :)
Let us improve this post!