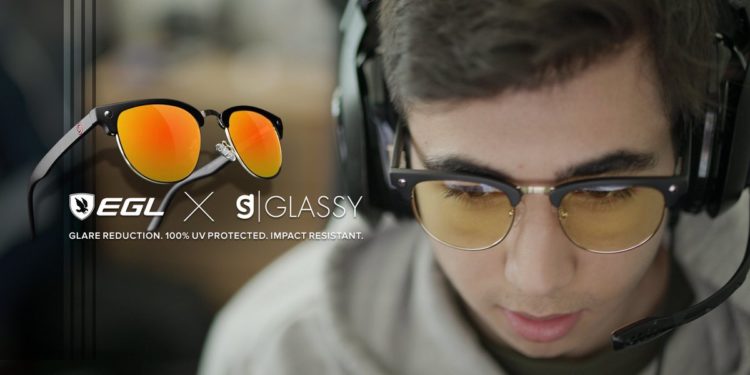 Do you spend your days (and nights) at the computer playing video games, working, or watching anime? I know I do, but doing so is terrible for your eyes and can lead to headaches and eye problems later on. So I thought that the perfect solution to this might be investing in some gaming glasses. I got in contact with a company called Glassy Eyewear and told them who I was and what I wanted to do and they were kind enough to send me a pair of their "Arcane" gaming glasses. I finally got my hands (or rather…my eyes) on them and have been wearing them non-stop around the house, but do they actually work? Do these gaming glasses by Glassy Eyewear actually prevent headaches and eye pain?
Who is Glassy Eyewear?
Well, according to their website: "Glassy 'Sunhaters' was founded by two brothers 'Vince and Mikemo Capaldi' in 2011, with the idea of starting a price point sunglass brand. The entire operation of Glassy was born out of their house with only two sunglass styles and a small online store. The brand quickly became recognized in the skateboarding industry by sponsoring some of the top professional skateboarders, which helped expand the brand into thousands of retail locations around the world. Today, we have advanced our brand to focus on quality glasses for the lowest possible price because we want our customers to experience high end quality without the high end prices. Now we sell much more than just sunglasses – We sell 'Gamer Glasses' to help eliminate eyestrain and fatigue, prescription eyeglasses, prescription gamer glasses and prescription sunglasses. All these changes have lead us to the deciding factor of switching our brand name to 'Glassy Eyewear'."
What is Digital Eyestrain?
Digital eyestrain can affect anyone in any number of ways including headaches, disrupted sleep cycles, and even eyestrain and fatigue. Glassy has done their research and according to their website, "Studies have shown that digital devices emit a harmful blue light and may be linked to the cause of eyestrain and fatigue, increased risk of macular degeneration, headaches and disrupted sleep cycles. High energy blue light on the visible light spectrum is represented from 400-420NM and our lenses will filter out the light up to 420NM." Glassy Eyewear gaming glasses are built with three main layers:
Anti-Reflective, in order to reduce light reflections up to 99.5% which allows more light to enter through the lens for more clarity
Blue Blocker Coating, a clear layer of coating that gives off a slight blue reflection and helps reduce the harmful effects of digital blue light
UV420 Protected that blocks the highest energy and most harmful wavelengths (blue light) on the visible light spectrum. Blue light is represented from 400-420NM.
How do They Feel?
I've been lucky enough not to need glasses my entire life, so when it came to wearing glasses for gaming and other technological needs, I was a bit skeptical of how they would feel on my face. While it did take a little bit of getting used to (just seeing myself in glasses was a bit of a strange look), but after wearing them for a few hours at a time, I've found that they stayed comfortable and secure on my head. Admittedly, they did look like they would be a bit small for my head, but they seem to fit just right. I actually do find myself forgetting that I have them on sometimes, though as I write this article about the glasses, they do happen to be at the forefront of my mind as well as my forehead.
Do they work?
From the time I've been able to use these Glassy Eyewear gaming glasses (I got the Arcane version), I have seen a difference in the color of my displays when I look at them side by side; they are very effective in eliminating blue light. Now you may be thinking to yourself, "but my PC already has a blue light filter (night mode), why do I need to buy glasses that do the same thing?" Well, before I got my hands on this pair of Glassy Eyewear, I used to use the night mode on Windows, but I tested that and the glasses side by side as well, and the night mode is an incredibly harsh change. The Glassy Eyewear gaming glasses filter out the blue light just enough to where it almost doesn't look like anything has changed unless you look at a display without them on, so there isn't much change in how you see the display compared to night mode.
Thoughts?
Overall, I have to say I'm very pleased with these gaming glasses from Glassy Eyewear. I had always been curious to try a pair, but was never sure enough to go out and invest in my own. While the Arcane Plus glasses will run you just shy of $80 (before tax and shipping), which is admittedly a bit of an investment for most people, there are absolutely plenty of other options for gaming glasses starting at a much more manageable $44.95. If you do decide to purchase a pair, they even come with a carrying bag, a Glassy sticker, and a solid carrying case that can easily fold up and be placed in a pocket when not in use.
Thanks again to Vince and Mikemo at Glassy Eyewear for hooking us up with a pair of their sweet gaming glasses! While I received this pair for free, I never allow this to sway my opinion or manipulate my reviews (nor did anyone at Glassy Eyewear ever attempt to do so), and I would definitely recommend a pair to anyone that spends their day looking at a computer screen.
Tell us what's wrong with this post? How could we improve it? :)
Let us improve this post!