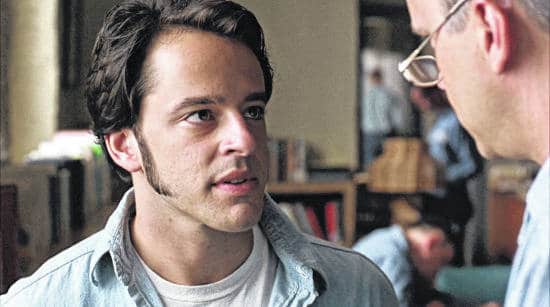 Multi-talented and hard working, Gil Bellows has been carving out a lane for himself since his first on screen appearance more than 30 years ago. Over the course of his career, Gil has appeared in several successful movies and TV shows. His best-known film role was Tommy in 1994 film The Shawshank Redemption. His Lawrence best-known TV role was Lawrence Lacroix in Patriot. Regardless of who he is playing, Gil always puts on a stellar performance. He has also found success behind the scenes as director and a producer. Gil's track record shows that there is almost nothing that he can't do, and that's one of the reasons why his fans love his work so much. Keep reading for 10 things you didn't know about Gil Bellows.
1. He Met His Wife At A Theater Festival
Love has a way of popping up on you at the most unexpected times; that's exactly what happened to Gil Bellows and his wife, Rya Kihlstedt. The couple met at the Williamstown Theatre Festival in Massachusetts. They tied the knot in 1994 and have two children together.
2. He Studied At American Academy of Dramatic Arts
Gil is a formally trained actor who has put lots of time and energy into perfecting his craft. He was born and raised in Canada but moved to the United States to put himself in a better position for career opportunities. He studied at the American Academy of Dramatic Arts where he graduated in 1987.
3. He's Not Very Active On Social Media
For many actors, social media has become an almost essential tool. Not only does social media allow actors to engage with their fans, but it's also a great way to promote new and upcoming projects. However, Gil cultivating a strong online presence isn't at the top of Gil's priority list. Although he has accounts on Twitter and Instagram, he hasn't posted on either of them all year.
4. He's Only Really Proud Of A Handful Of His Projects
Most people would probably assume that actors are proud of almost everything they've worked on, but it's almost the opposite for Gill. He told the Vancouver Observer, "I'd say that I'm super proud of only four or five things I've done, but mostly I'd like to be remembered as a really good actor who people enjoyed watching."
5. He Doesn't Watch A Lot Of TV
Nobody wants to be thinking about work when they're trying to enjoy their time off. This is probably the reason why Gil doesn't watch much TV. When he has free time, he prefers to spend it reading our getting out of the house and enjoying his surrounding. If he does watch TV, it's mostly news or sports.
6. He Didn't Discover Acting Until He Was A Teenager
Lots of actors have great stories about how they grew up putting on little performances in front of their entire family. That's not Gil Bellows' story, though. He didn't really decide that he wanted to start pursuing acting seriously until he was about to finish high school.
7. He Grew Up Playing Sports
Long before his days as an actor, Gil was an athlete. He grew up playing soccer and basketball and was a fairly decent soccer player. He still loves sports and he told Wine X Magazine that if he hadn't become an actor, being a sportscaster is something he may have considered.
8. He Likes Roles He Can Connect With On An Emotional Level
The roles an actor decides to take can make or break their career. For that reason, Gil likes to be sure about the roles that he decides to take. During his interview with the Vancouver Observer, he said he is attracted to roles that feel "original and that triggers an emotional response in me as opposed to an intellectual one."
9. He Likes To Travel
Like lots of other nontraditional career paths, being an actor also tends to come with a decent amount of flexibility. You're not held to the restrictions of a 9-5 office job and in between roles there's time to focus on other things you enjoy. One of Gil's favorite things to do is travel. He has visited several countries including France, Mexico, and the Czech Republic.
10. He's Not A Fan Of Donald Trump
Many people in the spotlight are afraid to say anything about their political views out of fear that it could damage their career, however, that isn't something Gil is worried about. During the Obama administration, he was very open about his support for the president and vice president. Since Trump's election, he has made it very clear that he's not a fan.
Tell us what's wrong with this post? How could we improve it? :)
Let us improve this post!