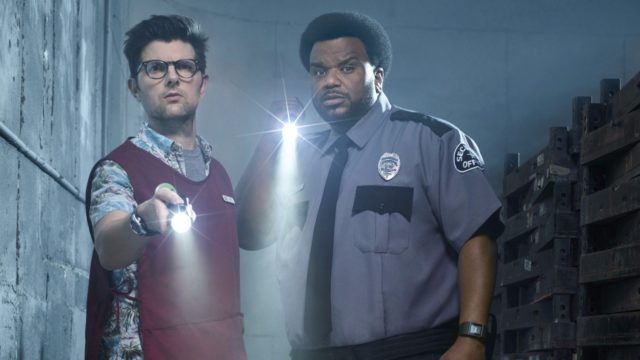 FOX has released the pilot episode of Ghosted online more than a week before its television premiere on October 1. The show is about a skeptic and a believer in the paranormal who were recruited by an organization called The Bureau Underground to investigate the "unexplained" activities around the Los Angeles area (and, yes, it is somehow like The X-Files). It is created by Tom Gormican (That Awkward Moment). It stars Craig Robinson (The Office), Adam Scott (Parks and Recreation), Ally Walker (Sons of Anarchy), Adeel Akhtar (The Big Sick), and Amber Stevens West (The Carmichael Show).
The premise of Ghosted is not new at all. It is clear that The X-Files is one of the show's inspirations. The show is also using the typical formula of a buddy comedy. They don't like each other at first but, at the end, they teamed up and became buddies. Also, one of those two is the annoying one. We have seen this a hundred times in every buddy comedy story. They were also recruited since they have connections to a person who went missing which is another formula in this type of story. In short, the formula wasn't new at all. The pilot was also fast-paced which is understandable since it is a broadcast network show. The happenings throughout the pilot were predictable. But, the pilot still worked thanks to the wonderful chemistry between Robinson and Scott. It wouldn't work if they weren't so good together. Those two guys would be the reason why we should stick on the show. The show might not be fresh but their chemistry will make it work.
This is Robinson's second major TV role after The Office ended. He had his own show before called Mr. Robinson which was cancelled after six episodes. But, Ghosted will surely be his first true breakout show after playing Darryl Philbin for nine years. As for Scott, this will be his first major TV role after playing Reese Witherspoon's husband in Big Little Lies. This show will be a treat for Scott fans. For the supporting players, there weren't much development to them as they don't do a lot during the pilot. Hopefully, the show will explore them on later episodes. Akhtar's character is the one who I see could be the fan favorite supporting player on the show.
Ghosted is an entertaining show thanks to Robinson and Scott's undeniable chemistry. If you are a fan of either of them, it will be a treat for you. If you like The X-Files, consider this as your alternative while waiting for the second revival season of the show. The plot is The X-Files-ish but it's not as similar as what you think it is. It's something that you will enjoy if you're interested in this kind of story. My only concern is the show's reliance on the buddy comedy formula. I hope that they will keep it fresh and entertaining without relying on it. There is potential for the show to run for more seasons.
The series premiere of Ghosted is now available for streaming online at FOX.com. You may also watch its television premiere this coming October 1 on FOX.
Save
Tell us what's wrong with this post? How could we improve it? :)
Let us improve this post!