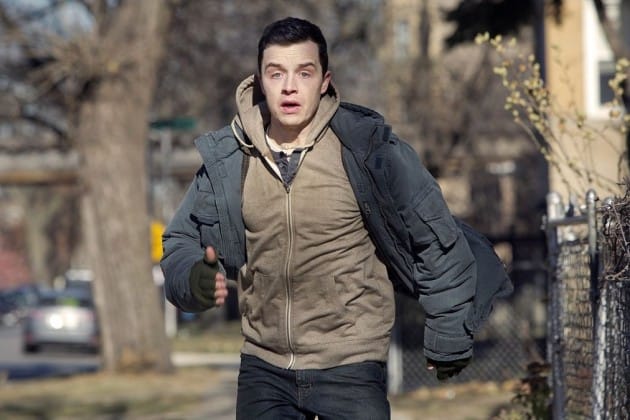 Alright, everyone, this is the end of Shameless Season 5 (and the end of my first stint reviewing a drama for TVOvermind!). How exciting. Season 5 brought some interesting dynamics into the mix, and some of those were very disappointing developments.
"Love Songs (In the Key of Gallagher)" opens with three very explicit scenes. The first between Fiona and Gus, and the reveal that it was in fact Gus says something about the tone of this season. Fiona has been with three different men this season and they have been the central focus of her stroyline. The second explicit scene was Lip tied up in his professor's bed as her husband watched. Yet, again, another reminder of what season five has brought us. Finally, Mickey sleeps with a woman, no doubt trying to get over Ian through any means possible.
Bianca and Frank are, in fact, in a tropical paradise of some sort, and the entire time we see them it feels melancholic. I have really grown to love Bianca in this second half of the season, and maybe it was because I knew she was a temporary character. As soon as Bianca wanted to buy a gun, I knew this was going to be one last wild ride with her. Frank buys her a gun, and she gets up in the middle of the night to play Russian Roulette; Frank and Bianca struggle over the gun and the bullet scratches his other arm, leaving him with matching scars. They laugh until Bianca starts sobbing horribly. Many television shows have done cancer stories, and they're done well, but for some reason, Shameless attached me to Bianca immediately. We get one last scene of Bianca moaning in pain on the beach and Frank coming to her rescue before she takes all of her pills in the morning and dives into the water never to be seen again.
Fiona discovers Debbie in bed with her boyfriend, and they have the argument of the century about commitment and sex. As a viewer, I felt Debbie finally said so many things I wanted to say to Fi myself. They go back and forth, pointing out the flaws in each other's relationships. Fiona tells Debbie that she's allowed to get married to a man she barely knows because "I'm a grownup" and Debbie blurts, "I'm pregnant." There's a beat before Fiona can really comprehend a response. She says, "No you're not. You're gonna get an abortion," to which Debbie screams, "No, I love him!" Fiona wakes Debbie up in the morning to have a similar argument. Debbie wants to have a baby and tells Fi "I know what I want and what I don't want. My body, my decision." When reason doesn't seem to work with Debbie, Fiona gets desperate and says, "Don't do this, please, don't have a baby," but Debbie delivers the best argument ever: "I know who I love and I know what I want, even if you don't," and that shuts Fi up.
Kev and V deal with their problems momentarily, but unlike the beginning of Season 5, Kev picks V over the babies and they agree to work on their problems together. We get a glimpse of what Amanda has been dealing with all season while Lip was off fraternizing with his professor. She picks a fight with him in the library and punches him. The other students in the library clap as she storms out. The scene made me laugh, at the very least.
I guess I should cover what happened with Fiona in this episode, but to be honest, it feels like every other episode in this season. Gus declares that he and Fiona are in a 'just friends' phase because she has not decided who she loves yet. She drops off coffee for Gus in the morning, but his friend is there and tells her that if she doesn't love Gus, she's going to be the one who needs to leave him, because "he's too nice a guy and you…you're not." It comes as no surprise to me that she shows up at work to see Sean and tell him that she's "probably in love with [him]." Sean says "could be," and that really sums up everything about Fiona in this season. The writers made a horrible decision with her in Season 5, putting her in a series of love triangles does not do the character justice, and her plots were largely uninteresting and repetitive. I have hopes that next season will lead to the mending of her relationships with Ian and the rest of the Gallaghers. I don't want to see episodes where she and V are catching up; they are better when they are constantly aware of one another's problems.
We catch up with Monica in this finale through her trip with Ian back to her 'home.' She lives in a trailer with a man about Ian's age. He cooks meth and Monica sells it. I was surprised that Ian disapproved of what they were doing. In the end, he decides to come back to the South Side, and thank goodness! Mickey was calling him nonstop while looking for replacement Ians. There's a classic romantic comedy shot of Mickey running down the streets to find Ian on the Gallagher house steps. The happiness ends when Ian challenges Mickey about taking his medication. Even though Ian left Monica behind, he still carries her mentality, believing he does not need to change for the people around him. Ian gets a chance to vent his feelings about his disease when Mickey asks him what's wrong with him. "Too much!" he says. "And you can't do anything about it. You can't fix me. I'm not broken." Mickey realizes Ian is breaking up with him just as Sammy appears, back from the dead. This last scene had me laughing like it was Season 1 again, because Fiona and V came outside to the sound of gunshots, and they are happily surprised to find Ian safe.
The clips series at the very end reveals what we might expect from Shameless Season 6. Debbie takes a pregnancy test, and the look on her face suggests that she may actually be pregnant, and maybe not as happy about it as she made it sound to Fiona. Ian and Lip sit in the car they always sat and talked in, like good old times, catching up. Frank walks by and remarks, "She's gone, boys. She's gone." Finally, Carl and Chucky are in different juvie gangs, and they're about to get into a massive fight. The clips really encompassed how disconnected the Gallagher unit was this season. The fact that a large portion of the show's dialogue was dedicated to catching other characters up on what has been happening proves that.
Ultimately, Shameless Season 5 was an enjoyable but uneven season of television. It did not live up to the heights of Season 4 in any sense. We got a lot of scattered plots in the beginning and repetitive plots in the end. We lost Mandy and Sheila in one episode, and we never heard from them again (I'm still very angry about this). We did not see the recovery elements we needed to see for Fiona. Carl and Debbie developed more as characters, but they were really setups for Season 6. Frank garnered far too much attention for how ridiculously annoying he is, and we barely saw Lip. However, we did see a massive development for Ian with his bipolar disease, and I will say that plot saves the entire season. This finale gets an 8/10 for almost making me cry with Bianca and making me laugh with Lip.
I'm looking forward to Shameless Season 6, and if you enjoyed my reviews of this season of Shameless (and are a fan of Orphan Black), you can look forward to my reviews for Season 3 of the sci-fi series later this month!
[Photo via Showtime]
Tell us what's wrong with this post? How could we improve it? :)
Let us improve this post!