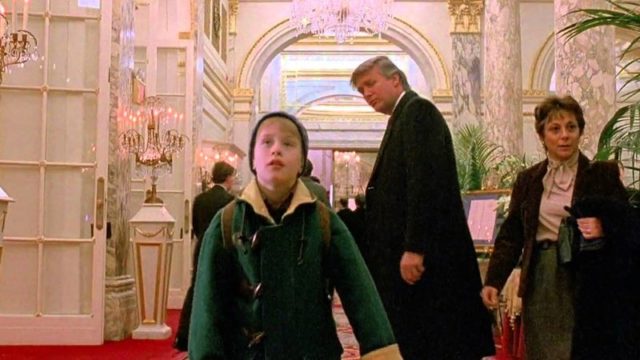 "Home Alone 2: Lost in New York" was released 25 years ago just in time for Christmas. The Plaza Hotel in New York City is honoring the movie's anniversary by offering a special "Live Like Kevin" Package. Fans of the movie visiting New York City in December can enjoy the package which starts at $895. If you are a fan of the movie and want to experience New York City at Christmastime just like Kevin McCallister, this is your opportunity.
In honor of "Home Alone 2's" 25th anniversary, get the "Home Alone 2" VIP treatment at The Plaza Hotel in New York City.
The Basics
The "Live Like Kevin" VIP package is available from December 1 through December 29. Fans of the 1992 sequel to 1990's John Hughes movie, "Home Alone", will love living like 9 year old Kevin McCallister (Macaulay Culkin) did visiting New York City alone at Christmastime. In "Home Alone 2", Kevin inadvertently ends up on the wrong airplane when his family leaves Chicago for a vacation in Florida. On his arrival to the "Big Apple", Kevin, who has his father's wallet, wanders through Central Park before checking into The Plaza Hotel. Despite a suspicious concierge, Keven enjoys his first night at the luxury hotel swimming in the indoor pool and eating an ice cream sundae in his guest room. Kevin ends up bumping into Harry and Marv, the same burglars he dealt with the year before in Chicago at Christmastime and hijinks ensue. The VIP package is sure to please fans of the movies wishing for some Christmas fun in New York City while enjoying the elegant and iconic Plaza Hotel.
Experience
The "Live Like Kevin" package includes a special customized photo booth that will help fans live like Kevin. The interactive experience will provide some fun and memories. Enjoy New York City just as Kevin. Guests can experience the hotel and even a special in-room make your own ice cream sundae, just like Kevin McCallister enjoyed in the movie. The VIP package also includes gifts to take home and enjoy. These include a branded backpack just like Kevin's and a "Home Alone 2" paint can filled with all of the "Home Alone" movie DVD's including a copy of the special "Home Alone 2" Anniversary Edition on Blu-Ray.
Dining
The Plaza Hotel's Todd English Food Hall is the elegant European inspired restaurant located in The Plaza. Chef Todd English serves rustic Mediterranean style food with a unique interpretation among the restaurant's nine distinct food stations. "Live Like Keven" VIP guests can enjoy a special tribute to "Home Alone". Todd English will offer 1990's inspired children's meals and 1990's inspired cocktails in honor of the 25th anniversary of "Home Alone 2". Food will include "fancy" Spaghetti O's, gourmet "Todd" pockets, Charcuterie Lunchables and Funyun Rings. Cocktails will be inspired by 1990's favorites, Sunny-D and Zima.
Extras
For a bit extra, guests of The Plaza Hotel can get the full VIP treatment at The Plaza Hotel. Enhancements to the VIP package include express passes to the top of the Empire States Building. There is also the opportunity to obtain passes to the Wollman Ice Skating Rink in Central Park. To top of your trip to New York City and the "Live Like Kevin" VIP experience, you can enjoy a 4 hour limousine tour of New York City and see all of the hot spots that Kevin McCallister explored in the movie. On top of that, you can opt for a "Flytographer" to accompany you and take photographs of your tour to capture memories forever.