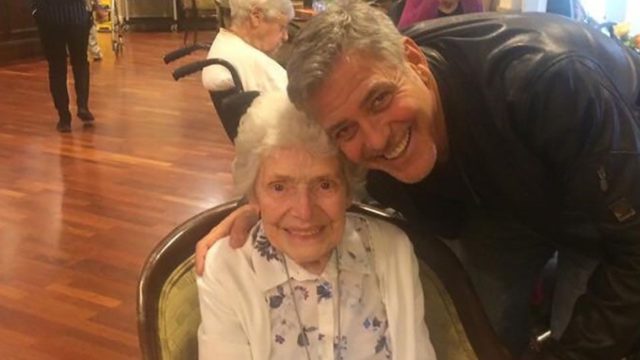 By no means am I saying that there's a right way to be a celebrity and a wrong way to be a celebrity. However, I want to suggest that some celebrities that are out there might want to take a moment to practice a little gratitude Most of the actions that you take are a choice so the next time you criticize a fan or punch someone, you might want to think twice and realize without these people, you'd have no career. At the same time, fans need to respect the fact that celebrities are people and you should never cross any personal boundaries That said, I happen to think that George Clooney is a "right way" kind of celebrity. I believe he's thankful for all of his success and while I have no idea what he's like behind closed doors, he seems to do a lot of good in the world. Speaking of which, look at the photo above. According to Mashable:
Last week Pat Adams, a resident at Sunrise of Sonning care home in Reading, UK, celebrated her 87th birthday. Adams had previously taken part in the home's "Wish upon a star" program, which encourages residents to make a wish that staff then attempt to fulfill. Adams wished for a meeting with George Clooney. Flash-forward to Sunday, and her wish came gloriously true. Clooney appeared at Sunrise of Sonning with flowers and a card, and spent around 15 minutes chatting with Adams.
https://twitter.com/MalcolmHague/status/843460791831552000
"Pat was both delighted and surprised when George greeted her with a bouquet of flowers and card, and she is still beaming from ear to ear," said a spokesperson for the care home.
"George and his wife live locally, and after receiving a few letters and the Sunrise Community Newsletter, George was inspired to make a visit." "We are so delighted that Pat's wish came true," Divisional Support General Manager at Sunrise Sonning, Malcolm Hague, was quoted as saying in a press release.
Every ladies dream surely ?! Flowers & a card from George Clooney. 87 yr old Pat was the lucky lady after a surprise visit @GMB @piersmorgan pic.twitter.com/HQVo7PYO4H

— Jonathan Swain (@SwainITV) March 21, 2017
"She was absolutely thrilled to meet her great icon, and it was such a lovely surprise to see George greet her with flowers and a card. This was a classy gesture from a wonderful man, and it has brought smiles to everyone at Sunrise of Sonning! "Huge thank you to George!"
See what I mean? Someone with the status of a George Clooney could easily take the stuck up celebrity path and not give anyone the time of day. But nope. He remains grateful and returns the favor to fans that are loyal like Pat. Nicely done Mr. Clooney.
Save