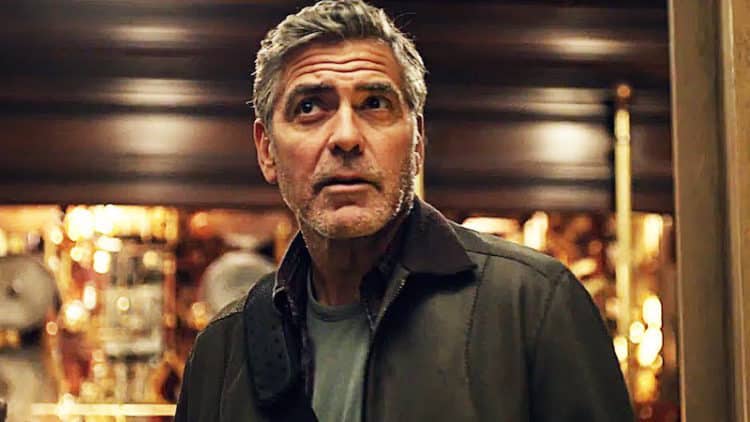 Normally the manner in which a celebrity gets their hair cut wouldn't be that big of a deal, but during a pandemic, the mention of anyone going to a salon or a barbershop is a big deal since it's not supposed to be happening and it's enough to stoke the ire of untold thousands of people on social media, if not more. But there's not much issue and way more interest with George Clooney's case since the actor has been using a device known as the Flowbee for over two decades now to cut his own hair and if people weren't aware of it, they are now. There's no doubt that while on set he's getting his hair styled and made to look the way that it's needed for whatever movie he's working on, but it does sound as though he had a way to avoid huge barbershop bills over the years since he clips his own hair using a device that is essentially a vacuum combined with a set of clippers. I couldn't help thinking of Wayne's World when this was mentioned since the same device, kind of, was used during an episode of Wayne's World, in the movie, and it looked like a horrendous time for poor Garth. Of course, given that his hair was a lot longer and the device was still experimental at best, it looked as though the guy was using a dirt devil, it's not surprising that it didn't work as well.
The Flowbee is a great system for those with shorter, fine hair that's not as full-bodied it would appear since as Clooney mentions, his hair has the consistency of straw, or something like it, and is easy to cut. But he also keeps it short more often than not since it's been quite a while since we saw his hair reach past his ears in any way. But for those with longer and much fuller hair it does feel as though the Flowbee might struggle a bit simply because unless it has fittings and attachments that can make this work, a barber or stylist will gladly tell anyone that working with full and long hair can be an arduous procedure that requires a bit more than the Flowbee might be able to offer at times. It does sound as though the device works wonders for those that use it regularly and don't have a full head of hair or keep it short more often than not, but even a testimonial from Clooney, who's been doing this for so long, isn't enough on its own to be as convincing as it might need to be. If it works for him that's great, but if a person knows that their hair might clog up such a system on the first or second swipe then it's best to stick to an old-fashioned set of clippers and learn how to cut your own hair during the pandemic.
This has been a pretty big issue over the last several months since a lot of people value their looks and want to be able to visit a salon or barbershop when they need to, and many businesses have gone under or are suffering in a big way. Those that have survived to this point are the lucky ones, but it does sound as though in most states the idea is still to stay away and not frequent any place such as a salon or barbershop. People aren't bound to listen as much as they should and it's to be expected since folks need to earn a living. But the problem is that those that work with other peoples' hair are at high risk, as are those who are going to get their hair done. Cutting hair isn't just taking up a pair of scissors and snipping here and there, it's something that many people see as an art form since they're good at it and want to be paid for their efforts. Plus, depending on the place, there are plenty of chemicals to work with, styles to consider, and different tools to use, and unfortunately, all of it carries a heightened risk at this point thanks to the pandemic being such a huge problem that nothing is considered entirely safe unless it's been soaking in alcohol or some other disinfectant for a long period of time.
It's great that Clooney has been aware of how to cut his own hair for so long, but it's still easy to think that while on set someone is styling it for him the way that it needs to be. But since cutting your own hair and maintaining it can be expensive and isn't such a great idea right now, this is definitely one of the more inexpensive and useful solutions to be found.